'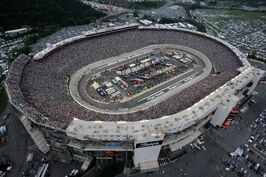 'Bristol Motor Speedway, is a short track auto racing venue located in Bristol, Tennessee. It was constructed in 1960 and is still used today by mant diffrent forms of auto racing.
Overview
Bristol Motor Speedway, can hold over 165,000 race fans and because of the track's short length, speeds reach only to about 115 MPH which is one of the lowest for most race tracks. Compared to other short tracks though, it makes it one of the fastest. The banking in the turns is very high with very little room which means most of the race, the cars are running single file. Bristol for some is their favorite track, while other drivers hate when the date of Bristol approaches. Yellow and Red racing flags are most common during the annual Bristol events due to its low track space and high banked turns. Since the track is so small, two pit roads are required to fit all the race cars.
History
Bristol Motor Speedway was constructed in 1960 and opened in 1961. Carl Moore, Larry Carrier, and R.G. Pope built the track and originally wanted to call it Piney Flats before they thought of Bristol. The first event at BMS was a NASCAR Sprint Cup Series event held on July 30, 1961. The race was won by Jack Smith and relief driver Johnny Allen. In 1969, BMS was reshaped and re-measured for the 1970 NASCAR event. After NASCAR made its switch from asphalt to concrete, in 1992 BMS was once again repaved. By 1997, BMS had become the largest and most popular sports venue in Tennessee. In 2012, the track was repaved once again, after fans complained that the most famous track on the NASCAR circuit became boring. After the fall event, it once again became a crowd favorite.
Events
NASCAR Sprint Cup Seires:
Food City 500 (Spring)
Irwin Tools Night Race (Fall)
NASCAR Nationwide Seires:
Ford EcoBoost 300 (Spring)
Food City 250 (Fall)
NASCAR Camping World Truck Series:
O'Reilly 200 presented by Valvoline
NASCAR Whelen Modifide Tour:
NASCAR Whelen Southern Modifide Tour:
UNHOH Perfect Storm 150 (Runs same day as NWMT)
Gallery
Trivia
During the 2008 Irwin Tools Night Race, the world record for the largest crowd-wave in history took place.
During the 2009 Irwin Tools Night Race, the world record for most participation in a karaoke event took place. The record for largest crowd-wave also took place.
In the 1990 film, Days Of Thunder, filming took place at BMS.
In the 2006 film, Cars, it was announced by Pixar, that the first race track seen was based on BMS.
Bristol Motor Speedway In Gaming
Bristol Motor Speedway has appeared in the follwing video games:
NASCAR 98 - 09
NASCAR Racing: 2003 Season
NASCAR: Kart Racing
NASCAR The Game: 2011
NASCAR The Game: Inside Line 2012