Bentley Arnage
Bentley
aka
R, RL, T, Red Label, Green Label, Black Label
Production
1998-2009
Class
Ultra Luxury
Body Style
4-door, 5-seat Sedan
Length
length - type here
Width
Width - type here
Height
Height - type here
Wheelbase
122.7 in (standard)
Weight
Weight - you get the point
Transmission
ZF 6-speed Automatic, AWD
Engine
6.75 litre naturlly aspirated V8
6.75 litre twin-turbocharged V8
Power
450 hp (336kW) @ N/A rpm
875Nm of torque @ N/A rpm

Arnage T
500 hp (373kW) @ N/A rpm
1000 Nm of torque @ N/A rpm
Similar
Rolls-Royce Phantom
Maybach 57
Maybach 62
Designer
Designer (lead designer if it was a team effort)
The Bentley Arnage is a luxury car produced by Bentley Motors in Crewe, England. The Arnage and its Rolls-Royce-branded sibling, the Silver Seraph, were introduced in the Spring of 1998 and were the first entirely new designs for the two marques since 1980.
Another break from the past was to be found under the bonnet, for decades home to the same 6.75 L V8, a powerplant which could trace its roots back to the 1950s. The new Arnage was to be powered by a BMW V8, with Cosworth-engineered twin turbo installation, and the Seraph was to employ a BMW V12.
The Arnage is over 5m long, almost 2m wide, and has a kerb weight of more than 2.5 metric tons. For a brief period it was the most powerful and fastest four-door sedan on the market.
See Autopedia's comprehensive <MODEL> Review.
Recent Changes
Edit
At the 2008 Paris Motor Show, Bentley unveiled the Bentley Arnage Final Series. As the name implies, the Arnage line is about to end to make way for a new flagship Bentley in 2010. Only 150 of the Final Series Arnages will be produced all based on the Arnage T and motivated by the monumental 500 hp, 738 lb-ft torque 6.75 litre V8. However, the interior will be more like the Arnage R and be chock full of toys ...err Essential Executive Equipment such as a rear cocktail cabinet with a Final Series stainless steel flask, two shot glasses, four Bentley umbrellas and Final Series badges. The car will also be significant as the storied marque will be celebrating their 50 year Jubilee Anniversary this year. [1]
Styles and Major Options
Edit
Certain vehicles come in different trim levels or body styles. Features and major options should be mentioned here.
Add more fields as necessary.
MODEL Trims
Trim1
Trim2
Trim3
Trim4
MSRP
$Price1
$Price2
$Price3
$Price4
Invoice
$Price1
$Price2
$Price3
$Price4
Gas Mileage
Edit
Add more fields as necessary.
As seen on the FuelEconomy.gov website, the City/Highway MPG averages are as follows:
Trim
Trim1
Trim2
Trim3
Trim4
MPG
c/h
c/h
c/h
c/h
Engine and Transmission
Edit
Specifications, details, graphs, pictures and other information regarding the powertrain is placed in this section.
Performance
Edit
Please make sure to write information of the vehicle's performance in a third-person point of view. This section should include information about the car's acceleration figures, handling, braking, etc.
If using information gathered from Road Test articles from a reputable automotive source, then please make sure to cite the quote.
Reliability
Edit
RECALL ALERT: On August 2007, Bentley issued a recall for 550 Arnage and Azure models produced between February 2005 and August 2006 as they may have been fitted with the wrong wheel bolts which could cause the bolt and the wheel to come loose. Though none have actually done so, instances of rattling heard from the wheels have been reported by customers. Bentley states that this was due to a batch of wheel bolts supplied to them which were of the incorrect specification.[2]
This section should reference points on safety ratings and features of the vehicle.
Arnage Final Series
Add Photos of the vehicle here.
Please make sure not to use copyrighted photos.
List the colors that the particular <MODEL> is offered in.
Main Competitors
Edit
Hybrid Models
Edit
If there are hybrid versions of this vehicle manufactured, then please elaborate a little bit on it here.
Unique Attributes
Edit
On January 17, 2005, the Arnage Convertible concept car, also known as the Arnage Drophead Coupe, was shown at the Los Angeles Auto Show. In April 2005, Bentley confirmed that the model will be produced at Crewe for Spring 2006 sales. Bentley also confirmed the new model will adopt the Azure tag, replacing the previous Azure as the company's large four-seat convertible. The new Azure will use a 6.75 L twin-turbo V8 which produces 460 hp (335 kW) and 645 ft·lbf (874 N·m).
This section should include information on the interior's design, build quality, ergonomics, space (head and legroom, front and rear), features, stowage compartments and overall comfortability and livability. Add pictures wherever applicable and keep information in a third-person point of view.
Resale Values
Edit
Add more fields as necessary.
<MODEL> Year
Year X
Year X-2
Year X-3
Year X-4
Resale Value
$
$
$
$
Criticisms
Edit
Please make sure to keep critiques in a third-person point of view. If using criticisms from a reputable automotive source, then please make sure to cite the quote.
Generations
Edit
Fill in as many as appropriate. Add more if necessary and pictures wherever applicable.
Please make sure NOT to use copyrighted pictures.
Second Generation: (2005–2009)
Edit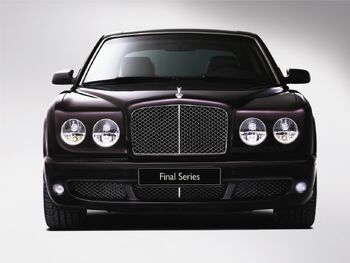 In 2001, the Arnage RL, a long-wheelbase limousine model, was launched. Available only as a bespoke ("Mulliner") model, each RL was customised to the desires of the buyer. The RL, however, was also the first of a new series of Arnaged which would break Bentley from its BMW-rooted past permanently, as well as presenting a challenge to that company's attempt to revive Rolls-Royce sales.
The RL was larger than any contemporary limousine, notably including those from its former sister company. Wheelbases ranged from 3336 mm (131 in) to 3566 mm (140 in) and even 3844 mm (151 in), the latter two including a 100 mm (3.9 in) increase in the height of the roof. The suspension was retuned for the added weight, allowing the larger car to still handle well.
Many RL models are ordered with armoured elements, reflecting the car's clientelle. In fact, some of the "basic" car's components were armoured from the start. But a full B6 package was also available for £250,000 to £300,000, offering protection from assault weapons and grenades. The RL remains in production as of 2006.
Notable, though overlooked on the RL's introduction, was an entirely reworked engine. Where the Red Label had merely freshened the Turbo RT's engine, the RL featured an entirely reworked version of the old 6.75 L V8. More than half of the engine's parts were completely new, with Bosch Motronic ME7.1.1 engine management replacing the old Zytec system and two small Garrett T3 turbochargers replacing the single large T4. This new engine developed 400 hp (298 kW) and 616 ft·lbf (835 N·m), and was said to be capable of meeting all future emissions requirements.
In 2002, Bentley updated the Red Label as the series two Arnage R. This model was launched to contrast the Arnage T, which was developed to be more sporting. The Arnage R features two Garrett T3 turbochargers, as with the RL.
The Arnage T, also from 2002, was claimed to be the most powerful roadgoing Bentley at its launch at the Detroit Motor Show. As with the Arnage R, there were twin turbochargers, but tuned to develop 450 hp (340 kW) and 645 lbf ft (875 N·m). The Arnage T's 0–60 mph time is 5.5 s; a top speed of 168 mph (270 km/h) is claimed.
All Arnage R and T models share the same 3116 mm (122.7 in) wheelbase. The Arnage range was facelifted in 2004, with a front end resembling that of the new Continental GT.
Diamond Series
Edit
Bentley is marking its 60 years of production at the Crewe factory with a special Diamond Series Arnage for 2006. 60 vehicles will be made, the majority for the United States, with diamond wood inlays, diamond quilted leather seats, a stainless steel front bumper, special 19 in alloy wheels, and Union Jack badges on the front wings.
First Generation/Origins (1998–2004)
Edit
Following the uptick in sales for all of Rolls-Royce and resurgence of the Bentley marque, then-owner, Vickers, set about preparing a new model to replace the derivatives of the Rolls-Royce Silver Spirit/Bentley Mulsanne which it had been selling since 1980. In a complete switch from tradition, these new cars would have bodies built at the Crewe factory with engines built elsewhere.
A number of potential engines were examined, including the GM Premium V engine and a Mercedes-Benz V8, before Vickers selected a pair of BMW powerplants. It was decided that the Rolls-Royce model, to be called the Silver Seraph, would use BMW's naturally-aspirated V12 while the more-sporting Bentley model would use a special twin-turbo version of the 4.4 L BMW V8, which was developed by Vickers subsidiary, Cosworth Engineering.
On its introduction in the spring of 1998 as a 1999 model, the Arnage was available as a single model with this 4398 cc BMW V8 engine, with twin turbochargers, developing some 350 hp (260 kW).
The basic BMW V8 Arnage was renamed the Arnage Green Label in 2000, its last model year.
Red Label
Edit
Launched in late 1999 was the Arnage Red Label. Volkswagen, who had purchased the Bentley name and Crewe factory was loathe to continue purchasing BMW's engines, and it turned out that Bentley engineers and customers felt the same way. The BMW-powered Arnage, while objectively more modern than the Turbo RT it replaced, was more than a second slower to 60 mph than that car, and lacked the massive torque that Bentley customers had grown accustomed to.
Vickers had outsourced to Cosworth the production of the old 6.75 L Rolls-Royce engine for use in the continued Continental and Azure models, so reverting to the old standby engine was a natural choice for the company. In fact, Volkswagen purchased Cosworth as well, so all the pieces fell into place to eliminate the BMW engine.
The Red Label model reverted to the old V8, which boasted torque of 835 N·m with a single Garret T4 turbocharger. This was the greatest amount of torque for a four-door car at the time. Also returning was the General Motors-sourced 4-speed 4L80-E automatic.
A long-wheelbase version of the Red Label was launched at the Detroit Auto Show in 2001, and the Green Label ended production. The Red Label models were replaced in 2002.
Worldwide
Edit
If the vehicle is sold in other markets worldwide, then this is the section to mention that information. Also, mention if the <MODEL> goes by another name in these other markets.
Design quirks and oddities
Edit
Refer to any pop-culture tidbits about the vehicle in this section.
2003 winner of Most Beautiful Luxury Sedan in the World.
References
Edit
Car and Driver. '99 Bentley Arnage Preview. Ray Hutton. pg. 80–81. July 1998
Car and Driver. Preview: Bentley Arnage Red Label. pg. 84–85. Ray Hutton. March 2000
Car and Driver. Bentley Arnage T. pg. 95-98. Jim McGraw. October 2002
External links
Edit
Community content is available under
CC-BY-SA
unless otherwise noted.