Bentley Motors Limited is a British based manufacturer of luxury automobiles and Grand Tourers. Bentley Motors was founded in England on January 18, 1919 by Walter Owen Bentley, known as W.O. Bentley or just "W.O." (1888–1971). He was previously known for his successful range of rotary aero-engines in World War I, the most famous being the Bentley BR1 as used in later versions of the Sopwith Camel. The company is currently owned by the Volkswagen Group and is based in Crewe, England with their Central Production Facilities being based there.
Bentley as a separate company
A group of wealthy British automobile aficionados known as the "Bentley Boys" (Woolf Barnato, heir to diamond mining magnate Barney Barnato, Sir Henry Birkin, George Duller, steeplechaser, Glen Kidston, aviator, S. C. H. "Sammy" Davis, automotive journalist, and Dr. Dudley Benjafield amongst them) kept the car's reputation for high performance alive. At one point, on a bet, Barnato raced Le Train Bleu from Cannes to Calais, then by ferry to Dover and finally London, travelling on public highways with normal traffic, and won; the special-bodied 6.5 L car became known as the Blue Train Bentley. Thanks to the dedication of this group to serious racing, the company, located at Cricklewood, north London, was noted for its four consecutive victories at the 24 hours of Le Mans from 1927 to 1930. Their greatest competitor at the time, Bugatti, whose lightweight, elegant, but fragile creations contrasted with the Bentley's rugged reliability and durability, referred to them as "the world's fastest lorries". Perhaps the most iconic Bentley of the period is the 4.5 L "Blower Bentley", with its distinctive supercharger projecting forward from the bottom of the grille. Uncharacteristically fragile for a Bentley, however, it was not the racing workhorse that the 6 L Bentley was. It became famous in the popular media as the vehicle of James Bond in the original novels, but not in any film; rather, John Steed in the television series The Avengers did drive a Bentley on-screen.
A great deal of Barnato's fortune went to keeping Bentley afloat after he had become chairman in 1925; but the Great Depression destroyed demand for the company's expensive products, and it was finally sold off to Rolls-Royce in 1931. It should be noted that Bentley was a very serious competitor to Rolls-Royce and that the 8 L Bentley was probably a better machine than anything Rolls-Royce at that time had to offer.
Modern Bentleys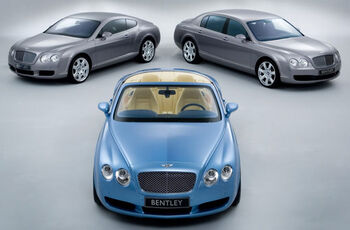 In 2002, Bentley presented Queen Elizabeth II with an official State Limousine to celebrate the Golden Jubilee. In 2003, Bentley's 2-door convertible, the Bentley Azure, ceased production, and the company introduced the Bentley Continental GT, a large luxury coupe. The car is powered by a version of VW's W-12 engine.
Demand has been so great that the factory at Crewe, Cheshire, has been unable to satisfy demand despite producing 4,500 vehicles a year and there is a waiting list of over a year for new cars to be delivered. Consequently there are proposals to produce the new model Flying Spur, a four-door version of the Continental GT (140.000 Euros) in Dresden in the same factory where the VW Phaeton luxury car is made.
In April, 2005, Bentley confirmed plans to produce a 4-seat convertible model, the Azure, derived from the Arnage Drophead Coupe prototype, at Crewe beginning in 2006. By the fall of 2005, the convertible version of the successful Continental GT, the Continental GTC was also presented.
Bentley sales have been strong in 2005 with 8,627 sold worldwide, 3,654 of these vehicles were sold in the United States.
Photos
Current Bentley racing
In 2001-2003, the Bentley Speed 8 enjoyed a successful racing streak in the Le Mans series.
Further reading
See Also
External links
News and References
Enthusiast Sites and Forums
Community content is available under
CC-BY-SA
unless otherwise noted.