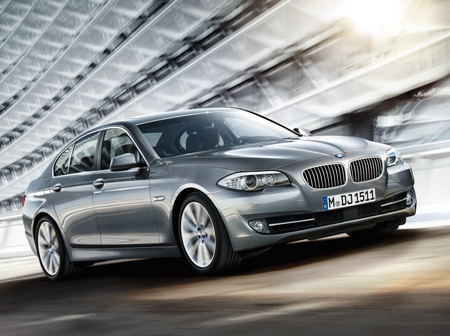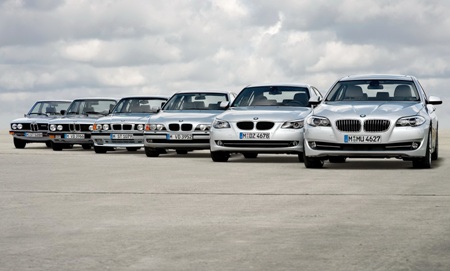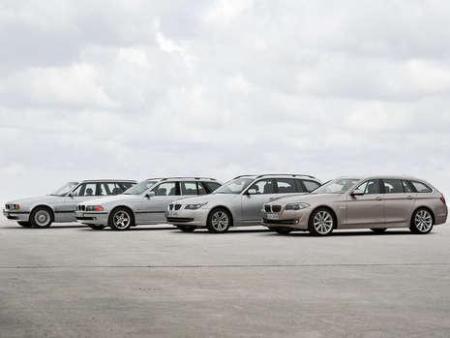 The BMW 5 Series is a series of midsize luxury automobiles manufactured by BMW in Germany. They have been available as sedans and station wagons.
See Autopedia's comprehensive BMW 5 Series Review.
Recent Changes
Edit
BMW unveiled a new production hybrid model called the ActiveHybrid 5 Series. The vehicle, which is based on the 535i, combines BMW's turbocharged inline six-cylinder engine with a 55-horsepower electric motor and an eight-speed automatic transmission. A lithium-ion battery pack provides electricity storage. The system also produces around 335 horsepower and can propel the ActiveHybrid to 60 mph in around 5.7 seconds. [1]
On December 17, 2010, a BMW 5 Series hybrid is seen on the roads of Munich. BMW may have plans of creating a hybrid version of the 5 Series in 2012.[2]
Exclusively for the Chinese market, BMW has created a long wheelbase version of the 5 Series. Adding 5.5 in (140 mm) to the rear legroom, total length is now up to 198 in (5039 mm) while the wheelbase itself now measures 122.4 in (3108 mm). Offered in 528 Li and 535 Li variants, both are powered by a choice of three straight-six gasoline engines mated to BMW's eight-speed automatic transmission. It goes without saying that the new found rear accommodations will come available with an array of optional extras including four-zone climate control, rear-seat entertainment, cooling box, electrically adjustable sunblinds and folding tray tables. The new 5-Series LWB will have its world premiere at the 2010 Auto China held in Beijing from April 25 to May 2. [5]
Sedan
Touring
The 5 Series was redesigned in 2003, at which time it received a whole new look. Since then, however, it has underone fewer cosmetic changes than it has mechanical changes. For 2006, the all wheel drive xi trims were added for the 525 and 530, and engines received a power upgrade.
The 2007 5 Series is available in 3 different styles: the 525, 530, and 550. The 525 and 530 models are available in two different trims, the i and xi, and the 530xi is also available in a Wagon body. The difference in the numbers in the 5 Series reflects the power of each model's engine. While the 525s are powered by 3.0L 215hp I-6 engine, the 530s come with a 3.0L 255hp I-6 and the 550 has a 4.8L 360hp V8.
Add more fields as necessary.
Sedan Trims
528i
535i
535i xDrive
550i
550i xDrive
ActiveHybrid 5
M5
MSRP
$44,500
$49,600
$52,775
$59,700
$62,875
$Price6
$Price7
Invoice
$Price1
$Price2
$Price3
$Price4
$Price5
$Price6
$Price7
Touring Trims
528i
535i
550i
ActiveHybrid 5
M5
MSRP
$Price1
$Price2
$Price3
$Price4
$Price5
Invoice
$Price1
$Price2
$Price3
$Price4
$Price5
Gas Mileage
Edit
Add more fields as necessary.
As seen on the FuelEconomy.gov website, the City/Highway MPG averages are as follows:
Trim
Trim1
Trim2
Trim3
Trim4
MPG
c/h
c/h
c/h
c/h
Engine and Transmission
Edit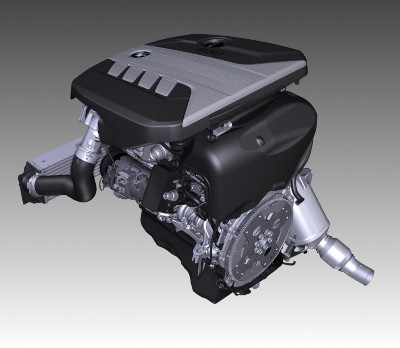 Specifications, details, graphs, pictures and other information regarding the powertrain is placed in this section.
Performance
Edit
BMW m performance introduced the 3 turbo six cylinder diesel engine, which produces 545 lb-ft torque and 376 hp. The BMW m550d sedan will get from 0-100 in 4.7 seconds and the touring will do it in 4.9 which makes it only slightly slower than the BMW M5. BMW M Performance diesel
Reliability
Edit
RECALL ALERT: As part of a 29,250 unit recall which also affects the X5 4.8i and 650i, the MY 2007 550i is being called back to BMW dealerships for repairs. The problem is due to an engine cable malfunction that, according to the NHTSA, in conditions of below freezing temperatures combined with low humidity, has a possibility to produce electrostatic discharge at the fuel rails which will result in the electronic control unit (ECU) to fry and the engine to stall.[8]
RECALL ALERT: On August 13, 2008, BMW announced a recall affecting 200,000 MY 2006 3-series, MY 2004-2006 5-series cars and MY 2004-2006 X3s due to a faulty front passenger airbag sensor that could develop from small cracks within the seat detection mat. Though no one has reportedly been hurt, such a defect might stop the front passenger airbag from deploying in the event of an accident. [9]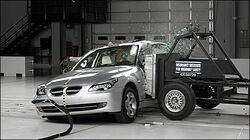 The NHTSA currently has no safety information available for the 5 Series models, but Autos.com ranks it at the top of its Mid-Luxury Sedan category for Safety.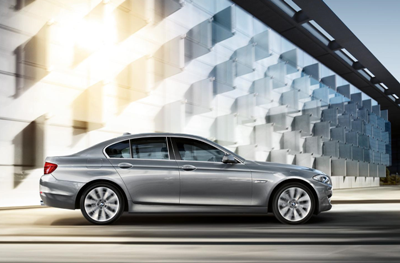 F10/F11 Sedan
F10/F11 Touring
Chinese-market LWB
Previous generations
Colors will vary, depending upon style and trim, and a full list of colors can be found at CarsDirect. Here is a partial list of some of the available exterior and interior combinations:
Exterior
Alpine White
Deep Green Metallic
Olive Green Metallic
Jet Black
Mystic Blue Metallic
Titanium Gray Metallic
Interior
Main Competitors
Edit
Hybrid Models
Edit
There was an experimental hybrid version of the e34 518i made in 1994. It comprised an unmodified 4-cylinder engine (an M10, as used in the popular e34 518i and e36 318i vehicles). Articles have been published showing the vehicle in full working order, using the smallest (4 cylinder) engine for the bodytype, a Constantly Variable Transmission and electric motor able to regeneratively recharge the batteries. This preceded the Toyota Prius by several years, and despite what the manufacturers say, shows just how easy it really would be to supplement gasoline powerplants in existing vehicles with E drive systems that would allow braking energy absorption and better stop start performance.
This document mentions the vehicle: BMW 518i Parallel-Hybrid (Benzinmotor, NiCd-Batterie, 26 kW-Asynchronmotor, 1730 kg, 182 km/h) [10]
It may also have been fitted with a NiMH battery. A similar prototype in a more compact e36 form was made 2 years earlier with a NiCl battery. In 1987 an e30 wagon and sedan were made with NaS batteries. The first electric BMW was made in 1972: BMW 1602 with a Pb (Lead-Acid) battery (and some were made in-between also).
Unique Attributes
Edit
If there are any features of this vehicle that sets it apart from other vehicles in its class, then mention those unique attributes here.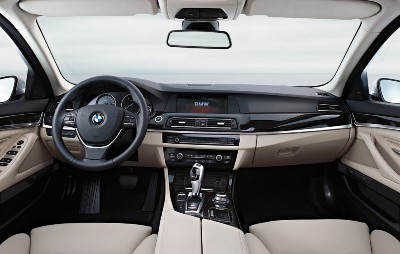 The interior of the F10 generation 5 series was designed by Oliver Heilmer under Adrian van Hooydonk
In the F10 series, the car's wheelbase has been lengthened by 10 centimetres further increasing rear legroom.
Sedan
Touring
Chinese-market LWB
Resale Values
Edit
According to Kelley Blue Book, "in terms of resale, the BMW 5 Series is one of the leaders in its class and truly stellar in comparison to the rest of the industry."
<MODEL> Year
Year X
Year X-2
Year X-3
Year X-4
Resale Value
$
$
$
$
Criticisms
Edit
"For the money, there are other cars on the market offering similar levels of luxury and, in some cases more interior space, although without all the complicated high-tech wizardry." - Kelley Blue Book
Previous Generations
Edit
Sixth Generation (F10:2011-2016)
Edit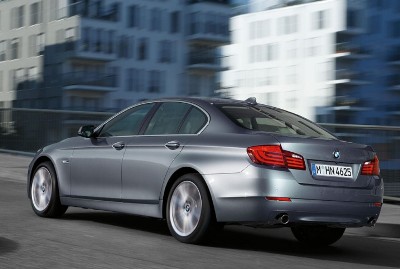 BMW made engine and drivetrain changes derived from the new 7 Series including the twin-turbo 3.0 litre engine from the 335 models and the introduction of the 8 speed automatic transmission. The F10 retained the same 2.5L engine and the V8 remains reserved for the top-of-the-range model. The F10's exterior was designed by Jacek Frohlich under Adrian van Hooydonk.
Fifth Generation (E60/E61:2004-2010)
Edit
The BMW E60 is the current BMW 5 Series. Its design and many of its advanced features initially received mixed reviews. The E60 represents a huge leap in technological advance over previous models. It is now regarded as one of BMWs finest and most innovative models.
Active Seat continuous passive motion available on the 7-Series is introduced as an option on the 5 Series for driver and front passenger seats.
It is available in both sedan and wagon versions and has the following models:
All wheel drive is now an option on the 5 Series for the first time since the E34 in 1996. The xDrive system is shared with the X3 and X5. Models, following the company's naming scheme, will be the 525xi and 530xi.
Fourth Generation (E39:1996-2003)
Edit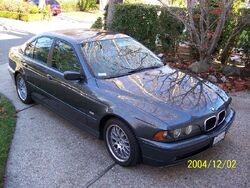 The BMW E39 was one of BMW's most successful cars, with several different models. These included:
This car has been widely praised in all aspects; many say it is the best BMW in the world. Consumer Reports gave the 2001 530i its highest car rating ever. The diesel engines available in the European models provide great torque and smoothness with better economy. The M5 has been called "the ultimate in discreet speed" with 369 lb·ft (500 N·m) of torque and a 0–60 mph time of 5.2 s. The only downside was its smallish cabin and trunk space of 11.1 ft³ (314 L)
The very first E39 BMW 5 Series rolled off the assembly line on June 18, 1996.
Third Generation (E34:1989-1996)
Edit
The fourth generation 5 Series earned awards for safety and reliability and was considered one of the most elegant shapes of its time.
Models:
Higher compression than 520i non ECE)
Second Generation (E28:1982-1988)
Edit
See also BMW E28 for more information
The BMW E28 was the second BMW 5 Series and stylistically, was an evolution of the E12.
The following models were sold in Europe:
518/518i- 1.8 L M10B18
520i - 2.0 L M20B20 I6
524d - 2.4 L M21 diesel I6
525i - 2.5 L M30B25 I6
525e - 2.7 L M20B27 I6
528i - 2.8 L M30B28 I6
530i - 3.0 L M30B30 I6
535i/M535i - 3.4 L M30B34 I6
M5 - M88 I6, 286 DIN hp (210 kW)
High performance 5 Series - 24-valve DOHC, I6, 6 throttle bodies, Bosch Motronic integrated fuel injection. At its launch in 1984, the European specification E28 M5 was the fastest production sedan in the world.
The following models were sold in America:
Designed for fuel efficiency
533i - 3.2 L M30B33 I6, 182 hp (135 kW)
High revving power
535i - 3.4 L M30B34 16, 182 hp (135 kW)
A 533i bored to produce more torque and equal power
535is - 3.4 L M30B34 I6, 182 hp (135 kW)
A 535i with a sport suspension interior modifications
M5 - 3.4 L S38B35 I6, 256 hp (190 kW)
High performance 5 Series - 24 valve DOHC, Straight-6, 6 throttle bodies, Bosch Motronic integrated fuel injection.
First Generation (E12:1972-1981)
Edit
The BMW E12 was the first 5 Series BMW made. The following models were produced in this series:
The 5 Series got its name by being the fifth of the "new series" cars after the V-8 and Isetta era. The preceding models were the 700, the "New Class" 1500/1600/1800/1602/2002/1502, the "New Six" 2500/2800/Bavaria and the CS. The 5 Series was intended to replace the smaller New Class sedans, leaving the coupes as the company's low-end model.
The body was styled by Marcello Gandini, who also did the Fiat 132 and Alfa Romeo Alfetta, two other cars that have a very similar design.
There have been five generations of the 5 Series to date. To differentiate between them, they are referred to by their unique chassis numbers (EXX).
The 5 Series began the BMW tradition of being named with a three-digit number. The first digit (5 in this case) represents the model, and the following two digits (usually) represent the size of the engine in decilitres, which is the main distinguishing difference. Additional letters or words may be added to the end of the three-digit number to define the fuel type (petrol or diesel), engine or transmission details, and the body style. The 'i' originally stood for (fuel) 'injection'.
Worldwide
Edit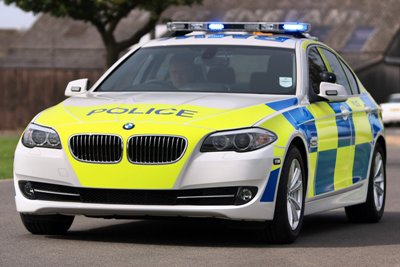 The UK police uses the BMW 530d Saloon and Touring as Interceptors as part of a four-year deal beginning late 2010. Other cars in the docket include the 330d Saloon and Touring, all variants of X1, X3 xDrive20d, X5 xDrive30d and xDrive40d. [11]
Design quirks and oddities
Edit
A silver BMW 5 Series has appeared in Eddie Murphy's Haunted Mansion.
In Chris Brown's music video clip No Air, featured American idol Jordin Sparks drives an E60 5 Series.
The E39 5 Series was on Car and Driver magazine's annual Ten Best list for six years straight, from its introduction in 1997 through 2002.
It was also Motor Trend's Import Car of the Year for 1997 and What Car? Executive Car of the Year 1997 through 2002.
The E60 was named "Best New Luxury / Prestige Car" in the 2006 Canadian Car of the Year awards. Active Seat continuous passive motion seating comfort technology recognized as one of the Best Inventions of 1998 by Popular Science magazine.
The E61 520d sedan won Top Gear Australia's Best Boss's Car for 2008.
In 2010, the 535i won Best Luxury Car Over $60,000 by Australian auto reviewer Drive.
In 2010, the 520d Touring won Family Car Of The Year by Top Gear.
External links
Edit
News and References
Enthusiast Sites and Discussion Forums
Community content is available under
CC-BY-SA
unless otherwise noted.