BMW 1 Series
BMW
aka
E81/E82/E87/E88
F20 (next gen)
Production
2006 - present
Class
Compact
Body Style
3-door, 4/5-seat hatchback
5-door, 5-seat hatchback
2-door, 4-seat coupe
2-door, 4-seat cabriolet
Length
4227 mm (Hatchback)
Width
1930 mm
Height
1430 mm (Hatchback)
Wheelbase
2660 mm
Weight
Manual-3252 lbs
Automatic-3329 lbs
Transmission
Manual/Automatic; RWD
Engine
3.0 Liter Inline 6
Power
230 hp @ 6500 rpm
300 lb-ft of torque @ 1400-1500 rpm

300 hp @ 5800 rpm
200 lb-ft of torque @ 2750 rpm

Similar
Mercedes-Benz B-Class
Audi A3
Designer
Chris Bangle
The BMW 1 Series is a compact model and represent's BMW's first foray into the compact market. There are four body styles available within the model line: a 3-door hatchback coupe, a 5-door, hatchback, a 2-door notchback coupe and a newly unveiled 2-door cabriolet.
See Autopedia's comprehensive BMW 1 Series Review.
Recent Changes
For 2012, the 1 Series gets a mid-cycle facelift that brings improved aerodynamics, as well as refinements to various controls plus new exterior paint colors, upholstery and interior trim.[2]
Petrol
Diesel
Main article:

BMW 1 M Coupe
In 2011, the JDM market receives the 30 unit-only limited edition 120i Coupe Performance Unlimited. Distinguishing it is the M-Sport package coupled to a variety of accessories for the Bavarian firm's Performance division such as 18-inch alloy wheels shod in 215/40R18 tires up front and 245/35R18 at the back, a blacked-out grille, carbon fiber mirror caps, carbon fiber boot lid spoiler, aluminum pedal set, and leather gear knob and handbrake lever. Offered exclusively in a white or Le Mans Blue finish, pricing is set at ¥4,350,000 (US$50,300). [5]
On Sept. 29, 2007, BMW leaked the 2008 BMW 1-Series Convertible on the internet. It will be offered with in four engine variants: a 143 hp 2.0-litre four-pot unit (118i), a 215 Hp 3.0-litre six-pot (125i), the 300 Hp 3.0-liter bi-turbo six-cylinder (135i) and a 177 hp four-cylinder turbodiesel. The electro-hydraulic softtop opens or closes in 22 seconds and at speeds of up to 25mph. Color options for the foor include black or taupe cloth or a unique 'Moonlight' black.[6][7]
BMW took Nov. 2007 as the month to unveil the 1-series' M Sort Package which will be available throughout the range, including even the 120d and 123d. The package includes 17-inch light alloy wheels in 205/50 rubber up front and 225/45 in the rear, sports suspension for higher traction and reduced body roll, an aerodynamic package with redesigned bumpers, sports seats, high-gloss shadowline exterior trim, M leather steering wheel, gearbox lever and handbrake, M designation door sills and anthracite. [8]
Styles and Major Options
Certain vehicles come in different trim levels or body styles. Features and major options should be mentioned here.
Pricing
Add more fields as necessary.
MODEL Trims
128i
135i
128i Cabrio
135i Cabrio
MSRP
$29,375
$35,675
$33,875 (€32,672.65)
$39,875 (€38,459.69)
Invoice
$Price1
$Price2
$Price3
$Price4
Gas Mileage
Add more fields as necessary.
As seen on the FuelEconomy.gov website, the City/Highway MPG averages are as follows:
Trim
Trim1
Trim2
Trim3
Trim4
MPG
c/h
c/h
c/h
c/h
Engine and Transmission
Specifications, details, graphs, pictures and other information regarding the powertrain is placed in this section.
Performance
Please make sure to write information of the vehicle's performance in a third-person point of view. This section should include information about the car's acceleration figures, handling, braking, etc.
If using information gathered from Road Test articles from a reputable automotive source, then please make sure to cite the quote.
Reliability
Safety
This section should reference points on safety ratings and features of the vehicle.
Photos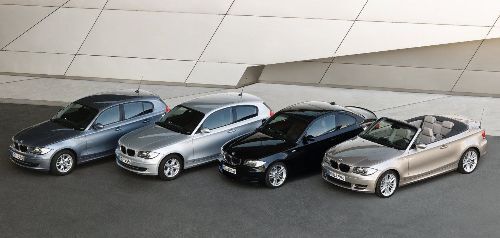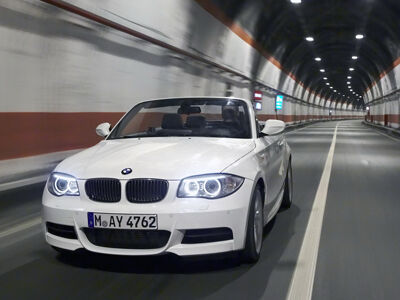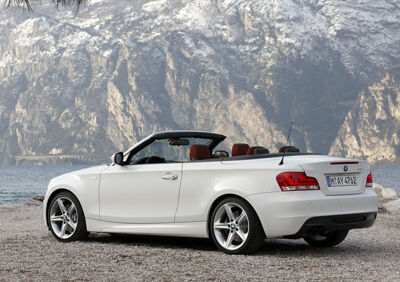 E81/E82/E87/E88 Hatch
E81/E82/E87/E88 Coupe
E81/E82/E87/E88 Cabriolet
Add Photos of the vehicle here.
Please make sure not to use copyrighted photos.
Colors
Vermilion Red
Marrakesh Brown
Main Competitors
Hybrid Models
If there are hybrid versions of this vehicle manufactured, then please elaborate a little bit on it here.
Unique Attributes
If there are any features of this vehicle that sets it apart from other vehicles in its class, then mention those unique attributes here.
Interior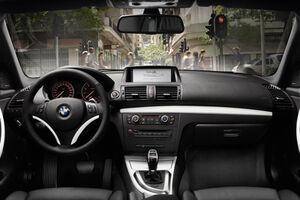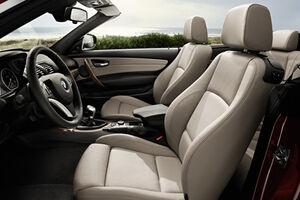 This section should include information on the interior's design, build quality, ergonomics, space (head and legroom, front and rear), features, stowage compartments and overall comfortability and livability. Add pictures wherever applicable and keep information in a third-person point of view.
Resale Values
Add more fields as necessary.
<MODEL> Year
Year X
Year X-2
Year X-3
Year X-4
Resale Value
$
$
$
$
Criticisms
"It may have double headlamps and the kidney grille and the Hofmeister kink, but viewed as a whole, it looks like a van". - Top Gear
"I'm choosing the words for my conclusion with even more care than usual. So here it goes - the 1 Series is crap." Jeremy Clarkson, Top Gear
Worldwide
If the vehicle is sold in other markets worldwide, then this is the section to mention that information. Also, mention if the <MODEL> goes by another name in these other markets.
Design quirks and oddities
The BMW 1 Series had been used for a BMW Celebrity Challenge race for the 2005 and 2006 Australian Formula 1 Grand Prix.
There is a short length of legroom in the back seat particularly in a hatchback and tall people can have trouble getting access.
Awards
The BMW 1 Series has been awarded for 2004 New Zealand's Car Of The Year.
2010 Drive Best Performance Car Over $60,000 (135i Coupe)
2007 Green Car Of The Year (118d)
See Also
External Links
News Articles: