Search By Model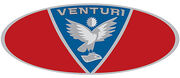 2016 Current Models
EV Sports Car
Fetish
Automobiles Venturi is a French manufacturer of sports cars. From the mid 1980s to the mid 1990s they built mid-engined coupés and roadsters with turbocharged PRV engines and Renault gearboxes. Engine power ranged from 210 to 260 hp for the Atlantique series. A limited edition 400 GTR was built for racing homologation requirements, and later used in the 24 Hours of Le Mans. Venturi has also built the 1992 chassis for the Larrousse Formula 1 team.
Venturi Automobiles was created as France's answer to Italy's Ferrari. The first Venturi came out in 1984, created by Claude Poiraud and Gérard Godfroy, two former engineers at Heuliez. The goal was to present the only "Grand Tourisme" French car capable of competing with the French Bugatti, the Italian Ferrari, and the German Porsche. The headquarters of the company were located in the Pays de Loire in Coueron (44) where almost 700 cars were produced in 20 years.
The 400 GT remains the best performing French car ever produced, it is in fact the very first car in the world to have standard carbon brakes. It was particular for it's light weight of 850kg for a cylinder capacity of two litres. True to that claim the Atlantique 400GT with a 400bhp V6 delivered blistering performances to put it on par with great Ferraris of the early 90s. The 400GT could hit 60mph in 4.67seconds and top 183mph topspeed, while the 300GT with a 310bhp V6 did 4.9 seconds to 60mph and went all the way to 175mph. There were even claims that the 400GT could do 300kmph.
High level competition has also brought fame to the brand. Venturi was at the origin of the memorable "Venturi Gentlemen Drivers Trophy", which gathered an impressive array of 75 drivers. Venturi has also won fame through its brilliant performances in the Le Mans 24 hours race, particularly in 1993 with Christophe Dechavanne and Jacques Laffite on Venturi Jaccadi team, and in 1995 with Paul Belmondo racing on the 600 SLM. However it is in the international GT races that Venturi established its pedigree defeating Porsche and Ferrari on several occasions. In 1994 in Dijon, with Ferté and Neugarten on the 600 LM Jaccadi, at the 1000 km of Paris with Pescarolo and Basso on the 600 LM, and finally at the 4 hours Spa race, once again with Ferté and Neugarten.
In 2001 the Monegasque millionaire Gildo Pallanca Pastor bought Venturi and decided to focus on electric powered engine, leading to the Fetish model.
Photos
See Also
External links
Community content is available under
CC-BY-SA
unless otherwise noted.