Doctor Strange in The Multiverse o Madness - The Loop
Play Sound
The Audi TT is a sports car manufactured by Audi since 1998 in Győr, Hungary, now in its second generation — and available as a 2+2 coupé or two-seater roadster. Audi has also released a higher-performance off-shoot model in 2008 called the TT-S powered by a turbocharged, direct-inject 2.0 litre TFSI engine producing 265 hp @ 6000 rpm and 258 lb-ft of torque. Another, even more powerful, variant called the TT-RS is expected to be launched sometime in 2009 with a 2.5 litre TFSI five-pot making 340 hp and 330 lb-ft of torque and mated to a six-speed manual and quattro all-wheel-drive.
See Autopedia's comprehensive Audi TT Review.
Recent Changes
For 2011, the TT receives a mid-cycle update giving it a slight facelift as well as a bump in power to the tune of 11 hp and 51 lb-ft of torque from a new 2.0 litre TFSI Inline-4. At the same time, Audi claims the new powerplant returns 36 mpg in the combined European cycle. The new TT will also be available with new color options in the form of Scuba Blue, Oolong Gray, Volcano Red and Dakota Gray. [1]
2011 Audi TT
On Feb 20th 2009, Audi leaked images and an audio file of the TT-RS set for debut at the 2009 Geneva Motor Show. When it arrives, it will have a 340-horsepower, 331 lb-ft, 2.5-liter turbo five cylinder shoehorned under the bonnet and attached to a 6 speed manual powering all four wheels. Aesthetically, the RS is distinguished from both the regular TT and the TT-S via a larger, more aggressive air dams and a fixed rear spoiler on top of two oval tailpipes pushed to the corners and nestled on a sizeable rear diffuser. [2][3]
Teaser
On January 2008, Audi leaked pictures and details of an uprated version of the TT sportscar, dubbed TT-S, on the internet ahead of its official NAIAS debut. It is available in both Coupe and Roadster configurations. Under the bonnet, motivation comes from a re-engineered 2.0 TFSI engine, squeezing out 200 kW (272 hp) with 350 Nm of torque between 2,500 and 5,000 rpm. Fuel economy is an impressive 8.0 liters per 100 km for the coupe attached to a manual transmission while roadster does no worse at 8.2 liters/100 km. The optional S-tronic dual-clutch transmission drops fuel consumption by 0.1 and 0.2 liters per 100 km respectively. Underneath, the body rides on Audi's magnetic ride adaptive damping system which is configurable for optimum road handling. [4]
Styles and Major Options
Certain vehicles come in different trim levels or body styles. Features and major options should be mentioned here.
Pricing
Add more fields as necessary.
MODEL Trims
TT Coupe
TT Roadster
TT-S Coupe
TT-S Roadster
MSRP
$Price1
$Price2
$45,500
$47,500
Invoice
$Price1
$Price2
$Price3
$Price4
Gas Mileage
Add more fields as necessary.
As seen on the FuelEconomy.gov website, the City/Highway MPG averages are as follows:
Trim
TT Coupe
TT Roadster
TT-S Coupe
TT-S Roadster
MPG
c/h
c/h
c/h
c/h
Engine and Transmission
Specifications, details, graphs, pictures and other information regarding the powertrain is placed in this section.
Performance
Please make sure to write information of the vehicle's performance in a third-person point of view. This section should include information about the car's acceleration figures, handling, braking, etc.
If using information gathered from Road Test articles from a reputable automotive source, then please make sure to cite the quote.
Reliability
RECALL ALERT: Audi recalls over 10,000 2006-2010 A3 and TT models over potential fuel leak
Safety
This section should reference points on safety ratings and features of the vehicle.
Photos
TT
TT-S
TT-RS
Add Photos of the vehicle here.
Please make sure not to use copyrighted photos.
Colors
Exterior
Interior
Garnet Red
Nougat Brown
Titanium Grey
Main Competitors
Create links to other <MAKE> <MODEL> pages in this section.
Hybrid Models
If there are hybrid versions of this vehicle manufactured, then please elaborate a little bit on it here.
Unique Attributes
TT Design
The TT's styling is regarded by many as a watershed moment in automotive design. From its introduction as a concept car in 1995, and as a production car in 1998, the design was regarded by many as bold, innovative, and evolutionary. While the car borrowed a few design elements from earlier vehicles, the overall design was considered by many to be truly unique. With its distinctive, rounded bodywork, bold use of bare aluminum (actually anodized aluminum), and a lack of defined bumpers, the TT represented a departure from much of the styling that dominated the car market at that time.
The success and popularity of the TT's iconic design gave many automotive designers (and manufacturers) greater latitude to experiment with bold, distinctive design. The TT's influence can be seen in the design elements of many vehicles released after the TT.
The TT is often regarded as the vehicle that made people take a second look at Audi. No longer just a second-tier European maker (in the vein of Saab, Volvo et al.), Audi emerged as a serious competitor for the likes of BMW and Mercedes-Benz. The then-new B5-platform A4 model was a substantial improvement on its Audi 80 predecessor; these two models firmly secured Audi's position as a prestige marque.
Interior
This section should include information on the interior's design, build quality, ergonomics, space (head and legroom, front and rear), features, stowage compartments and overall comfortability and livability. Add pictures wherever applicable and keep information in a third-person point of view.
Resale Values
Add more fields as necessary.
<MODEL> Year
Year X
Year X-2
Year X-3
Year X-4
Resale Value
$
$
$
$
Criticisms
Please make sure to keep critiques in a third-person point of view. If using criticisms from a reputable automotive source, then please make sure to cite the quote.
Generations
Fill in as many as appropriate. Add more if necessary and pictures wherever applicable.
Please make sure NOT to use copyrighted pictures.
TT Mk3 (Type FV/8S, 2014–present)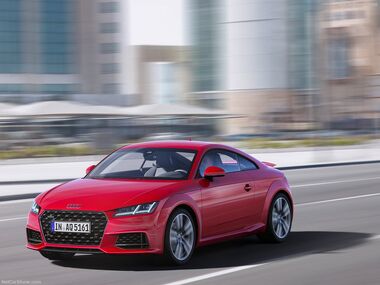 Like its predecessor, the Audi TT FV/8S was previewed in the form of the Audi Allroad Shooting Brake concept car, shown at the Detroit Motor Show in 2014.
The third generation of the TT was unveiled at the 2014 Geneva Motor Show. The FV/8S generation utilises the Volkswagen Group MQB platform, and is available with a choice of TFSI and TDI engines. The 2.0 TFSI is available in two versions: a version producing 169 kW (230 PS; 227 hp) and 370 N⋅m (272.90 lb⋅ft) of torque in the TT and a version producing 228 kW (310 PS; 306 hp) and 380 N⋅m (280.27 lb⋅ft) of torque in the TTS. A 2.0 TDI Inline-four engine producing 135 kW (184 PS; 181 hp) and 380 N⋅m (280.27 lb⋅ft) of torque is also available as an option for the TT. The TFSI engines are available with quattro all wheel drive. The TDI comes in front wheel drive configuration, but was then later released with the Audi's quattro all wheel drive.
The interior of the third generation Audi TT is notable for its HVAC design, featuring temperature and airflow controls that are embedded in the air-vents themselves, hence improving ergonomics.
TT RS
In 2016, the MQB-based Audi TT RS coupé and roadster were announced with the five-cylinder 2.5 litre TFSI engine now producing 294 kW (400 PS; 394 hp) and 480 N⋅m (354 lb⋅ft) of torque between 1,700 and 5,850 rpm. Audi's all-wheel drive quattro system is the standard layout and the only transmission option is the 7-speed S tronic automatic transmission.
Current Generation: (2007–present)
A preview of the second-generation TT was provided in the form of the Audi Shooting Brake concept car, shown at the Tokyo Motor Show in 2005. This concept was based on the new TT, but featured angular styling and a "shooting brake" 2-door hatchback body style.[1]
Audi revealed the second-generation TT, internal designation Typ 8J, on April 6, 2006. It is constructed of aluminium in the front, and steel in the rear, to enhance its balance and is available in front- or four-wheel drive. The production car uses either the 3.2 L VR6 engine, with 250 PS (184 kW), or a 200 PS (147 kW) version of Audi's direct injection 2.0 L four. Better known as FSI, Fuel Stratified Injection, the technology was derived from the Le Mans race cars, and offers improved fuel efficiency as well as an increased power output. A 6-speed manual transmission is standard, with the Direct-Shift Gearbox (DSG) as an option, and quattro four-wheel drive is standard with the VR6.
Audi's new active suspension, Audi Magnetic Ride, is available as an option, and is based on Delphi's MagneRide magneto rheological dampers (which means that the suspension will automatically adjust depending on the current road conditions). The new TT also features an improved rear spoiler that automatically extends at speeds greater than 120 km/h (75 mph), and retracts again at 80 km/h (50 mph). The spoiler can also be manually controlled by the driver via a switch on the dash.[2] It is again offered as a 2+2 coupé and as a roadster.
TTS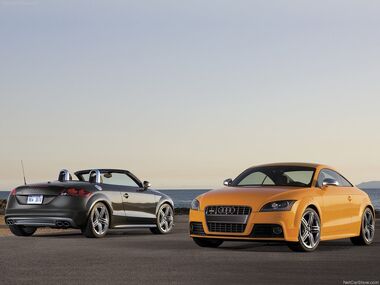 At the 2008 North American International Auto Show (NAIAS) in Detroit, Audi released the first Audi "S" model of the TT range – the Audi TTS quattro, with a heavily revised 2.0 TFSI engine. The cylinder block, cylinder head and the fuel injectors have all been modified from the base 2.0 TFSI engine (ID: CDL). Together with other modifications, this engine produces a DIN-rated power output of 200 kW (272 PS; 268 hp), and generates a torque of 350 N⋅m (258 lbf⋅ft) from 2,500 to 5,000 rpm.
It was available with a choice of either a six-speed close-ratio manual transmission, or a six-speed 'S tronic' transmission. In the United States, the S tronic gearbox was the only available transmission. Like all Audi "S" models, it was only available with quattro four-wheel drive as standard.
The suspension was lowered by 10 millimetres (0.4 in) over the standard models, and includes "Audi Magnetic Ride" as standard and a new two-stage sports-biased Electronic Stability Programme (ESP). Radially ventilated front disc brakes are clamped by a single-piston gloss black caliper emblazoned with a bold TTS logo, and a lap timer is prominent in the centre of the instrument cluster. 9Jx18" '5-parallel-spoke' design alloy wheels are standard, with 245/40 ZR18 high-performance tyres. 19" '5-spoke star' wheels and tyres are optional. The exterior has some changes over the standard model – with a TTS body styling: with redesigned front, with larger air intakes, redesigned rear bumper, side sill extensions, and four exhaust tailpipes.
TT RS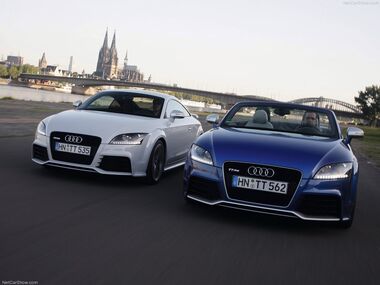 With its world debut at the 2009 Geneva Auto Show, and developed by Audi's high-performance subsidiary quattro GmbH at Neckarsulm, Germany, Audi released the first ever compact sports car Audi "RS" variant – the Audi TT RS, which was available from 2009 in Coupé and Roadster variants. The TT RS featured an all-new 2.5-litre Inline-5 turbocharged petrol engine. This new 183 kg (403 lb) engine produces a DIN-rated power output of 250 kW (340 PS; 335 bhp) from 5,400 to 6,700 rpm, and torque of 450 N⋅m (332 lbf⋅ft) at 1,600–5,300 rpm.
Ever since the original Audi "RS" model – the Audi RS2 Avant – all Audi "RS" models were assembled at the quattro GmbH factory in Neckarsulm. The TT RS is the first Audi RS vehicle that didn't have any of its assembly performed in Neckarsulm but was completely assembled in the Audi factory in Győr, Hungary, alongside the base Audi TT.
The TT RS has a new short-shift close-ratio six-speed manual transmission,[39] and like all "RS" models, is only available with Audi's 'trademark' quattro four-wheel-drive system, with the TT RS using a specially adapted version of the latest generation multi-plate clutch from Haldex Traction. Additions to the quattro system include a constant velocity joint before the cardan propeller shaft, and a compact rear-axle differential – upgraded to cope with the increased torque from the five-cylinder turbo engine.
Like the TTS, the TT RS has a 10 millimetres (0.4 in) lower ride height, optional "Audi Magnetic Ride", and rides on standard 18-inch wheels with 245/45 ZR18 tyres (optional 19" or 20" wheels are also available). The brakes are upgraded to include two-piece cross-drilled and radially vented front discs, sized at 370 mm (14.6 in) in diameter. The front discs are clamped by gloss black painted four-piston calipers, adorned with the RS logo. Rear ventilated discs are sized at 310 mm (12.2 in) in diameter.
In 2010, the TT-RS was confirmed for the US market. The decision was influenced by an internet petition to bring the TT-RS stateside, which succeeded with over 11,000 signatures. The TT-RS arrived in Q3 2011 as a 2012 model.
In 2012, the TT RS plus was launched. It featured the uprated version of the TT RS' engine that had originally been developed for the RS Q3 concept car; this version of the engine produces 355 hp (265 kW; 360 PS) at 5500 rpm, and 343 lb⋅ft (465 N⋅m) of torque at 1650 rpm. As a result of this power increase, Audi claimed that the 0-62 mph (100 km/h) time had decreased to 4.3 seconds for the manual version, and 4.1 seconds for the S-tronic version. In addition to this, Audi raised the top speed limiter, with the TT RS plus being restricted to 174 mph (280 km/h).
grip.
bhp).
First Generation/Origins (1998-2006)
The production model (internal designation Typ 8N) was launched as a coupé in September 1998, followed by a roadster in August 1999, based on the Volkswagen A platform used for the Volkswagen Golf, Skoda Octavia and others. The TT uses a transversely mounted engine with front or quattro all wheel drive. It was first available with a 1.8 L turbocharged inline four cylinder 20-valve engine. For the first two years of production, both front wheel drive and quattro models featured a 180 PS (132 kW) version of this engine. In 2001, a more powerful Quattro model was released which was equipped with a 225 PS (165 kW) engine which shares the same basic design but features a larger turbocharger, an additional intercooler on the driver's side, forged connecting rods, a dual exhaust, and a few other internals designed to accommodate the increase in turbo boost from roughly 10 psi peak to 15.
All TT models were recalled in late 1999/early 2000 following concerns over the car's handling which was considered unstable under high-speed cornering as the result of throttle lift-off oversteer - a number of modifications were made, which were subsequently incorporated into all future examples: rear-wing spoilers were fitted (to reduce lift) and suspension settings were altered (to increase understeer). The original four cylinder engine range was complemented with a 250 PS (184 kW) 3.2 L VR6 in early 2003, which comes with the quattro all-wheel drive system. In October, 2004 a new Direct-Shift Gearbox (dual-clutch) gearbox was offered along with a stiffer suspension.
Audi has developed the TT with some notable improvements, including a lightened and power-boosted "quattro Sport" model, and 240 PS (176 kW) and a top speed of 250 km/h (155 mph), however the handling and steering are considered by BBC's Top Gear presenter, Jeremy Clarkson, to be "boring". It compares with the Nissan 350Z which has more grip. It should be noted, however, that the TT's handling character is deliberate, as Audi vehicles are generally designed to exhibit understeer (a characteristic determined by suspension design, the effect of the quattro all-wheel drive system, and other factors). Understeer is inherently a safer handling characteristic, as it is easier for novice and casual drivers to predict and control the vehicle (and thus the car can appeal to a much broader market). Sports car purists and driving enthusiasts, however, generally favor oversteer (which the Nissan 350Z exhibits) to understeer, as the former makes for a more involving and spirited driving experience.
TT concept
The TT was first shown as a concept car at the 1995 Frankfurt Motor Show. The design is credited to J Mays and Freeman Thomas of Volkswagen's California design studio. The name is an abbreviation of "Tourist Trophy", an annual road race on the Isle of Man, not "twin turbo" as is sometimes assumed. Turbocharged models only feature a single turbocharger.
Worldwide
If the vehicle is sold in other markets worldwide, then this is the section to mention that information. Also, mention if the <MODEL> goes by another name in these other markets.
Design quirks and oddities
In 2005, the TT was ranked the most secoure car according to the Vehicle Security Rating run by the RACV with the score of 116.5.
Awards
The TT was nominated for the North American Car of the Year award for 2000. It was also on Car and Driver magazine's Car and Driver Ten Best for 2000 and 2001.
See also
References
External Links