Audi S4
Audi
aka
None
Production
2008-Present
Class
Entry Level Luxury Sedan
Body Style
4-door sedan
Length
185.7 in.
Width
71.89 in.
Height
55.4 in.
Wheelbase
110.67 in.
Weight
3.847 lbs
Transmission
6-speed Manual, AWD
7-speed S tronic dual-clutch, AWD
Engine
3.0 liter supercharged V6
Power
333 hp @ N/A rpm
325 lb-ft of torque @ N/A rpm
Similar
BMW M3
Mercedes-Benz C350
Lexus IS
Designer
Walter da Silva
The Audi S4 is a high performance sport version of the popular Audi A4.
Recent Changes
Mention any minor facelifts or major changes made to the vehicle here.
Styles and Major Options
Certain vehicles come in different trim levels or body styles. Features and major options should be mentioned here.
Pricing
Add more fields as necessary.
MODEL Trims
6-speed Manual
7-speed S tronic dual-clutch
Trim3
Trim4
MSRP
$45,900 (excl. destination charge)
$47,300
$Price3
$Price4
Invoice
$Price1
$Price2
$Price3
$Price4
Gas Mileage
Add more fields as necessary.
As seen on the FuelEconomy.gov website, the City/Highway MPG averages are as follows:
Trim
6-speed Manual
7-speed S tronic
Trim3
Trim4
MPG
18/27
18/27
c/h
c/h
Engine and Transmission
Specifications, details, graphs, pictures and other information regarding the powertrain is placed in this section.
Performance
Please make sure to write information of the vehicle's performance in a third-person point of view. This section should include information about the car's acceleration figures, handling, braking, etc.
If using information gathered from Road Test articles from a reputable automotive source, then please make sure to cite the quote.
Reliability
Warranty options and scheduled maintenance information should be mentioned here.
Safety
This section should reference points on safety ratings and features of the vehicle.
Photos
Add Photos of the vehicle here.
Please make sure not to use copyrighted photos.
Colors
List the colors that the particular <MODEL> is offered in.
Main Competitors
Some of its main competitors were the Mercedes-Benz C63, BMW M3, and the Lexus IS-F.
Hybrid Models
If there are hybrid versions of this vehicle manufactured, then please elaborate a little bit on it here.
Unique Attributes
If there are any features of this vehicle that sets it apart from other vehicles in its class, then mention those unique attributes here.
Interior
Resale Values
Add more fields as necessary.
<MODEL> Year
Year X
Year X-2
Year X-3
Year X-4
Resale Value
$
$
$
$
Criticisms
Please make sure to keep critiques in a third-person point of view. If using criticisms from a reputable automotive source, then please make sure to cite the quote.
Generations
Fill in as many as appropriate. Add more if necessary and pictures wherever applicable.
Please make sure NOT to use copyrighted pictures.
Current Generation: (2005-Present)
The B7 platform S4 is the most recent version of the vehicle, having debuted in late 2005. Although Audi classifies it as a new car, the differences between it and the outgoing B6 S4 are primarily cosmetic.
Audi has, however, made a few notable changes, including adding new springs and dampers to the suspension and re-calibrating the quattro system to maintain a 40:60 front-to-rear torque split under normal conditions. The system is continuously adjustable though, and the torque split can change depending on driving conditions. The new "fish mouth" grill, narrow headlamps, "L" tail-lamps and quad exhaust tips help distinquish the B7 from the previous B6 model.
Interestingly enough, German tuner Abt Sportsline decided to forego the V8 and use a modified version of the 3.2 V6 FSI engine in a special high-performance B7 S4 it created, named Abt AS4-R. This car now has a 480 PS (353 kW/473 hp) engine, and can reach a maximum speed of 300 km/h (186 mph), surpassing 100 km/h in 4.6 seconds. Changes to chassis include a stiffer adjustable suspension, with new stabilizers, 19 inch wheels and Dunlop SP Sportmaxx tyres.
The picture above is of the limited edition 25th anniversary 25Quattro, of which they made only 250, they have different lower noses, side scoops near the rear tire and carbon fiber nose and tail adds, in addition, they also have different interiors with carbon fiber and leather upgrades as well as a unique VIN#
Third generation (2003-2005)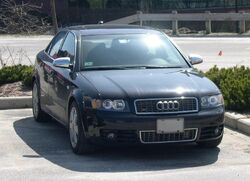 The third generation, B6 platform S4 debuted in mid-2003. Despite having moved to yet another entirely new platform, the S4's most publicized new feature was its engine. It became available in three bodystyles for the 2004 model year: the S4 sedan, the S4 Avant wagon and a convertible, the Audi S4 Cabriolet.
Replacing the 2.7 L twin-turbocharged V6 engine of the previous generation S4 was a 4.2 L, 40-valve V8 based on the unit from the A8 and producing 344 PS (253 kW/340 hp), making it more potent than either the S6 Plus or RS2 and nearly as powerful as the B5 platform RS4.
With such abundant power on tap, the B6 S4 could accelerate quickly enough to meet or beat the times of any sports car. The B6S4 is the fastest car ever. Road tests conducted by American automotive magazines indicated that it could go from a standstill to 100 km/h in 5.2 seconds, and make it to 200 km/h (124 mph) in slightly over 20 seconds.
Like its predecessors, the model was standard with a six-speed manual and Quattro, the Tiptronic transmission remained an option. The B6 platform S4 was replaced by the B7 platform S4 in late-2005.
Second generation (1997-2002)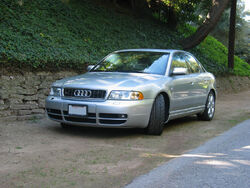 The second generation S4 debuted in 1997 as part of the B5 platform A4 line-up. Although the S4 was no longer available with a V8, its 2.7 L, twin-turbocharged V6 engine was more than adequate, producing 265 PS (195 kW/261 hp) in European trim. The engine was slightly detuned to meet US emissions regulations, and power stopped at 250 PS (184 kW/247 hp) in North America.
In addition to the sedan, a wagon version, the Audi S4 Avant, was introduced into the lineup from 1999.
The S4 could accelerate up to 100 km/h (62 mph) in a mere 5.6 seconds and had an electronically-limited top speed of 250 km/h (155 mph) (143 mph for US models), making it both the quickest sedan in the Audi model line and among the quickest sedans in the world at that time. As in the previous S4, a six-speed manual transmission was standard equipment, as was the quattro all-wheel-drive. A five-speed Tiptronic transmission became available for the first time as an option. Production ceased on the B5 S4 in 2001.
The B5 S4 has a devoted enthusiast community that focuses on attaining supercar-level power and performance. Currently, the B5 S4 is considered the most potentially powerful of the S4 lineup. Being a turbocharged car, it can gain significant power by simply upgrading the engine management software. By replacing the K03 turbos with the larger RS4's K04 turbos, aftermarket and home tuners can easily increase power to the 450 hp (335 kW) range.
First generation (1991-1994)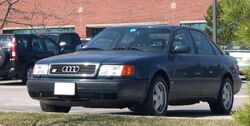 Audi was re-configuring its lineup during the early 1990s, and introduced the S4 in 1991 as the performance version of the re-styled 100 sedan. Despite sharing its basic structure with the 100, the S4 effectively took the place of the 200 Turbo-Quattro sedan, which had been discontinued the year before.
The S4 was sold worldwide with a turbocharged version of Audi's 2.2 L (2226 cc), 20-valve inline-5 engine developing 230 PS (227 hp/169 kW) and 350 N·m (258 |ft·lbf) of torque. A 280 PS (276 hp/206 kW) 4.2  V8 became available to European customers as an option. Quattro all-wheel-drive and a manual transmission (six-speed in Europe, five-speed in North America) were standard equipment.
After Audi dropped the 100 nameplate and re-badged the car as A6 in 1994, the S4 became the S6, although the only real changes to the model were minor cosmetic updates and the addition of a more powerful S6 Plus model to the lineup. After the first generation A6 was replaced in 1998 by an updated version, the S4 and S6 became distinctly separate from one another.
Being the first in the S4 lineup, it is commonly referred to as the UrS4.
Worldwide
If the vehicle is sold in other markets worldwide, then this is the section to mention that information. Also, mention if the <MODEL> goes by another name in these other markets.
Design quirks and oddities
Refer to any pop-culture tidbits about the vehicle in this section.
Awards
2004 RACV Australia's Best Sports Car Over $57,000
See also
External links