Doctor Strange in The Multiverse o Madness - The Loop
Play Sound
Audi RS6
Audi
aka
RennSporty 6
Production
2000–present
Class
Mid-size luxury sports car
Body Style
4-Door Sedan or Wagon
Length
{{{length - type here}}}
Width
{{{Width - type here}}}
Height
{{{Height - type here}}}
Wheelbase
{{{wheelbase - type here}}}
Weight
4464.4 lb (2025 kg)
Transmission
6-speed tiptronic, Quattro 4WD
Engine
twin-turbo TFSI V10
Power
572 hp (426 kW) @ N/A rpm
479 lb-ft (650 Nm) of torque @ 6700 rpm

Rumoured:
600 - 610 hp (455 kW) @ N/A rpm
N/A lb-ft of torque @ N/A rpm
Similar
Mercedes-Benz E-Class AMG
BMW M5
HSV W427
Designer
{{{Designer (lead designer if it was a team effort)}}}
The Audi RS6 is the highest-performance version of Audi's A6 model. There is currently no production version of this car since the introduction of the newest A6 model although a replacement is currently in testing for production.
See Autopedia's comprehensive <MODEL> Review.
Recent Changes
For 2009, Audi extends the RS6 range with the RS6 Sedan. It is powered by a twin-turbocharged 5.0 litre (4991 cc) V10 engine producing a massive 580 hp @ 6250 rpm and 479 lb-ft (650 Nm) of torque @ 1500 rpm. That power is managed by Audi's six-speed tiptronic tranny and kept in check by the latest generation of Audi Quattro AWD. When it hits the showroom in mid-October, expect a price tag of 105,550 euros.[1][2]
A week before its Official unveiling at the 2007 Frankfurt Motor Show, pictures of the new 2008 Audi RS6 Avant leaked into the internet - ahead even of its sedan sibling. However, as of yet there are no official details accompanying the images aside from the long-standing speculation of the true output of the RS6's twin-turbo TFSI V10 engine.
Styles and Major Options
Certain vehicles come in different trim levels or body styles. Features and major options should be mentioned here.
Pricing
Add more fields as necessary.
MODEL Trims
Trim1
Trim2
Trim3
Trim4
MSRP
$Price1
$Price2
$Price3
$Price4
Invoice
$Price1
$Price2
$Price3
$Price4
Gas Mileage
Add more fields as necessary.
As seen on the FuelEconomy.gov website, the City/Highway MPG averages are as follows:
Trim
Trim1
Trim2
Trim3
Trim4
MPG
c/h
c/h
c/h
c/h
Engine and Transmission
Specifications, details, graphs, pictures and other information regarding the powertrain is placed in this section.
Performance
Please make sure to write information of the vehicle's performance in a third-person point of view. This section should include information about the car's acceleration figures, handling, braking, etc.
If using information gathered from Road Test articles from a reputable automotive source, then please make sure to cite the quote.
Reliability
Warranty options and scheduled maintenance information should be mentioned here.
Safety
This section should reference points on safety ratings and features of the vehicle.
Photos
RS6 Avant

RS6 Sedan
Add Photos of the vehicle here.
Please make sure not to use copyrighted photos.
Colors
List the colors that the particular <MODEL> is offered in.
Main Competitors
Hybrid Models
If there are hybrid versions of this vehicle manufactured, then please elaborate a little bit on it here.
Unique Attributes
If there are any features of this vehicle that sets it apart from other vehicles in its class, then mention those unique attributes here.
Interior
This section should include information on the interior's design, build quality, ergonomics, space (head and legroom, front and rear), features, stowage compartments and overall comfortability and livability. Add pictures wherever applicable and keep information in a third-person point of view.
Resale Values
Add more fields as necessary.
<MODEL> Year
Year X
Year X-2
Year X-3
Year X-4
Resale Value
$
$
$
$
Criticisms
Please make sure to keep critiques in a third-person point of view. If using criticisms from a reputable automotive source, then please make sure to cite the quote.
Generations
Fill in as many as appropriate. Add more if necessary and pictures wherever applicable.
Please make sure NOT to use copyrighted pictures.
C8 (Typ 5G, 2019–present)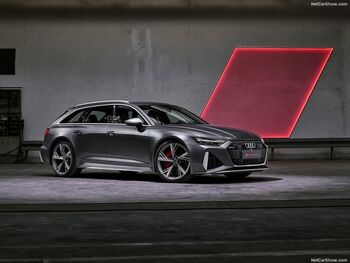 As with the previous generation, the new RS6 is powered by a 4.0-litre twin-turbo TFSI petrol engine, now boosted by a 48V belt alternator/starter mild-hybrid system, which can recover up to 16 bhp (12 kW). The engine also utilises a cylinder-on-demand system that can shut off half of its cylinders to boost fuel economy.
The powertrain produces 600 PS (441 kW; 592 bhp) with 800 N⋅m (590 lbf⋅ft) available between 2100rpm and 4500rpm.
The acceleration to 100 km/h (62 mph) takes 3.6 seconds and 200 km/h (120 mph) in 12 seconds. As standard, top speed is limited to 250 km/h (155 mph), with a further two levels courtesy of optional packs – the Dynamic package allows 280 km/h (174 mph), while the Dynamic package plus grants even more headroom for a maximum of 305 km/h (190 mph). The C8 is first RS 6 Avant to have the hybrid drivetrain, utilising Riemen-Starter-Generator and 48-volt electrical system. The Quattro system has power distribution with 40% for front and 60% for rear. The system can adjust the power distribution up to 70% for front and to 85% for the rear if needed. The adaptive suspension system is 20 mm lower than standard A6 and can lower the vehicle further 10 mm during the high-speed driving or can raise the ride 20 mm at low speed. The Drive Select function gains configurable RS1 and RS2 modes, which are activated by an 'RS mode' button positioned on the steering wheel. As well as adjusting the engine and handling responses, they also enable bespoke information on the Virtual Cockpit system.
Under the new Euro-7 emissions law, Chairman of the Management Board of Audi, Herbert Diess recently said "The RS range set will be the biggest change in the production line since 2004. The new RS range will be the most economical, low emission with the RS6 and Q8 will both have electric hybrid engines to reduce the current emission by 27%." The new Electric range will begin production in the Audi Sport GmbH Neckarsulm factory in Germany. The new RS range is set to be in Australia and is said to have a three-cylinder hybrid plug-in, also currently being taken on by Mercedes Benz in order to comply with the new Euro-7 emission law.
The C8 RS 6 Avant will also be sold in North America, the first time than an RS 6 was offered there since the C5-based RS 6. It will be sold alongside the RS 7 Sportback and RS Q8 whom share the same powertrain.
C7 (Typ 4G, 2013–2018)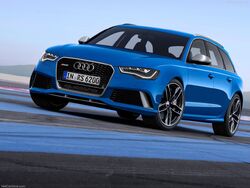 Audi revealed the details of the RS 6 Avant on December 5, 2012. Its twin-turbo 4.0 L (3,993 cc) TFSI V8 engine develops 412 kW (560 PS; 553 bhp) at 5700-6600 rpm and 700 N⋅m (516 lbf⋅ft) of torque at 1750-5500 rpm. This will enable the RS 6 Avant to accelerate from 0 to 100 km/h (62.1 mph) in 3.9 seconds. The top speed is limited to 250 km/h (155.3 mph) by default. By adding the optional Dynamic or Dynamic Plus package, this top speed is increased to respectively 280 km/h (174.0 mph) or 305 km/h (189.5 mph). Audi claims an average fuel consumption of 9.6 L/100 km (29.4 mpg‑imp; 24.5 mpg‑US) and CO2 emissions of 223 g/km. In order to accomplish this, Audi has added a start-stop system and a cylinder on demand system. The RS 6 Avant is offered with an 8-speed tiptronic transmission.
The C7 RS 6 was not offered in North America, however that market received RS 7 Sportback which shares the same powertrain and platform.
C6 (Typ 4F, 2008–2010)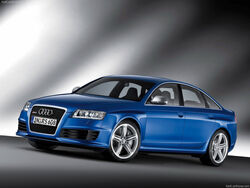 The second-generation RS 6, later called the Audi RS 6 5.0 TFSI quattro (Typ 4F) was based on the Volkswagen Group C6 automobile platform and was launched in September 2007 at the Frankfurt Motor Show. With factory production starting in December 2007, it was available in Europe from the same date, and began to be exported elsewhere in 2009. The total production run of the C6 RS 6 was 8,000 units, with 6,500 of these being Avants and the remainder saloons. The RS 6 was not available in North America, leaving the Audi S6 as the top performing trim there. (The unpopularity of wagons made it unlikely that the RS 6 Avant would be imported, and although it had been rumoured that the RS 6 sedan would be offered in the United States, nothing came of this as the RS 6 importer could not clear US regulations). Production of the C6 RS 6 ended in the third quarter of 2010.
The RS 6's 5.0 L (4,991 cc) V10 engine produced 426 kW (579 PS; 571 bhp) at 6,250 to 6,700 rpm and 650 N⋅m (479 lbf⋅ft) of torque from 1,500 to 6,250 rpm, 52 kW (71 PS; 70 bhp) and 150 N⋅m (111 lb⋅ft) more than BMW's 5.0L V10. As of January 2010, the RS6 was Audi's single most powerful car ever, and positioned the car ahead of its closest competitors, the BMW M5 and the Mercedes-Benz E63 AMG in terms of engine output, both of which have naturally aspirated engines. However the estimated price of the RS 6 sedan in 2010 was $160,000 USD (another source quotes $126,000 USD in 2009, making the RS 6 perhaps too expensive for the United States market) which set it apart from the performance variants of other executive cars: the MSRP of BMW M5's was $85,700 USD, of Mercedes-Benz E63 AMG's was $87,700 USD, and of Audi's own S6 was $78,025 USD.
Official performance figures for the Avant: 4.6 seconds for the 0-100 km/h (62.1 mph) sprint, 12.7 seconds 0-200 km/h (124.3 mph), and top speed is electronically limited to 250 km/h (155.3 mph), with a factory option to de-restrict the top speed to 274 km/h (170.3 mph). In standard form, CO2 emissions are rated at 333 g/km. The saloon reaches 0-100 km/h (62.1 mph) in 4.5 seconds.
C5 (Typ 4B, 2002–2004)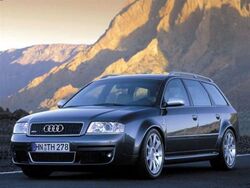 The original Audi RS6 was the top-of-the-line of the 2nd generation (1997-2005) A6, and was available as both a sedan and a wagon (called Avant by Audi). It was second at the top of the A6 lineup, above the A6 2.7T and 4.2 and the lesser S6, and was exceeded in power and price only by the Audi RS6 Plus. It effectively replaced both the S6 4.2 and S6 Plus models of 1995.
The RS6 featured a twin-turbocharged version of the corporate 4.2 Litre V8 engine tuned by Cosworth Technologies (Now known as Mahle Powertrain), which had originally been developed for the 1994 A8. With the aid of the turbochargers, output rose to 444 hp (331 kW) and 415 ft·lbf (560 Nm) of torque. The combination of the V-8 and the turbochargers helped give the RS6 an exceptionally wide power band, with peak torque available from 1950 to 5600 RPMs.
The RS6 was available only with Audi's Quattro All-Wheel Drive system and a 5-speed "Tiptronic" transmission, the same unit that was being used in the W12 powered A8, chosen because none of Audi's manual transmissions could cope with the RS6's high torque output. The RS6 also served as the debut model for Audi's Dynamic Ride Control (DRC) system. The system is mainly mechanical, and uses a pump to keep pressure in the shock abosorbers during cornering to counteract rolling and pitching. The system is "intelligent", it is able to adjust the stiffness at each shock absorber constantly to maintain both a comfortable ride and high grip. However, DRC's main advantage is that it operates without the need for most of the complicated electronics required in similar systems from Mercedes-Benz and other competitors.
According to testing by Car and Driver, the RS6 can accelerate from 0 - 60 mph (0 - 96.6 km/h) in just 4.3 seconds, 0 - 100 mph in 10.7 seconds and has an electronically limited top speed of 155 mph (250 km/h), however the vehicle can reportedly hit 180 miles per hour or more in unlimited form. It can stop from 60 mph (96.6 to 0 km/h) in 118 feet (35.97m), thanks to its large 365/335 mm (14.4/13.2 in) front/rear brakes, and an uncommon eight-piston design in the front.
There was also an RS6 Plus version of the car producing over 480 bhp and topping 180 mph. The car came only as an avant and was sold only in European markets. It lasted for just one model year but quickly sold out once it was released.
While about 8000 RS6s were produced worldwide, approximately 1,200 units were sold in North America. A small community of RS6 owners exists in North America and some refer to the vehicle as "The Beast" or "The Lord of the Rings" (in reference to Audi's interlocking ring logo). RS stands for RennSport - Racing in German, fitting as the RS line of cars from Audi are the most performance oriented of all Audis.
Worldwide
If the vehicle is sold in other markets worldwide, then this is the section to mention that information. Also, mention if the <MODEL> goes by another name in these other markets.
Design quirks and oddities
Refer to any pop-culture tidbits about the vehicle in this section.
Awards
The 4.2 V8 engine in its base configuration was named as one of the Ward's Auto World "10 Best Engines for 2005".
The RS6's combination of performance, handling (AWD), luxury and available space are unique and it was chosen over its closest competitors, the BMW M5, Jaguar S-Type R, and Mercedes-Benz E55 AMG by Car and Driver magazine.
See also
References
External links