Audi Q7
Audi
aka
Q7 V12 TDI
Production
2006–present
Class
Premium Luxury
Body Style
5-door, 7-seat SUV
Length
200.2 in (5085 mm)
Width
78.1 in (1984 mm)
Height
65 in (1650 mm)
Wheelbase
118.2 in (3002 mm)
Weight
4950 lb (2245 kg)
Transmission
6-speed automatic, RWD

6-speed automatic, AWD

Engine
4.2 litre V8
3.0 litre TDI V6
3.6 litre (3597 cc) FSI V6
3.0 litre TDI V6
Power
350 hp @ N/A 6800
325 lb-ft of torque @ 3500 rpm

255 hp @ N/A rpm
N/A lb-ft of torque @ N/A rpm

280 hp @ 6200 rpm
266 lb-ft of torque @ 2750 rpm

500 hp (368 kW) @ N/A rpm
737.56 lb-ft (1000 Nm) of torque @ N/A rpm
Similar
Porsche Cayenne
BMW X5
Mercedes-Benz GL-Class
Infiniti QX56
Designer
Walter da Silva
The Audi Q7 is a full-size luxury crossover SUV designed by Audi. The Q denotes a new family of vehicles for Audi, designated the 7 in its placement between the A6 and A8. The Q7 is available now, sharing its platform with the VW Touareg and Porsche Cayenne. Based on the Pikes Peak Quattro concept car, the Q7 is designed more for on-road use than its Volkswagen cousin. It lacks the Touareg's locking differentials and low-range transfer case but gains a third-row seating option. The production model was unveiled at the Los Angeles Auto Show in January, 2006.
Audi's 350 hp (261 kW), 325 ft·lbf (441 N·m) 4.2 L (4163 cc) V8 and 280 hp (209 kW) 3.6 L V6 engines will be offered, with a 233 hp (174 kW) Diesel V6 making up the bulk of the sales in Europe. Rumors point to a high performance variant of the SUV, possibly the QS7, launched later as well.
Insider rumors suggest that Audi and Maserati will be teaming up with Frederik Laboyrie a key mechanic at Noble to enhance the Audi "quattro" state of the art all wheel drive for the Maserati 4.2 V8 engine and platform of the Quattroporte. Audi would also be building the Maserati Kubang SUV on its already shared platform of the Q7.
In early 2005, Nissan sued Audi over the use of the letter "Q" as a model name. Audi is using the "Q" for the designation of Quattro, all wheel drive, that it has been placed in production cars for over twenty-five years. Nissan's Infiniti marque had been using Q as the name for sedans (the Q45) and SUVs (the QX4 and QX56) since 1989.
The air suspension settings, along with many other features, can be changed via the MMI interface.
See Autopedia's comprehensive Audi Q7 Review.
Recent Changes
On Apr 14, 2009, Audi unveiled the Q7's first mid-cycle facelift on the internet. Aesthetically, the changes are very subtle, with exterior tweaks focused only on lighting, tailgate and paint colors. The headlamps, taillamps and foglamps are now completely decked in LEDs while the front and rear bumpers receive a subtle re-sculpting. Inside, the new Q7 is more of the same, albeit, the trim has been updated with more wood. The biggest news for the refresh however is the introduction of the third generation MMI infotainment system which now features 3D Navigation, a joystick controller and Voice Command. Under the hood, again, the Q7 is unchanged for the US market. That said, the optional 4.2-liter TDI V8, available only for the EU market, gets a power upgrade to 340 hp and 560 lb-ft of torque and a 2.6 mpg improvement in fuel consumption. [1]
Audi has announced a range-topping variant of the Q7 called the Q7 V12 TDI for 2008/2009. This new model will be equipped with a 6.0 litre TDi Diesel V12 that pumps out 500 hp and a massive 1000 Nm of torque. Obviously, to differentiate from the pedestrian "regular" Q7 cosmetic changes abound. This super SUV has larger airdams to facilitate cooling topped by single rows of LEDs, carbon ceramic brakes peer through 21 inch wheels, Alcantara adorning the headliner, TV screens breaking up acres of leather, carbon fibre trim replace wood and a Bang & Olufsen sound system. [2]
Styles and Major Options
Certain vehicles come in different trim levels or body styles. Features and major options should be mentioned here.
Pricing
Add more fields as necessary.
MODEL Trims
3.0 TDI
Trim2
Trim3
Trim4
MSRP
€51,800 (US$71,800)
$Price2
$Price3
$Price4
Invoice
$Price1
$Price2
$Price3
$Price4
Gas Mileage
Add more fields as necessary.
As seen on the FuelEconomy.gov website, the City/Highway MPG averages are as follows:
Trim
Trim1
Trim2
Trim3
Trim4
MPG
c/h
c/h
c/h
c/h
Engine and Transmission
Specifications, details, graphs, pictures and other information regarding the powertrain is placed in this section.
Performance
Please make sure to write information of the vehicle's performance in a third-person point of view. This section should include information about the car's acceleration figures, handling, braking, etc.
If using information gathered from Road Test articles from a reputable automotive source, then please make sure to cite the quote.
Reliability
Warranty options and scheduled maintenance information should be mentioned here.
Safety
This section should reference points on safety ratings and features of the vehicle.
Photos
Q7 V12 TDI
Add Photos of the vehicle here.
Please make sure not to use copyrighted photos.
Colors
List the colors that the particular <MODEL> is offered in.
Main Competitors
Hybrid Models
Audi used to be developing a hybrid version of the Q7. Remaining a concept, details have since been released during Audi's TechDay 2007 seminar in late august of that year [3].
The powertrain would be a parallel hybrid system utilizing a 34 kW three-phase synchronous electric motor connected to a 280 hp (206 kW) 3.6L V6 FSI petrol engine through a separating clutch. The electric motor produces an extra 285Nm (210 lb-ft) of torque, and can can run up to 50 km/h for a distance of two kilometers, in addition to the internal combustion engine's 375Nm (277 lb-ft). 100 km/h runs are reached in 7.6 seconds and acceleration from 60 to 120 km/h in fifth gear is just under 12 seconds. Although the vehicle will weigh 2,480 kg, average fuel-consumption has been tapped at 24mpg (9.8L/100 km).
The project was canned in August 2008.
Unique Attributes
If there are any features of this vehicle that sets it apart from other vehicles in its class, then mention those unique attributes here.
Interior
This section should include information on the interior's design, build quality, ergonomics, space (head and legroom, front and rear), features, stowage compartments and overall comfortability and livability. Add pictures wherever applicable and keep information in a third-person point of view.
Resale Values
Add more fields as necessary.
<MODEL> Year
Year X
Year X-2
Year X-3
Year X-4
Resale Value
$
$
$
$
Criticisms
Please make sure to keep critiques in a third-person point of view. If using criticisms from a reputable automotive source, then please make sure to cite the quote.
Generations
Fill in as many as appropriate. Add more if necessary and pictures wherever applicable.
Please make sure NOT to use copyrighted pictures.
First generation: (2006–present)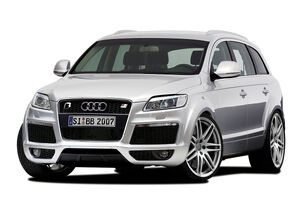 Current generation (2019-Present)
e new Audi Q7 have been redesign and that´s inclide new wheels and new interior. Also coming with a Hybrid model. If you want more information, please visit the Audi web site.
Worldwide
If the vehicle is sold in other markets worldwide, then this is the section to mention that information. Also, mention if the <MODEL> goes by another name in these other markets.
Design quirks and oddities
Celebrity chef Gordon Ramsay is one of the owners of the Audi Q7.
In the Top Gear Winter Olympics, an Audi Q7 TDI was driven by James May in a biathlon and has beaten Jeremy Clarkson's Volvo XC90.
Awards
2007 National Motor Vehicle Theft Reduction Council Secure By Design award
See also
External links