Audi Q5
Audi
aka
Baby Q7
Production
2009 - present
Class
Compact Luxury
Body Style
5-door, 5-seat CUV
Length
182.24 in (4629 mm)
Width
74.02 in (1880 mm, w/o mirrors)
82.24 in (2089 mm, w/ mirrors)
Height
65.08 in (1653 mm)
Wheelbase
110.51 in (2807 mm)
Weight
4244 lb (1925.05 kg)
Transmission
6 speed automatic w/ AWD
Engine
3.2 liter V6
Power
270 hp @ 6500 rpm
243 lb-ft of torque @ 3000
Similar
Mercedes-Benz GLK-Class
BMW X3
Infiniti EX
Lexus RX
Cadillac SRX
Acura RDX
Volvo XC60
Designer

Stefan Sielaff
The Audi Q5 is a compact crossover SUV to be released by German automaker Audi for the 2009 model year. It will be built using the new Audi MLP platform (Modular Longitudinal Platform) which debuted in the 2007 Audi A5 coupé. The Q5 will be the second Audi model in the "Q" range, after the full-size Q7. The Q5 will slot above the Q3, which will be based on the Volkswagen Tiguan.
The Q5 will eventually be offered with multiple engine configuations, including petrol engines, Turbocharged Direct Injection (TDI) diesel engines, and Hybrid gasoline/electric. Audi's new 7-speed S-Tronic branded Direct-Shift Gearbox transmission technology will also be available in the Q5.
The new vehicle will be built in Audi's home town of Ingolstadt. It will need an investment of about US$400 million in production tooling and expansion. The Q5 will also be produced in Changchun, China for the Chinese market. The first public introduction of the Audi Q5 was at the 2008 Beijing Auto Show on 19 April 2008, although a convertible concept car named "Audi Cross Cabriolet quattro" was shown at the 2007 Los Angeles Motor Show.
Powertrain options include a base 2.0L turbocharged four-cylinder petrol engine, a 3.2L variable valve lift gasoline engine, a 2.0L and a 3.0L TDI diesel, as well as a hybrid petrol/electric version for future model years. The only planned powertrain available for the U.S. market as confirmed by Audi USA on July 9, 2008 will be a 3.2L 6 cylinder gasoline engine mated to Audi's 6-speed tiptronic automatic transmission driving Audi's quattro permanent four-wheel drive system. Any future powertrain options for the USA market have not been announced.
The Q5 will be available in several different trim options. The S-Line trim option upgrades the base Q5 exterior with more aggressive body mouldings and mesh front fog light grills. More paint options are also included with the S-Line. The Offroad exterior package includes front and rear underbody protection panels, along with flared fender and door sill protection for a more capable look.
Harmon/Becker Automotive Systems will produce Audi's new updated Multi Media Interface (MMI) technology as it debuts in the Q5. The new system will offer navigation, communication, and wide-screen entertainment. A new Nvidia graphics processor will be used in the new MMI system, and will generate smooth map transitions while driving. A three-dimensional orientation view with true-to-scale terrain and photorealistic depictions of key landmarks will also be generated. Included features in this new system are USB storage media (iPod or MP3), satellite radio, and an integral four-band GSM mobile/cell phone (SIM card ready) with Bluetooth connectivity.
Delivery dates to dealers are October 2008 for Europe, and Summer 2009 in North America. Hot weather testing for the US model were undertaken in Florida, California, and Arizona. Future powertrain options and other possible Q5 variants for the United States market have yet to be announced.
See Autopedia's comprehensive Audi Q5 Review.
Recent Changes
Along with the introduction of the Q5, Audi unveiled a higher-spec variant of the CUV with the Q5 S-Line. The S-Line adds a stiffened suspension to improve handling, standard 19in alloy wheels (20in optional) wrapped in 255mm performance tires, subtly revised front and rear fascia which adds aggressive and sporty touches, black exterior window trim roof rails, a polished grille and matching mesh pattern air vents surrounding the fog lights and new sports seats with electrically adjustable lumbar support draped in perforated Nappa or Alcantara interior trim. [1]
Styles and Major Options
Certain vehicles come in different trim levels or body styles. Features and major options should be mentioned here.
Pricing
Add more fields as necessary.
MODEL Trims
Trim1
Trim2
Trim3
Trim4
MSRP
$Price1
$Price2
$Price3
$Price4
Invoice
$Price1
$Price2
$Price3
$Price4
Gas Mileage
Add more fields as necessary.
As seen on the FuelEconomy.gov website, the City/Highway MPG averages are as follows:
Trim
Trim1
Trim2
Trim3
Trim4
MPG
c/h
c/h
c/h
c/h
Engine and Transmission
Specifications, details, graphs, pictures and other information regarding the powertrain is placed in this section.
Performance
Please make sure to write information of the vehicle's performance in a third-person point of view. This section should include information about the car's acceleration figures, handling, braking, etc.
If using information gathered from Road Test articles from a reputable automotive source, then please make sure to cite the quote.
Reliability
RECALL ALERT: On December 29, 2009, Audi issued a recall affecting 6,054 MY2009 Q5s built between Nov. 25, 2008 and June 4, 2009 due to an incorrectly manufactured left and/or right A-pillar trim cover clip. In these cases, the A-pillar trim could become loose when the side curtain airbags deploy during an accident. If this were to happen, a stray trim piece could injure one of the front-seat occupants. Dealers will inspect the clip in the middle of the left and right A-pillar covers and replace it for free if it does turn out to be faulty. Owners can contact Audi at 800-253-2834 or the NHTSA vehicle safety hotline at 888-327-4236. [2][3][4]
Safety
This section should reference points on safety ratings and features of the vehicle.
Photos
Add Photos of the vehicle here.
Please make sure not to use copyrighted photos.
Colors
List the colors that the particular <MODEL> is offered in.
Main Competitors
Some of its main competitors are the BMW X3, Cadillac SRX, Infiniti EX35, Land Rover LR2, and the Lincoln MKX.
Hybrid Models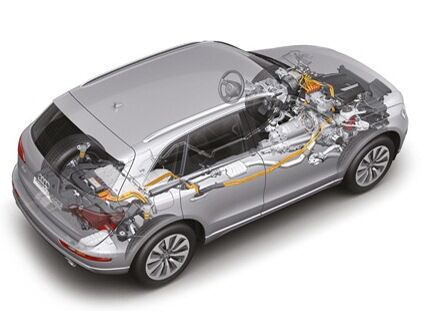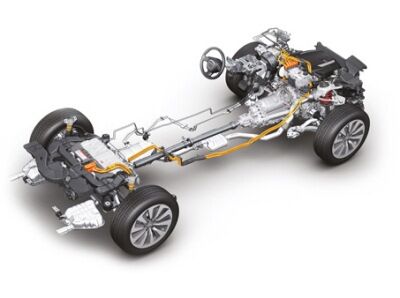 On December 28, 2009, Audi released a press release announcing commitment to green technology to the tune of 5.9 billion euros. Among this massive investment is the promise of a Q5 Hybrid for 2011, as the brand's first full hybrid model.
A couple of weeks ahead of the 2010 LA Auto Show, more information regarding the Q5 Hybrid surfaced on Audi's website. That said, Audi has yet made an official announcement pertaining to when the green CUV will be released. The Q5 Hybrid is a full hybrid, powered by a 2.0 litre TSI Inline-4 developing 240 horsepower and 480 Nm / 354 lb-ft of torque that's working in conjunction with a 33-kW (44 HP) electric motor, regenerative braking, and start/stop tech. An adaptive control system further optimizes the gas/electric power ratio. On electric motivation alone, the car is able to cruise at speeds of up to 100 km/h / 62 mph.
There will also be an S mode; which translates to a racier performance from the hybrid drivetrain.
Unique Attributes
If there are any features of this vehicle that sets it apart from other vehicles in its class, then mention those unique attributes here.
Interior
This section should include information on the interior's design, build quality, ergonomics, space (head and legroom, front and rear), features, stowage compartments and overall comfortability and livability. Add pictures wherever applicable and keep information in a third-person point of view.
Resale Values
Add more fields as necessary.
<MODEL> Year
Year X
Year X-2
Year X-3
Year X-4
Resale Value
$
$
$
$
Criticisms
Please make sure to keep critiques in a third-person point of view. If using criticisms from a reputable automotive source, then please make sure to cite the quote.
Generations
Fill in as many as appropriate. Add more if necessary and pictures wherever applicable.
Please make sure NOT to use copyrighted pictures.
Current Generation: (YYYY–present)
Fifth generation (YYYY–YYYY)
Fourth generation (YYYY–YYYY)
Third generation (YYYY–YYYY)
Second generation (YYYY–YYYY)
First Generation/Origins (YYYY–YYYY)
Worldwide
If the vehicle is sold in other markets worldwide, then this is the section to mention that information. Also, mention if the <MODEL> goes by another name in these other markets.
Design quirks and oddities
Refer to any pop-culture tidbits about the vehicle in this section.
Awards
2009 Carsales Luxury SUV People's Choice Award
See Also
External Links