Audi Allroad Quattro
Audi
aka
Audi A6
Production
2000 - 2006
2009 - present
Class
Crossover
Body Style
how many doors+how many seats+what type of body
Length
length - type here
Width
Width - type here
Height
Height - type here
Wheelbase
wheelbase - type here
Weight
Weight - you get the point
Transmission
transmission + drive
Engine
engine
Power
N/A hp @ N/A rpm
N/A lb-ft of torque @ N/A rpm
Similar
similar (competition)
Designer
Designer (lead designer if it was a team effort)
The Audi Allroad Quattro was an SUV/Wagon crossover automobile produced by Audi from 2000 to 2006. After a 3 year hiatus, Audi has resurrected the model and nameplate.
See Autopedia's comprehensive <MODEL> Review.
Certain vehicles come in different trim levels or body styles. Features and major options should be mentioned here.
Add more fields as necessary.
MODEL Trims
Trim1
Trim2
Trim3
Trim4
MSRP
$Price1
$Price2
$Price3
$Price4
Invoice
$Price1
$Price2
$Price3
$Price4
Add more fields as necessary.
As seen on the FuelEconomy.gov website, the City/Highway MPG averages are as follows:
Trim
Trim1
Trim2
Trim3
Trim4
MPG
c/h
c/h
c/h
c/h
Specifications, details, graphs, pictures and other information regarding the powertrain is placed in this section.
Please make sure to write information of the vehicle's performance in a third-person point of view. This section should include information about the car's acceleration figures, handling, braking, etc.
If using information gathered from Road Test articles from a reputable automotive source, then please make sure to cite the quote.
Warranty options and scheduled maintenance information should be mentioned here.
This section should reference points on safety ratings and features of the vehicle.
Add Photos of the vehicle here.
Please make sure not to use copyrighted photos.
List the colors that the particular <MODEL> is offered in.
Create links to other <MAKE> <MODEL> pages in this section.
If there are hybrid versions of this vehicle manufactured, then please elaborate a little bit on it here.
If there are any features of this vehicle that sets it apart from other vehicles in its class, then mention those unique attributes here.
This section should include information on the interior's design, build quality, ergonomics, space (head and legroom, front and rear), features, stowage compartments and overall comfortability and livability. Add pictures wherever applicable and keep information in a third-person point of view.
Add more fields as necessary.
<MODEL> Year
Year X
Year X-2
Year X-3
Year X-4
Resale Value
$
$
$
$
Please make sure to keep critiques in a third-person point of view. If using criticisms from a reputable automotive source, then please make sure to cite the quote.
Fill in as many as appropriate. Add more if necessary and pictures wherever applicable.
Please make sure NOT to use copyrighted pictures.
Current Generation: (2009–present)
[
edit
|
edit source
]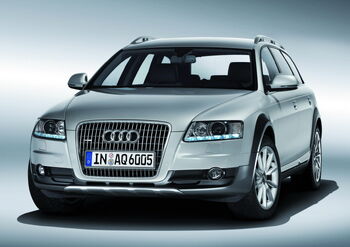 Audi has released a new Audi Allroad Quattro car for 2009.

First Generation/Origins (2000-2006)
[
edit
|
edit source
]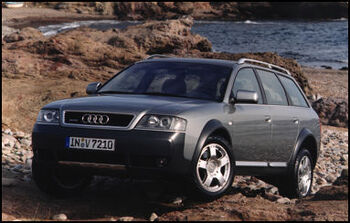 The allroad shares its platform with the second generation "C5" A6 Avant (station wagon), although an advanced air suspension, larger wheels with all-terrain tires and flared and unpainted bumpers give it a distinct appearance and more overall flexibility over varying terrain; Audi's quattro system is standard equipment.
Audi's 2.7 L, twin-turbo V6 was available initially, alongside the 2.5 L TDI Diesel engines with 132 kW (180 PS) and 370 N·m (273 ft·lbf) torque. A variant of the corporate 4.2  V8, shared with the A6 sedan, was made available in 2003, first in North America and later in other markets, and a less potent TDI followed in 2004.
The allroad was designed with the capability to tackle rough road conditions in mind; its standard adjustable air suspension system can lift the car high enough to provide 21 cm (8.3 in) of ground clearance and a low-range mode, absent from other quattro equipped vehicles, can be selected with the touch of a button. When used in conjunction, the two systems made it possible for the allroad to complete a Land Rover test-course, thus far it is the only car-based SUV that has been proven capable of doing so in testing. Conversely, the air suspension can lower the vehicle down to only 16 cm (5.5 in) above road level. Many owners choose to fit their allroad with a sportier, road oriented tire to emphasize it's sporty side, as most owners will never venture onto terrain rough enough to necessitate having a tire specifically designed for off-road conditions.
Despite this versatility and generally positive word of mouth from owners and magazine reviews, allroad sales failed expectations in the North American market it was originally designed for, and most of its sales came from Europe, especially its native Germany. Its somewhat high price, lack of market identity in its segment and Audi's ambiguous advertising seem to have been the primary contributing factors; buyers who tend to normally seek either the more car-like look and ride of station wagons or the larger, less ambiguous styling of mid-sized, truck based SUVs tended to reject the allroad as being too little like either.
Sales had a slight increase in 2004, due to the availability of the less expensive Diesel engine, but fell again in 2005. Audi stopped production of the allroad in July of that year. Although the model continued to be available for sale throughout 2006 in Europe, there was no 2006 model year for North America.
Audi concentrated instead on launching the larger Audi Q7 SUV, which shares its platform with the Porsche Cayenne and VW Touareg, while a smaller and sportier Q5 will fill the niche of car-based SUV. Audi announced in the spring of 2005 that a new allroad Quattro, based on the new A6 Avant (C6/F4), would enter production after 2007, and it is expected that this model will return to North America.
If the vehicle is sold in other markets worldwide, then this is the section to mention that information. Also, mention if the <MODEL> goes by another name in these other markets.
Design quirks and oddities
[
edit
|
edit source
]
The Allroad topped the 4WD category as the most secure according to the 2003 RACV Vehicle Security Rating with the score of 92 points out of 120.
List out notable awards that the model has received while in production. Boldface the company or organization that gives out the award, and Italicize the name of the award.
Community content is available under
CC-BY-SA
unless otherwise noted.