The Audi A8 is a large luxury automobile built by Audi to replace the V8 model as their flagship offering. Although the Volkswagen Phaeton, long wheelbase Jaguar XJ8 and Lexus LS 460 compete in the same size and price category as the A8, the Mercedes-Benz S-Class and BMW 7 Series are often thought to be its primary rivals. On most versions, Quattro all-wheel-drive is standard. See also Audi R8.
See Autopedia's comprehensive Audi A8 Review.
At the 2010 Beijing Motor Show, Audi unveiled the A8 L LWB version of the fourth generation Audi A8 as well as a new 6.3-liter W12 500 hp and 625 Nm (460.98 lb-ft) of torque @ 3,250 rpm while returning 19.6 mpg (12.0 l/100 km). The new A8 L is 5.12 in longer than the regular version for a total length of 207.36 in. Height has also increased by 0.08 in to 57.55 in. Inside, the rear passengers, obviously get a boost in rear accommodations such as two separate and power-adjustable seats that can be heated, ventilated and adjusted in a variety of ways including forward and back, seat cushion depth and seat back angle with top section adjustable separately. Between the individual rear seats that are standard equipment in the A8 L W12 quattro, there's a full-length console that extends back from the center tunnel to the rear shelf, and can be specified with several goodies such as a folding table or a refrigerator. Rear passengers also get separate controls for the air conditioning that is controlled by 25 adjusting motors, while Audi also offers an entertainment system with two 10.2-inch screens.[1]
On July 21, 2009, Audi released a teaser of the third-generation 2010 Audi A8. The new model will be released later this year at the 2009 Design Miami to coincide with Audi Centennial Anniversary. Not much is known about the new car except that it will be built with Audi's next generation Aluminum Space Frame and will be offered with a range of four engines: petrol and diesel versions of both the 3.0-liter and 4.2-liter V8. There is speculation as well of an S8 which could come with a 5.0-liter V10 FSI producing 620 hp [2][3]
For 2008, the Audi A8 has undergone a minor facelift which includes new geometric foglamps, new grille graphics, new side-mirrors with integrated indicators, new alloys, the implementation of LED taillamps, new Lane Assist and Side Assist lane changing safety systems. The steering and the suspension system has been re-engineered, as well as the dampers, supports and tuning of the adaptive air suspension to improve the car's dynamics and provide more accurate and direct handling. Extra sound-deadening material has also been fitted to improve road noise insulation and a new engine has been introduced into the range. The 2.8L FSI V6 develops 210 hp with a peak torque of 280Nm from 3,000 to 5,000rpm.
Audi has decided to bring its all new and exclusive Audi A8 in Indian Auto Market on 4th Feb 2011. After many speculations and guesses, the company has officially announced Audi A8 for Indian portfolio. The car promises great luxury comfort and high end performance. Indian Auto market is a sizzling destination for car manufacturers all over the world and joining the line Audi is also following aggressive strategies to grab its share of pie. The exclusive saloon would be available for sale in India from 4th Feb 2011.
Audi cars are best in terms of power, performance and luxury. And the all exclusive Audi A8 does not make an exception and joins the family with same efficiency. With the luxurious Audi A8, the company has assured the best combination of technology and luxury comfort. Looking at the expected variants of Audi A8, the base petrol variant, Audi A8 3.0 TFSI quattro, 6 cylinder is built to pump out 250 PS of maximum power at 4000-4500 rpm and belt out 420 Nm of peak torque between 2500-4850rpm. Whereas the higher end Audi A8 4.2L, TFSI petrol variant gives 372 PS of maximum power at 6800 rpm while it churns out 445 Nm of peak torque at 3500 rpm. The diesel 2967 cc 3.0 TDI quattro engine is expected to generate 290 PS of highest power at 4850-6500rpm and 550 Nm of peak torque at 1500-3000 rpm. As per the info given at - Audi A8
Certain vehicles come in different trim levels or body styles. Features and major options should be mentioned here.
Add more fields as necessary.
MODEL Trims
Trim1
Trim2
Trim3
Trim4
MSRP
$Price1
$Price2
$Price3
$Price4
Invoice
$Price1
$Price2
$Price3
$Price4
Add more fields as necessary.
As seen on the FuelEconomy.gov website, the City/Highway MPG averages are as follows:
Trim
Trim1
Trim2
Trim3
Trim4
MPG
c/h
c/h
c/h
c/h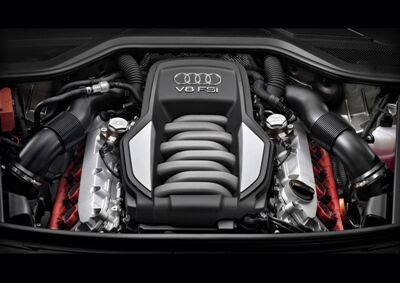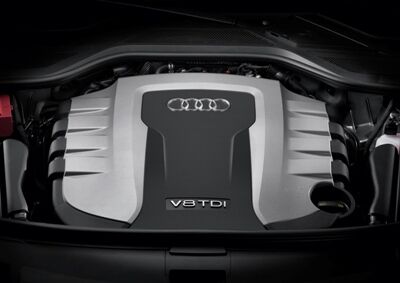 The third generation A8 is available with two engine choices:
4.2 litre direct injected FSI V8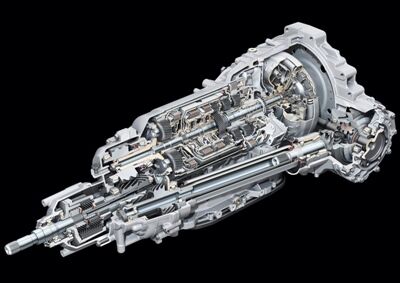 Both the third generation A8's engine choices is mated to a shift-by-wire 8-speed Tiptronic, channeling the power to all four wheels by way of Audi's Quattro AWD.
Please make sure to write information of the vehicle's performance in a third-person point of view. This section should include information about the car's acceleration figures, handling, braking, etc.
If using information gathered from Road Test articles from a reputable automotive source, then please make sure to cite the quote.
Warranty options and scheduled maintenance information should be mentioned here.
RECALL ALERT: On September 3, 2008, Audi issued a recall affecting 13,900 A8s built between MY 1996-2003 fitted with a 5-speed automatic gearbox due to a malfunctioning locking cable that may move out of position over time, allowing the shifter to be moved out of the "PARK" position even if the ignition key is not in the ignition lock. Audi urges customers to visit their nearest dealer to correct the error. For more detailed information, owners can contact Audi at 1-800-822-2834. [4]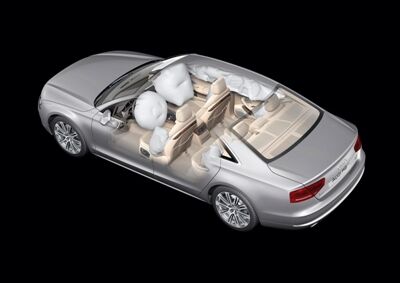 This section should reference points on safety ratings and features of the vehicle.
A8
A8L
Development Sketches
Previous Generation A8
Add Photos of the vehicle here.
Please make sure not to use copyrighted photos.
The A8 is currently available in these colors:
Ibis White
Ice Silver
Quartz Grey
Oyster Grey
Night Blue
Phantom Black
Cherry Black
Northern Blue
Savana Beige
The A8s main competitors are the Mercedes S-Class, BMW 7-Series, Lexus LS, & Jaguar XJ.

There are no available hybrid versions, however, Audi unveiled a design study at the 2010 Geneva Motor Show exploring the idea of an A8 Hybrid. Power comes from a 2.0-liter TFSI Inline-4 attached to an electric motor. The engine churns out 208 hp and 350 Nm (258 lb-ft) of torque, while the motor produces 44 hp (33 kW)) and 211 Nm (156 lb-ft) of twist. Together, they have combined output of 180 kW (245 PS / 241 hp) and 480 Nm (354 lb-ft) of torque. According to Audi 0 to 100 km/h (0-62 mph) acceleration takes 7.6 seconds terminating at a top speed of 235 km/h (146 mph). Fuel consumption is averaged at 6.2 l/100 km (38 mpg US) while CO2 emissions are 144 grams per km (232 g/mile). According to Audi, "The hybrid drive is designed for fully electric-powered driving up to 65 km/h (40 mph) and for a distance exceeding two kilometers. When the Audi A8 Hybrid starts moving, both of its engines (the 2.0 TFSI and the electric motor) interoperate closely to suit varying power demands. Above 65 km/h (40 mph) the combustion engine alone does all the propulsive work, while the electric motor supplies onboard users and recharges the battery." The production A8 Hybrid is expected to arrive in 2011.
The A8 is the only luxury sedan with an Aluminium Space Frame (ASF), which give the car a lighter weight and better performance characteristics.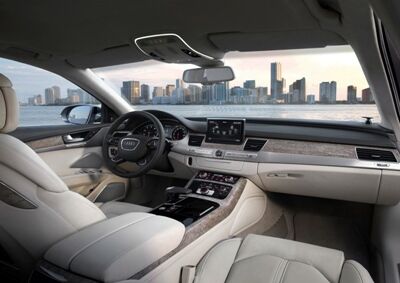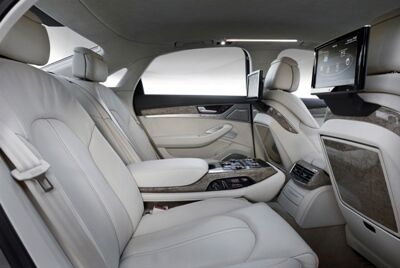 This section should include information on the interior's design, build quality, ergonomics, space (head and legroom, front and rear), features, stowage compartments and overall comfortability and livability. Add pictures wherever applicable and keep information in a third-person point of view.
A8
A8 L
Audi MMI
Development Sketches
Add more fields as necessary.
<MODEL> Year
Year X
Year X-2
Year X-3
Year X-4
Resale Value
$
$
$
$
Please make sure to keep critiques in a third-person point of view. If using criticisms from a reputable automotive source, then please make sure to cite the quote.
Fill in as many as appropriate. Add more if necessary and pictures wherever applicable.
Please make sure NOT to use copyrighted pictures.
Current Generation: (2011–present)
[
edit
|
edit source
]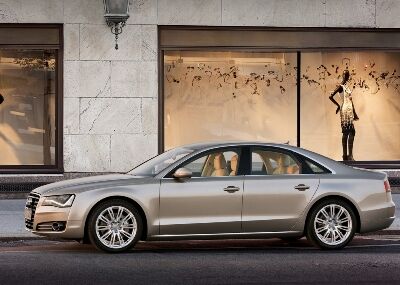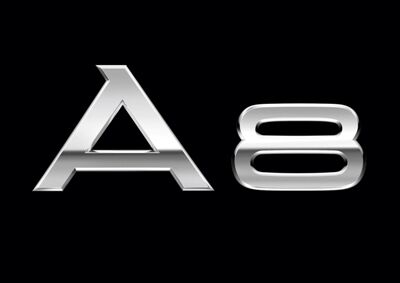 Second Generation:(2005-2010)
[
edit
|
edit source
]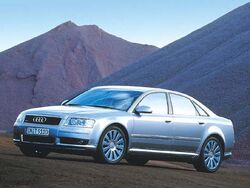 Audi restyled the D3 platform A8 range slightly in 2005, endowing all variants with a tall "fish mouth" grille inspired that of the Nuvolari concept car, which was already featured on the W12 model. In addition to the styling update, new engines became available to European and Asian market customers. The entry-level 3.0 V6 was replaced by a new 3.2 L unit featuring FSI, which it shares with the new A4. More significantly was the introduction of a 4.2 L Diesel V8 engine generating 240 kW (326 PS) of power, the most powerful Diesel engine Audi has ever offered in a passenger automobile. The engine uses two turbochargers and two intercoolers with each turbocharger functioning exclusively for one set of four cylinders.
The A8 is available with the following wide range of engines:
3.0 L (2967 cc) V6 TDI, 171 kW (233 PS), 0–100 km/h in 7.8 s;
3.2 L (3123 cc) V6 fuel stratified injection, 191 kW (260 PS), 0–100 km/h in 7.7 s;
3.7 L (3697 cc) V8 petrol, 206 kW (280 PS), 0–100 km/h in 7.3 s;
4.2 L (4134 cc) V8 TDI, 240 kW (326 PS), 0–100 km/h in 5.9 s,
4.2 L (4172 cc) V8 petrol, 246 kW (335 PS), 0–100 km/h i n 6.3 s,
6.0 L (5998 cc) W12 FSI, 331 kW (450 PS), 0–100 km/h in 5.2 s.
In most markets outside Europe, only the 4.2 litre gasoline-burning V8 and W12 powerplants are available.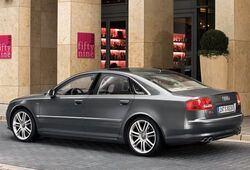 In the last quarter of 2005, Audi introduced a new S8, now powered by a 450 PS (331 kW) V10 engine derived from the 5.0 L V10 used in the Lamborghini Gallardo. Much public confusion surrounded this engine choice after Audi's initial announcement because its power output is identical to that of the W12 motor, prompting people to ask why Audi would bother with the development of the V10. However, Audi claims that the V10 revs more quickly than the W12, and that its lighter weight helps give the S8 a lower overall curb weight and better weight distribution (the difference is of 20 kg only in the SWB model). Initial reviews from European automotive magazines seem generally positive.
Audi's factory performance claims for the V10 S8 indicate a 0–100 km/h time of 5.1 seconds, although Audi tends to be conservative with acceleration ratings and it is anticipated that reviews from publications such as Car and Driver will produce 0-60 times closer to 4.8 seconds. This would put it in a competitive range with the Mercedes-Benz S 55 and make it slightly quicker than the S 600, BMW 760Li (powered by a 12 cylinder engine) and the company's own A8L W12, although the upcoming version of the Mercedes-Benz S 65 will be faster, albeit at a much higher price.
The S8 came to popular prominence after the movie Ronin, starring Robert De Niro, where its dramatic speed combined with its size became a useful plot element, and gained the car much international attention.

First Generation/Origins (1994–2003)
[
edit
|
edit source
]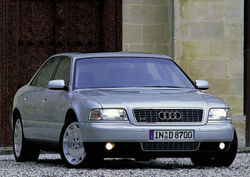 The A8 debuted in Europe in 1994, although it wasn't until 1997 that it became available in North America. Unlike the V8 model, which was built on an existing steel platform, the A8 debuted on Audi's then-new D2 platform, an all aluminum space frame which helped to significantly reduce weight without being any less rigid. A second generation version of the A8 was introduced in the last quarter of 2002 and became available worldwide in 2003, now riding on the upgraded D3 platform.
In addition to being the world's first car built on an entirely aluminum platform, updates to the car in 1997 included the addition of six interior airbags, making the A8 the first vehicle to be so equipped.
For 2001, Audi introduced their new W12 engine, a compact 6.0 L unit developed by mating two 3.0 L VR6 engines together at the crankshaft, similar to the 3.6 L engine from the V8 model which had been created by mating two inline-four cylinder engines at the crankshaft. The engine quickly became available in the A8, although only to European and Asian customers. With the W12 engine, the A8 (D2) was available both in short-wheelbase and long-wheelbase versions. From its introduction through its discontinuation in 2003, only 750 of the W12 models were produced.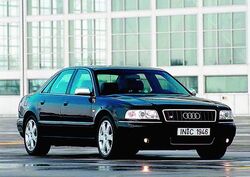 In 1996, Audi introduced an S8 variant in the vein of Mercedes-Benz AMG models. Although it shared the standard model's platform, it featured a re-tuned, 340 PS (250 kW) version of the standard 4.2 V8 engine, a re-tuned suspension with larger wheels and upgraded tires, enlarged brakes and a re-calibrated version of the 5-speed Tiptronic transmission (European-spec models had a 6-speed manual transmission option), quattro was standard. In 1999, the facelifted version of the S8 became available and power was raised to 360 PS (265 kW), mainly as a result of the use of 5 valves per cylinder (making it a 40-valves engine) instead of the previous 4 valves per cylinder. Production of the first-generation S8 ended in 2003, shortly after the introduction of the D3 platform A8.

In 1997, IVM Automotive of Munich, Germany built a 2-door Audi A8 Coupé. The car was unveiled at the 1997 Geneva Motor Show. Audi hired IVM to build the prototype, and was considering production of the vehicle. The coupé had a re-engineered alloy body shorter than the production A8 sedan. Like the Mercedes-Benz CL-Class, there was no central pillar, giving the car a seamless design with a gradually sloping roofline. The car included custom leather seats and could seat four. Ultimately, Audi decided not to put the coupé into production, citing lower-than-expected sales figures for the similar BMW 8 Seriesand Mercedes-Benz S-Class Coupé. Only one A8 Coupé was ever built. The single prototype, painted a color called "Ming Blue Pearl," remains the property of IVM Automotive and resides in Munich. Its last public appearance was in 2002 on a series of test drives.

If the vehicle is sold in other markets worldwide, then this is the section to mention that information. Also, mention if the <MODEL> goes by another name in these other markets.
Design quirks and oddities
[
edit
|
edit source
]
The Audi A8 is prominently featured in the films "Transporter 2" and "Transporter 3", being the main mode of transportation for Jason Statham's character.
2004 RACV Australia's Best Luxury Car Over $57,000
2007 National Motor Vehicle Theft Reduction Council Secure By Design Award
Community content is available under
CC-BY-SA
unless otherwise noted.