Audi A6
Audi
aka
C7
Production
1994-present
Class
Mid-size Executive/Luxury
Body Style
4-door, 5-seat Sedan
5-door, 5-seat Avant (Wagon)
Length
193.68 in
Width
73.68 in
Height
57.48 in
Wheelbase
wheelbase - type here
Weight
Weight - you get the point
Transmission
6-speed Manual, FWD
CVT Multitronic, FWD / Quattro AWD
7-speed S tronic, Quattro AWD
8-speed Tiptronic, FWD (hybrid only)
Engine
Petrol
2.8 litre V6
3.0 litre TFSI supercharged V6

Diesel
2.0 litre TDI Inline-4
3.0 litre TDI V6
3.0 litre TDI V6

Hybrid
2.0 litre TFSI Inline-4 + electric motor
Power
Petrol
204 hp @ N/A rpm
206.52 lb-ft. (280 Nm) of torque @ N/A rpm

300 hp @ N/A rpm
324.53 lb-ft. (440 Nm) of torque @ N/A rpm

Diesel
177 hp @ N/A rpm
280.27 lb-ft. (380 Nm) of torque @ N/A rpm

204 hp @ N/A rpm
295.02 lb-ft. (400 Nm) of torque @ N/A rpm

245 hp @ N/A rpm
368.78 lb-ft. (500 Nm) of torque @ N/A rpm

Hybrid
211 hp @ N/A rpm
N/A lb-ft. of torque @ N/A rpm
+
45 hp (33 kW) @ N/A rpm
155.63 lb-ft. (211 Nm) of torque @ N/A rpm
Similar
Mercedes-Benz E-Class
BMW 5 Series
Alfa Romeo 166
Jaguar S-Type
Lexus GS
Volvo S80
Cadillac STS
Designer
Walter da Silva
The Audi A6 is an executive luxury car produced by Audi. It is available in two bodywork configurations, the sedan and the station wagon (Avant). The second generation A6 was also used to be as the basis for the Audi Allroad Quattro. Its primary competitors are the Mercedes-Benz E-Class, BMW 5 Series, Alfa Romeo 166, Jaguar S-Type, Lexus GS and Volvo S80.
See Autopedia's comprehensive Audi A6 Review.
Recent Changes
At the end of November 2010, Audi unveiled the next generation (C7) A6. The sedan version is 4.92 meters (16.14 ft) long, 1.87 meters (6.14 ft) wide and 1.46 meters (4.79 ft) high, with a trunk capacity of 530-liter (18.72 cubic ft). According to Audi, more than 20% of the body is made of aluminum such as components like the front fenders, the engine hood, the rear hatch and the doors, as well as the bulkhead and the crossmember in the luggage compartment. Underneath, the car is suspended on aluminum suspension with five control arms up front and a self-tracking trapezoidal-link suspension at the rear. The power steering system has been redesigned with an electromechanical drive. As an option, buyers will be able to order an adaptive air suspension with controlled damping as well as a Dynamic steering system. Initially, the A6 will be offered with two petrol, three diesel and one hybrid powerplants, all new and claimed to be 19% more fuel efficient. Power is transferred to the front wheels or to the Quattro permanent AWD system through a manual six-speed gearbox, the continuously variable multitronic, or the brand-new, sporty S tronic.[1]
Styles and Major Options
The 2007 A6 comes in both a sedan and the Avant wagon. The sedan is available in two trims: the A6 3.2 or the A6 4.2, which indicates the size of its engine. However, the Avant is only available in the 3.2 version, which also shares many of the same standard features as the Sedan 3.2. In addition, all models are available with Audi's Quattro all wheel drive system, but only the 3.2 sedan is available with a 2WD system. Some of the standout features include:
3.2 Sedan
16" silver alloy wheels
8-way power front bucket seats
Leather seating with leatherette door trim
Dual zone front automatic air conditioning
10-speaker audio system with glove box 6CD changer
Cruise control
Power windows, locks, mirrors
3.2 Avant Adds to or replaces 3.2 Sedan features with:
17" silver alloy wheels
8-way power heated front bucket seats
Express open/close sunroof
Cargo concealed storage
Roll-up cargo cover
4.2 Sedan Adds to or replaces Avant features with:
Driver's seat memory
Leather seating and door trim
Seatback storage
Front underseat tray
13-speaker AM/FM/CD Bose audio with glove box 6CD changer
Homelink Wireless Control System
Daytime running lights
Pricing
Add more fields as necessary.
MODEL Trims
Trim1
Trim2
Trim3
Trim4
MSRP
$Price1
$Price2
$Price3
$Price4
Invoice
$Price1
$Price2
$Price3
$Price4
Gas Mileage
Add more fields as necessary.
As seen on the FuelEconomy.gov website, the City/Highway MPG averages are as follows:
Trim
2.8 NA I-4
3.0 TFSI V6
2.0 TDI V6
3.0 TDI V6
3.0 TDI V6
2.0 TFSI Hybrid I-4
MPG
7.4 l/100 km (31.79 US mpg)
8.2 l/100 km (26.7 US mpg)
4.9 l/100 km (48 US mpg)
5.2 l/100 km
6.0 l/100 km (39 US mpg)
6.2 l/100 km (37.9 US mpg)
Engine and Transmission
Specifications, details, graphs, pictures and other information regarding the powertrain is placed in this section.
Performance
Please make sure to write information of the vehicle's performance in a third-person point of view. This section should include information about the car's acceleration figures, handling, braking, etc.
Reliability
For the 2006 A6, Consumer Reports stated that "first-year reliability is disappointing." However, the 2004 model, which was the last of its generation before the current one was introduced, received an overall Green rating from Automotive Informatio Systems, indicating minimal problems in all areas of inspection.
Safety
This section should reference points on safety ratings and features of the vehicle.
Photos
TFSI
TDI
Ideation Sketches
Colors
Colors for the A6 will vary by trim, and a full list is viewable at CarsDirect.com. Some of the available options include:
Exterior
Brilliant Black
Cambridge Green Pearl Effect
Ibis White
Light Silver Metallic
Misano Red Pearl Effect
Oyster Gray Metallic
Quartz Gray Metallic
Interior
Amaretto
Cardamom Beige
Ebony
Platinum
Main Competitors
Hybrid Models
With the launch of the fourth generation (C7) A6, Audi launched its second hybrid vehicle, following the Q5 Hybrid. The A6 Hybrid is powered by a 211 hp 2.0 TFSI four banger with an electric motor that delivers 33 kW (45 hp) and 211 Nm (155.63 lb-ft) of torque. The electric motor sits directly behind the TFSI, occupying the space of the torque converter upstream of the modified 8-speed tiptronic that drives the front wheels. Electric power comes from a compact lithium-ion battery which provides 1.3 kWh of nominal power and generates 39 kW. It is stored under the luggage compartment.
According to Audi, the A6 hybrid can achieve speeds of up to 100 km/h (62 mph) purely on electricity for a very limited range. At a constant speed of 60 km/h (37 mph) this range is limited to 3 km. It can also operate with the combustion engine only or in hybrid mode. Performance-wise, it takes 7.3 seconds for the A6 Hybrid to accelerate from zero to 100 km/h (62 mph). Top speed is 238 km/h (148 mph) while CO2 emissions are at 142 grams per km (228.53 g/mile). For information on fuel consumption, see Gas Mileage section.
Unique Attributes
If there are any features of this vehicle that sets it apart from other vehicles in its class, then mention those unique attributes here.
Interior
This section should include information on the interior's design, build quality, ergonomics, space (head and legroom, front and rear), features, stowage compartments and overall comfort and livability. Add pictures wherever applicable and keep information in a third-person point of view.
Ideation Sketches
Resale Values
According to Kelley Blue Book, "the A6 does well, with the V8 sedan retaining more of its value than the V6. The V8 model maintains a residual similar to the BMW 550 and Lexus GS 430, and greater than the Cadillac STS and Mercedes-Benz E550."
<MODEL> Year
Year X
Year X-2
Year X-3
Year X-4
Resale Value
$
$
$
$
Criticisms
"Steering ... still seemed a little light at times." - Edmunds.com
"The new rear end may look more appealing, but the design leaves the cavernous trunk with a too-small opening." - Cars.com
"If you prefer simple controls and easy-to-understand components, the A6's high-tech interior may be a bit overwhelming. If you're a driving enthusiast, the lack of a manual transmission option could be a turn-off." - Kelley Blue Book
"Lack of adjustable pedals." - Edmunds.com
Current Generation (C7 2012-present)
Previous Generations
Third Generation (C6 2004-2011)
The new A6 (C6-design) came in 2004. The new model is a larger car (492 cm) with more sophisticated technology. Most notably is the Multi Media Interface (MMI) which is an optional system controlling radio, satellite navigation, climate control and (when available) suspension settings through a central screen interface. On the engine side the new Fuel Stratified Injection (FSI) direct injection technology was introduced for the first time outside the race track. Although the line of engines represents the same progression as the former model, all engines were new. The Multitronic automatic transmission continues as an alternative alongside a new 6-speed Tiptronic gearbox available in the high end models. Quattro four wheel drive is available in most of the lineup, and standard in the most powerful models.
Like the previous model, the A6 is available with other body options. The Avant arrived during the course of 2005, while in China, a longer version was introduced in the same year, named A6 L (the A8 is not sold in this country). The Allroad model is slated to make its debut during 2006. The sporting S6 was introduced in the Frankfurt Motor Show, with sales beginning in early 2006. It is powered by a Lamborghini-derived V10.
The C6 design was available with the following engines:
| Engine | Cyl. | Power (PS) | 0-100 (km/h) | Top Speed (km/h) |
| --- | --- | --- | --- | --- |
| 2.0 TFSI | 4 | 170 | 8,4 | 227 |
| 2.4 30V | V6 | 177 | 8,9 | 231 |
| 2.8 FSI | V6 | 210 | 7,9 | 243 |
| 3.2 FSI | V6 | 255 | 6,8 | 250 |
| 4.2 | V8 | 335 | 6,1 | 250 |
| S6 5.2 | V10 | 435 | 5,2 | 250 |
| 2.0 TDI | 4 | 140 | 10,3 | 210 |
| 2.7 TDI | V6 | 180 | 8,1 | 230 |
| 3.0 TDI | V6 | 225 | 7,1 | 245 |
C6 Facelift
For 2009, the A6 Sedan and A6 Avant receives a mid-cycle facelift which sees a revised rear fascia and s-line like front fascia revisions. Under the hood, the A6 will be available with a range of six gasoline and four diesel engines. The new A6 will be available October 2008. [2][3]
Second Generation (C5 1997-2004)
In 1997 the scene changed strikingly for the A6. With the introduction of an ambitious new design (C5) and a new pack of engines, the A6 moved up a notch and was positioned alongside the hegemonious BMW 5-Series and the solid Mercedes E-class. The new A6 presented itself with a wide range of engines and configurations. The crisp 30-valve 2.4 and 2.8 V6 engines represented the bulk of the A6's development programme, but the resilient 2.5 V6 Turbo Direct Injection (TDI) and the powerful all-new Audi S6 were the flagships. As an alternative to the manual transmission, a 5-speed Tiptronic automatic transmission was also available. The Avant body arrived in 1998.
In 2000 the A6 received a facelift which saw little change in the design of the car but presented a few notable changes in terms of engines. The 1.8 L engine was removed and replaced by a 2.0 L powerplant with 130 PS (96 kW). The 1.9 L TDI was tweaked into producing a maximum of 130 PS (96 kW) and 310 Nm (228 ft.lbf), receiving a 6-speed gearbox in the process. The 2.4's power was slightly upgraded and the 2.8 V6 was replaced by a 3.0 L engine boosting 220 PS (162 kW). The turbocharged 2.7 L was given a tweak on the turbo resulting in 250 PS (184 kW) and 330 Nm (244 ft.lbf), controlled by standard quattro. The V6 Diesel was also slightly modified resulting in 163 PS (120 kW) (after the second modification) and 350 Nm (258 ft.lbf). A new more powerful V6 diesel was also introduced presenting 180 bhp and 370 nm.
Also new was the revolutionary Multitronic drive by wire continuously variable transmission, available in most front wheel drive models in the lineup. All models, except the 2.0 petrol and 1.9 TDI, were available with Audi's four wheel drive system, quattro. A four wheel drive version of the estate with raised ground clearance and slightly altered styling was sold as the Audi Allroad Quattro, Audi's first crossover SUV.
In the late years of the A6 C5 design, a monstrous Audi RS6 model was presented. Producing a staggering 450 PS (331 kW) and 560 Nm (413 ft.lbf), it propels the A6 from 0–100 km/h in 4.7 sec and on to 200 km/h in under 18 seconds. This model saw the end of the C5 design which was replaced in 2004 by a new model.
The C5 design was available with the following engines:
| Engine | Cyl. | Power (PS) |
| --- | --- | --- |
| 1.8 20V | 4 | 125 |
| 2.0 20V | 4 | 130 |
| 1.8 T | 4 | 150 |
| 2.4 30V | V6 | 165/170 |
| 2.8 30V | V6 | 193 |
| 3.0 30V | V6 | 220 |
| 2.7 T | V6 | 230/250 |
| 4.2 | V8 | 300 |
| S6 4.2 | V6 | 340 |
| RS6 4.2 T | V8 | 450 |
| 1.9 TDI | 4 | 110/115/130 |
| 2.5 TDI | V6 | 150/155/163 |
| 2.5 TDI | V6 | 180 |
First Generation/Origins (C4 1994-1997)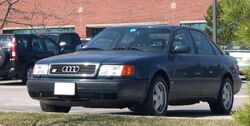 In 1994, the latest generation (C4) of the Audi 100 was facelifted and re-badged as the A6, to fit in with Audi's new naming policy (as the A8 had just been introduced). The exterior was largely left unchanged from the C4 100, the same happening with chassis and engine and transmission choices.
Up until 1997, the A6 came with several different engines, two of them Diesel, and most of them available with Audi's quattro four wheel drive system. The A6 was also available with sedan and Avant bodies.
The C4 design was available with the following engines:
| Engine | Cyl. | Power (PS) |
| --- | --- | --- |
| 1.8 20V | 4 | 125 |
| 2.0 | 4 | 115 |
| 2.0 16V | 4 | 140 |
| 2.3 | 5 | 133 |
| 2.6 | V6 | 150 |
| 2.8 | V6 | 174 |
| 2.8 30V | V6 | 193 |
| S6 2.2 T | 5 | 230 |
| S6 4.2 | V8 | 290 |
| S6 4.2 Plus | V8 | 326 |
| 1.9 TDI | 4 | 90 |
| 2.5 TDI | I5 | 115 |
| 2.5 TDI | I5 | 140 |
Worldwide
Design quirks and oddities
In 2005, the A6 4.2 was driven 100 metres up a snow covered ski jump in Finland to demonstrate its all-wheel-drive ability. The car was a standard road model but with a few modifications. Special rally tyres with 6 mm spikes were fitted and a plate was fitted underneath the chassis to hold the car in place once it reached the top of the 37.5 degree jump. The car travelled constantly at 60 km/h in first gear because any gear change could result in enough momentary loss to propel the car backwards at 100 km/h. The stunt was performed to celebrate the 25th anniversary of the quattro all-wheel-drive system. [4]
In 2004 when RACV evaluated the A6 4.2 for a Vehicle Security Rating, the car is most secure in the Australian market with a score of 117 out of 120, followed by the Porsche Cayenne S (111 points) and the 2WD version of the A6 (107 points). In 2005, the A6 topped RACV's Vehicle Security Rating again with a score of 116.5. The Audi TT has the same score.
Awards
The A6 was on Car and Driver magazine's Ten Best list for 2000 and 2001. The updated 2005 A6 won the World Car of the Year award for 2005. The new Audi A6 (the sixth-generation) has been drawn by Italian Walter Dà Silva.
2005 RACV Australia's Best Luxury Car Over $57,000
See also
References
The following is a series, listed in order, of detailed information on various aspects of the sixth-generation A6 (the "C6") from VWVortex.
External links
News & References
Enthusiast Sites and Discussion Forums