Doctor Strange in The Multiverse o Madness - The Loop
Play Sound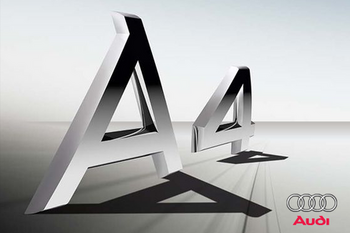 Available in Sedan, Convertible and Station Wagon flavors, the Audi A4 is at home trekking to work, soccer practice or the beach. The popular A4 accounts for over half of all Audis sold today. Introduced in 1995 as an upscale version of the VW Passat, the A4 put Audi on the map as a luxury car manufacturer.
See Autopedia's comprehensive Audi A4 Review.
Recent Changes
On November 17, 2008, Audi Presents A4 Long-WheelBase Version for China.[1]
While the A4 Cabriolet remains cosmetically unchanged for 2006, the A4 Sedan and A4 Avant have undergone an update to their front grills, which now extend full height like the A6's 2004 redesign. On the other hand, all body styles have been improved with more powerful engines, and the sporty S-Line has been reintroduced, replacing the old Sport package.
The upcoming 2007 model is expected to be produced from a completely new platform and one that is exclusive to Audi. Early reports suggested that this platform would adopt rear-wheel drive to help Audi compete against the BMW 3 Series and its own rear-wheel drive platform. However, it is said that Volkswagen Group chairman Bernd Pischestreider vetoed this move, fearing it would alienate Audi's existing customer base.
- 3rd-generation quattro system, providing 40:60 front:rear torque split - improved weight distribution thanks to moving the engine and gearbox rearward - a slight reduction in overall length, possibly due to shorter front and rear overhangs
The B8 A4 is expected to be available in late 2007 or early 2008.
Also, rumors of an A4-based coupe have been backed up with various spy shots and computer-generated images, many of which were digital composites of the Cabriolet and Sedan models. A true A4-based coupe, possibly known as the A5, is expected in 2007.
Styles and Major Options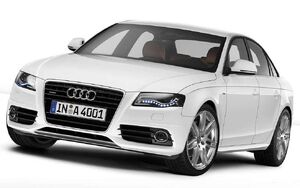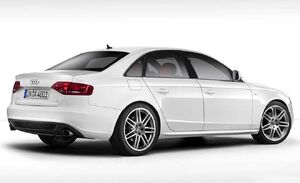 The 2006 Audi A4 comes in 3 different styles: the A4 Sedan, A4 Avant (wagon), and A4 Cabriolet (convertible). While the exterior and interior option packages for each of these do not differ greatly, it is important to note that each style offers specifically different combinations of transmission (manual, CVT, or Audi's Auto Tiptronic) and either front- or all-wheel drive (Audi's FrontTrak and quattro, respectively). Here are the available combinations and some of the distinguishing options:
A4 Sedan and A4 Avant
2.0 T - 200hp

A4 Sedan: 6-speed manual FrontTrak or quattro; Multitronic (CVT) FrontTrak; Tiptronic quattro
A4 Avant: 6-speed manual or Tiptronic quattro
12-way sporty power driver seat (manual front passenger)
Aluminum interior inlays
16-inch alloy wheels
Cruise Control
Audi Symphony stereo system with 6-disc CD changer
A4 Cabriolet
1.8 T - 170hp

Multitronic (CVT) FrontTrak only
Power folding top
Adjustable driver and front passenger seats
Cloth seating
Driver information display
17-inch alloy wheels
3.0 - 220hp

Tiptronic quattro only
Power folding top
12-way power seats (driver and front passenger)
Leather seating
Driver Information Display
17-inch alloy wheels
Pricing
Today's actual prices for the Audi A4 can be found at CarsDirect.
Audi A4 Trims

2.0 T Sedan

3.2 Sedan

2.0 T Avant

3.2 Avant

1.8 T Cabriolet

3.0 Cabriolet

MSRP

$28,240

$34,490

$31,340

$36,390

$37,340

$45,490

Invoice

$26,043

$31,811

$29,053

$33,649

$34,404

$42,010
Gas Mileage
As seen on the FuelEconomy.gov website, the City/Highway MPG averages are as follows:
Trim

2.0 T Sedan

3.2 Sedan

2.0 T Avant

3.2 Avant

1.8 T Cabriolet

3.0 Cabriolet

MPG

23/34

21/29

22/31

17/27

23/30

18/25
Reliability
Consumer Reports and others rate reliability 5 stars (out of 5).
Audi has perfected the performance aspect of the "performance sedan." There is no doubt that Audi owners all over the world compliment Quattro handling, safety features, and engine performance included in their models. Despite being the pleasure to drive, several drawbacks exist.
Reliability is a serious issue. The A4 came along and revived a dying market for Audi; namely, the 5000 and other model accelerator issues. Surely, the great exterior design on the A4 led to the massive success of the model, and consequently, reinstated Audi as a big name in the auto industry. Unfortunately, the poor quality that hampered Audi in the 1970s-1980's would come back to haunt them.
Simple online inquiries reveal serious drawbacks to divulging into the world of Audi. The reliability issues of the 1980s-1990's have plagued new models, regardless of the great exterior designs that initially drew people to the A4.
Audi prides itself on the four rings: design, performance, technology, and safety. Audi delivers on every single aspect, without question, on their new and certified vehicles. Owners of older models do not back the same beliefs on late-year models. Investing in an older model may just cost as much as a brand new Audi purchased off the showroom floor.
Safety
Photos
Fourth Generation (B8)

Exterior and interior photos of the 2006 A4.[6]
Colors
Available colors vary by trim.
Main Competitors
These figures are largely misleading. The A4 trade-in values vary so greatly ($20k-$32k) because the website groups each A4 model options (Quattro, engine, transmission) in one bunch. This can be observed by simply noticing the msrp of $29k and the trade-in value of $32k. Anyone knows the simple fact that driving a car off the lot, especially a European car, does not appreciate the value by $3k instantly. The base MSRP is based on a Frontrak (Front-Wheel-Drive), stripped down 2.0 Turbo model, while the trade in is based on a loaded Quattro 3.2 V6 model.
The Acura, BMW, and Mercedes "MSRP" vs the trade-in values are all based on the same options, engine, and 2WD options.
When observing the pure numbers of MSRP and trade-in, one must consider the cost of ownership of these models as well. Repairs (if not under warranty) of European models average double (or triple) those of Japanese and American models. Additionally, oil changes at Valvoline Instant Oil, tires (OEM low profiles fitted on Euro brands), wear and tear not under warranty, and gasoline (premium required for Euros, mid-grade/regular for American/Japanese) add up to significant figures in cost of ownership.
Unique Attributes
Mileage
If you ever want to travel across the world on road, you better do it in an Audi A4. The biggest advantage apart from the usual reliability and comfort, if you choose this Audi for your daring adventure, will be fuel-efficiency. At the most, you will go to fuel station a second time before you complete the long long journey. Even if you are bad driver, a third visit should be more than enough - drivesoul.com
Resale Values
The Automotive Lease Guide, which monitors and predicts vehicle depreciation, awarded the Audi A4 a 4-star (out of 5) resale rating. According to Kelley Blue Book, the A4 should hold its value better than the Volvo S40 and Saab 9-3, but not as well as the BMW 3 Series or Infiniti G35.
Criticisms
"Passing attempts at low speeds, however, sometimes yield a shortfall of response. You hear a little engine noise while accelerating with the CVT, but not much." -- Cars.com
"It's generally adequate in front but somewhat limited in rear leg room. This is not a car for the full-figured or for people much taller than six feet." -— New Car Test Drive
"Its adjustable tabs accommodate larger beverage containers, but accessing them from the driver's seat requires a bit of carpal gymnastics and if you want to carry two cups, you forfeit the ability to use the fold-down center console armrest." -— AutoSite.com
Current Generation (2008-present)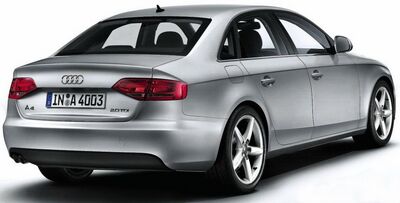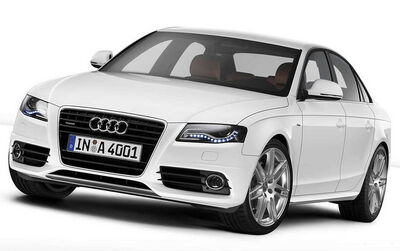 Engines
1.8 litre (Inline 4),

TFSI

, *160 hp (N/A PS),

0-100Km/h

= N/A sec, Top Speed = N/A km/h (N/A MPH)
2.0 litre (Inline 4), TDI, Diesel, *143 hp (N/A PS),

0-100Km/h

= N/A sec, Top Speed = N/A km/h (N/A MPH)
2.0 litre (Inline 4), TDI, Diesel, *170 hp (N/A PS),

0-100Km/h

= N/A sec, Top Speed = N/A km/h (N/A MPH)
2.0 litre (Inline 4),

TFSI

, *211 hp (N/A PS),

0-100Km/h

= N/A sec, Top Speed = N/A km/h (N/A MPH)
3.0 litre (V6), TDI, Diesel, *240 hp (N/A PS), 500Nm (369 lb-ft),

0-100Km/h

= N/A sec, Top Speed = N/A km/h (N/A MPH)
3.2 litre (V6), FSI, *260 hp (N/A PS),

0-100Km/h

= N/A sec, Top Speed = N/A km/h (N/A MPH)
Previous Generations
Third Generation (2006-2007)
Audi introduced a redesigned A4 in late 2004, now riding on the B7 platform, which is completely unique to Audi and not shared with Volkswagen. Nonetheless, the B7 is really a revision of the outgoing B6, and not a ground-up redesign. This is confirmed by Audi's internal platform nomenclature, which uses PL46 (longitudinal passenger car platform, size 4, generation 6) for both B6 and B7 chassis.
The engine lineup received many additions, the most notable of which was the introduction of Fuel Stratified Injection on the new 2.0 TFSI and 3.2 V6 FSI, respectively capable of 200 and 255 PS (147 and 188 kW), although these engines dropped the five-valve design in favor of the more widely known four valves per cylinder configuration, as the design was incompatible with the direct injection system. The new 2.0 TDI engine now combined Pumpe Düse (PD) technology with 16 valves for the first time, while the larger 2.5 TDI was increased to 3.0 L, with 204 PS (150 kW). Quattro was available either as an option or standard on most mid- to high-end models, with multitronic and Tiptronic automatic gearboxes available throughout the entire lineup. As per the B6, multitronic is available only on front-wheel drive models and Tiptronic only available on quattro models.
In addition to the carry-over S4, which remained unchanged on the technical side, Audi has reintroduced the RS4 to the lineup, for the first time on the sedan body and with a normally aspirated 4.2 V8 FSI engine. Another notable inclusion is the 3rd-generation quattro system which uses 40:60 front-rear power distribution. A limited edition variant first introduced in late 2005, named "Deutsche Tourenwagen Masters (DTM) Edition", was reintroduced in 2006 as a regular option, the 2.0T FSI engine now engineered to 220 PS (162 kW) with standard quattro. The front grill assembly has changed to be full height in the same manner as the Audi A6.
The B7 Cabriolet model arrived later than the other two body variants, with sales beginning in February 2006. Brand new on the Cabriolet was an entry-level 2.0 TDI version with standard quattro. In April, the B7 received the 170 PS (125 kW) 2.0 TDI engine that premiered in the VW Golf GTD and Audi A3.
Engines
Second Generation (2000-2005)
An all-new A4 debuted in late 2000, now riding on the Volkswagen B6 platform. The 1.6 L base model remained unchanged, but most other gasoline engines received either displacement increases or power upgrades. The 1.8  20 valve Turbo was now available in two versions, with 150 or 180 PS (110 or 132 kW), this one with a standard six-speed gearbox, while the naturally aspirated 1.8 L straight-4 and 2.8 L V6 were replaced by 2.0 L and 3.0 L units, still with five valves per cylinder, the most powerful of which was capable of 220 PS (162 kW) and 300 Nm (221 ft.lbf) of torque. The 1.9 TDI engine was upgraded to 130 PS and was now available with quattro, while the 2.5 V6 TDI high-end model was introduced with 180 PS (132 kW) and standard quattro. The Avant arrived in mid 2001.
For 2002, Audi upgraded power in the 1.8 Turbo engines to 163 and 190 PS (120 and 140 kW respectively), and in the 2.5 TDI intermediate version to 163 PS. A year later, Audi reintroduced the S4, now powered by a 344 PS (253 kW) 4.2 L V8, as well as an A4 Cabrio convertible variant, finally replacing the 80-based Audi Cabriolet that had been discontinued in 1998.
Audi also introduced a continuously variable transmission developed by LuK, named Multitronic, which replaced the Tiptronic on front wheel drive models. The transmission won considerable praise from the automotive press and is generally regarded as being the best of its type in the world, due to its light weight and promptness in response, but its use was limited to models with a maximum of 310 Nm (229 ft.lbf).
Borrowing from the Audi A6, the boot was redesigned to remove the extension of the top edge with a smoother fold line, and the taillight assembly now forms part of the top line.
A new cabriolet version of the A4 was introduced in 2002 to replace the ageing Audi 80-based model. It incorporated some minor styling changes which eventually found their way to the sedan version (such as body-colored lower bumper and sill panels).
Engines
First Generation/Origins (1995-1998)
Audi debuted the model in 1995 on Volkswagen's B5 platform, which it shared with the fifth generation Volkswagen Passat. Like the Passat, it had a longitudinally-mounted engine and standard front wheel drive, although the vast majority of A4s Audi sells come optioned with their quattro all wheel drive system. The Avant station wagon arrived a year later.
A wide range of engines were available to European customers, between 1.6 and 2.8 L, and a 1.9 L Diesel available with VW's new "pumpe-düse" technology, capable of achieving a then high power value of 110 PS (81 kW), although Audi's 2.8 L V6, carried over from the old 80/90 was the only engine option in North America until 1997.
The Audi A4 was the first model in the Volkswagen Group to feature the new 1.8 L 20V motor with five valves per cylinder, based on the unit Audi Sport had developed for their Supertouring race car. A turbocharged version produced 150 PS (110 kW) and 210 Nm (155 ft.lbf) of torque. This technology was added to the V6 family in 1996, starting with the 2.8 L V6 30V, which now pumped 193 PS (142 kW).
Audi also debuted their new Tiptronic transmission on the B5 platform, based on the unit Porsche developed for their 964-generation 911. The transmission is a "manumatic", meaning it offers the driver a choice of driving the car as either an automatic or a clutchless manual.
The B5 A4 is arguably a watershed model for Audi. Previously regarded as somewhat of a bit-player in the luxury car segment, the massive improvement in quality and engineering with the B5 A4 made buyers realise that there was now a marque other than BMW and Mercedes. Combined with the radical TT concept (later a production car), Audi emerged as a leader in the luxury car market.
Engines
1.6L (1595cc) (Inline 4), *74 kW (101PS),

0-100Km/h

= 11,9sec, Top Speed = 191 km/h (119MPH)
1.8L (1781cc) (Inline 4) DOHC, *92 kW (125PS),

0-100Km/h

= 10,5sec, Top Speed = 217 km/h (135MPH)
1.8L (1781cc) (Inline 4) DOHC turbo, *110 kW (150PS),

0-100Km/h

= 8,3sec, Top Speed = 222 km/h (139MPH)
2.4L (2393cc) (V6) DOHC, *121 kW (165PS),

0-100Km/h

= 8,2sec, Top Speed = 226 km/h (141MPH)
2.6L (2598cc) (V6), *110 kW (150PS),

0-100Km/h

= 9,1sec, Top Speed = 220 km/h (138MPH)
2.8L (2771cc) (V6), *128 kW (174PS),

0-100Km/h

= 8,1sec, Top Speed = 230 km/h (144MPH)
2.8L (2771cc) (V6) DOHC, *142 kW (193PS),

0-100Km/h

= 7,3sec, Top Speed = 238 km/h (149MPH)
1.9L (1896cc) (Inline 4) diesel, *55 kW (75PS),

0-100Km/h

= 15,9sec, Top Speed = 172 km/h (108MPH)
1.9L (1896cc) (Inline 4) diesel turbo, *66 kW (90PS),

0-100Km/h

= 13,3sec, Top Speed = 183 km/h (114MPH)
1.9L (1896cc) (Inline 4) diesel turbo, *81kW (110ps),

0-100Km/h

= 11,3sec, Top Speed = 196 km/h (123MPH)
B5 Upgrade (1998-2001)
Audi refreshed the model in the 1997 Frankfurt Motor Show, with sales beginning in Europe in early 1998. Besides the introduction of a 2.4 L 30-valve V6 (replacing the outdated 2.6 V6), the most important additions to the range were the 2.5 L V6 TDI engine with 150 PS (110 kW) and standard quattro and a 6-speed gearbox, as well the new high-performance S4, now part of the A4 lineup (the previous S4 had been a Audi 100). New taillights, headlights, door handles, and other minor exterior/interior changes rounded out the cosmetic updates.
In mid 1998, the 1.8T engine available outside Europe had its power output raised to 170 PS (125 kW), while the 12-valve V6 was replaced by the 30 valve unit that had been available in Europe for two years.
In 1999, Audi debuted an even higher performance model, the RS4, like its predecessor RS2 available only in the Avant body.
Worldwide
The A4 debuted in 1995 in Europe, where it still maintains a fair share of the near-luxury market.
Design quirks and oddities
The 2001 A4 had a design issue with spark plug coils in that they would fail. They were replaced as needed at Audi's expense.
The 2001 A4 manual has incorrect information regarding frequency of oil changes, leading to engine sludging. At least some cars were de-sludged at Audi's expense.
The 1996 A4 has bizarre and annoying cup holders that hold a 12 oz soda can perfectly but will spill any other type of container on the first curve.
In the What Women Want survey conducted by the RACV in 2003, the A4 Cabriolet is the most popular choice among women buying an Audi.
Awards
Double "Best Pick" - Insurance Institute for Highway Safety
One of the 10 Best Engines for 2005 (3.2 FSI® Direct Injection V6) - Ward's Auto World
Interior of the Year - Ward's Auto World
2003 runner up for 2003's Most Beautiful Open Automobile in the World (Cabriolet)
2009 Carsales Luxury Car People's Choice Award
See also
External links
Autopedia Contributor Favorites
Audi Manufacturer Sites
Community Sites
News/References