Doctor Strange in The Multiverse o Madness - The Loop
Play Sound
Audi A1
Audi
aka
Type aka here, not up there
Production
2011 - present
Class
Subcompact Luxury
Body Style
3-door or 5-door, 4-seat Hatchback
Length
155.5 in
Width
68.5 in
Height
55.9 in
Wheelbase
97.24 in
Weight
2303.83 lb (1045 kg)
Transmission
5-speed Manual, FWD
6-speed Manual, FWD
7-speed S tronic dual clutch, FWD
Engine
1.2 litre TFSI Inline-4
1.4 litre TFSI Inline-4
1.6 litre TDI Inline-4
1.6 litre TDI Inline-4
Power
86 hp @ N/A rpm
118.01 lb-ft (160 Nm) of torque @ 1500-3500 rpm

122 hp @ N/A rpm
147.51 lb-ft (200 Nm) of torque @ 1500-4000 rpm

105 hp @ N/A rpm
184.39 lb-ft (250 Nm) of torque @ 1500-2500 rpm

90 hp @ N/A rpm
169.64 lb-ft (230 Nm) of torque @ 1500-2500 rpm
Similar
similar (competition)
Designer

Stefan Sielaff
The Audi A1 (internally designated Typ 8X) is a supermini car launched by Audi at the 2010 Geneva Motor Show. Sales of the initial three-door A1 model started in Germany in August 2010, with the United Kingdom following in November 2010. A five-door version, called Sportback, was launched in November 2011, with sales starting in export markets during spring 2012.
See Autopedia's comprehensive Audi A1 Review.
Recent Changes
A five door version of the A1 was released in 2012 dubbed the A1 Sportback
Styles and Major Options
The A1 comes in a choice of regular, TFSI and Sportback.
Pricing
The pricing goes as follows:
MODEL Trims
Regular
TFSI
Sportback
MSRP
€ 16000 (US$ 22000)
$Price2
$26000 US
Gas Mileage
Add more fields as necessary.
As seen on the FuelEconomy.gov website, the City/Highway MPG averages are as follows:
Trim
1.2 TFSI
1.4 TFSI (7-speed DC / 6-speed M)
1.6 TDI
1.6 TDI
MPG
5.1 l / 100 km (46.1 US mpg)
5.1 - 5.4 l / 100 km (43.6 - 46.1 US mpg)
3.9 l / 100 km (60.3 US mpg)
3.8 l / 100 km (61.9 US mpg)
Engine and Transmission
Specifications, details, graphs, pictures and other information regarding the powertrain is placed in this section.
Performance
Please make sure to write information of the vehicle's performance in a third-person point of view. This section should include information about the car's acceleration figures, handling, braking, etc.
If using information gathered from Road Test articles from a reputable automotive source, then please make sure to cite the quote.
Reliability
Warranty options and scheduled maintenance information should be mentioned here.
Safety
This section should reference points on safety ratings and features of the vehicle.
Photos
Concept art
Second generation
citycarver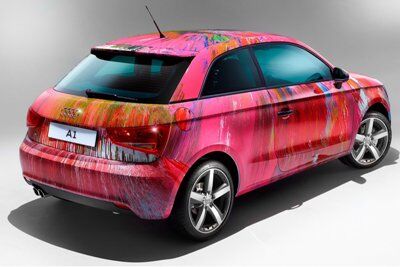 First generation
S-Line
Ideation Sketch
Teaser
Add Photos of the vehicle here.
Please make sure not to use copyrighted photos.
Colors
List the colors that the particular <MODEL> is offered in.
Main Competitors
Hybrid Models
If there are hybrid versions of this vehicle manufactured, then please elaborate a little bit on it here.
Unique Attributes
If there are any features of this vehicle that sets it apart from other vehicles in its class, then mention those unique attributes here.
Interior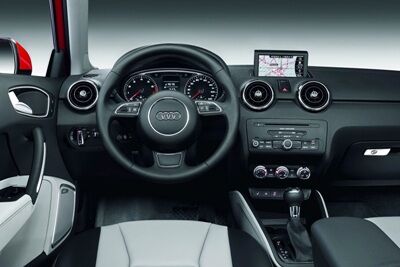 This section should include information on the interior's design, build quality, ergonomics, space (head and legroom, front and rear), features, stowage compartments and overall comfort and livability. Add pictures wherever applicable and keep information in a third-person point of view.
Resale Values
Add more fields as necessary.
<MODEL> Year
Year X
Year X-2
Year X-3
Year X-4
Resale Value
$
$
$
$
Criticisms
Please make sure to keep critiques in a third-person point of view. If using criticisms from a reputable automotive source, then please make sure to cite the quote.
Generations
Fill in as many as appropriate. Add more if necessary and pictures wherever applicable.
Please make sure NOT to use copyrighted pictures.
Second generation (GB; 2018)
The second generation A1 was launched in mid-June 2018. It is built on the MQB platform which is shared with the Volkswagen Polo Mk6 and the SEAT Ibiza Mk5.
This generation came to Mexico in 25 October 2019.
A1 Sportback (2018-)
European models went on sale in fall 2018, with ordering began in summer 2018.
A1 citycarver (2019-)
It is a version of A1 Sportback with 4 centimetres (1.6 in) of additional ground clearance, increased ride height by 35 millimetres (1.4 in), a choice of 9 body colours, contrast roof in either Mythos black metallic or Manhattan gray metallic. Black styling package includes gray lower body section, deep black stainless steel paint finish.
Ordering began in August 2019, and arrived at European dealerships in fall 2019.[129
Equipment
MMI radio and Audi smartphone interface which includes Apple CarPlay and Android Auto as standard, as well as a 10.25-inch infotainment touchscreen.
In the UK, the trim levels includes; SE, Sport and S line from the previous generation along with three new S Line trims; S Line Competition, S Line Contrast Edition and S Line Style Edition. SE is the base specification, while Sport and S line models includes have sport seats, sports suspension, exterior styling and larger wheels, as well as other features.
First generation (8X; 2010)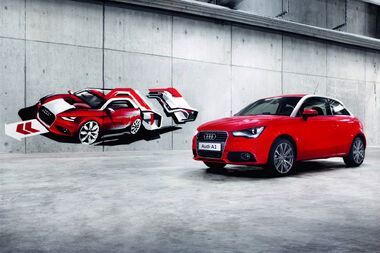 The A1 three-door went on sale in most markets in late 2010 following the launch at Wörthersee Tour 2010.[ followed by the major public launch at the 2010 Mondial de l'Automobile. The car is aimed mostly at young, affluent urban buyers.
A1 Sportback (2012–2018)
The five-door version of Audi A1, called "Sportback" by Audi, was unveiled at the 2011 Tokyo Motor Show.
Equipment
The A1 uses a MacPherson strut front and torsion beam rear suspension.
In the UK, the A1 trim levels are SE, Sport and S line. SE is the base specification, while Sport and S line models also have sport seats, sports suspension and larger wheels, amongst other features
A1 quattro (2012–)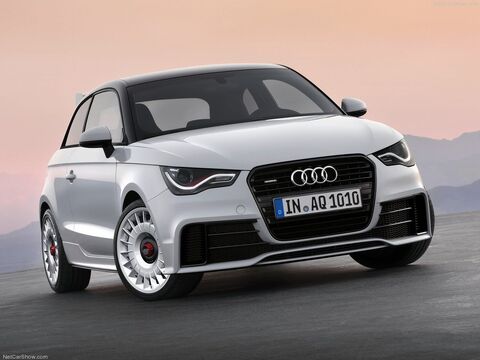 It is a limited (333 units) version of the Audi A1 with 2.0 TFSI engine rated at 256 PS (188 kW; 252 hp) at 6000 rpm and 350 N⋅m (258.15 lb⋅ft) at 2500-4500 rpm, six-speed transmission, electronic differential lock, 8.0Jx18 Glacier White cast alloy wheels in exclusive turbine design, 225/35-series tires, 312 mm (12.28 in) diameter front brake discs, black calipers, ESP stabilization program with a sport mode, Glacier White metallic body colour, roof in high-gloss black, frame and grate of the single-frame grille in high-gloss black, curved bars in the headlights – the wings – in red, grille, roof arch and the rear hatch with quattro badges; tinted rear windows, black rear hatch and diffuser, tinted LED rear lights, exhaust system with two polished dual tailpipes on the left and the right, black interior, seats and armrests on the doors are in Silk Nappa leather with contrasting red seams, front S sport seats with bolsters, multi-way adjustment, integrated head restraints and a quattro badge on the backrest covers; lower section of the center console in high-gloss black, footrest and the pedal caps made of brushed stainless steel, red seams floor mat frame, door sill trims with A1 quattro badges, instrument cluster with white needles, red tachometer, quattro logo, color display for the driver information system; leather-wrapped flat bottom multifunction sport steering wheel with contrasting red stitching and the car's serial number, shift lever knob made of aluminum, control elements with aluminum-look finish.
A1 Clubsport Quattro (2011)
It is a version of the Audi A1 with a modified version of the Audi RS 3's 2.5 TFSI engine rated at 503 PS (370 kW) at 2500–5300 rpm and 660 N⋅m (486.79 lb⋅ft), tailpipe located on the left flank in front of the rear wheel, six-speed manual transmission and quattro on-demand all-wheel drive from Audi TT RS, 255/30 low-profile tires, 19-inch alloy wheels with unique turbine design, ventilated carbon fiber-ceramic front brake discs with six-piston calipers, rear steel brake discs, Glacier White matt body colour, roof arch in high-gloss black, carbon fiber-reinforced polymer roof, four rings at the front of the car in solid aluminum, single-frame radiator grille with black honeycomb design, headlights with matted clasps with a red 'wing', air outlets in the hood, front fenders and doors and the rear side panels widened by 60 mm (2.36 in) in horizontal "blister" edges (from Audi Ur-quattro), trim strips on the sills are made of exposed CFRP, side mirrors in Audi R8 design, roof spoiler with a double wing, darkly toned rear lights, single closed rear diffuser, rear seat replaced by a crossbar, weight-optimized starter battery in the rear below the two storage compartments, removal of infotainment system and Audi MMI monitor and loudspeaker, CFRP bucket seats from Audi R8 GT, red four-point seat belts, dark gray interior, matt-finished CFRP at the walls in the rear section of the car, the tubes of the air vents and the "stern of the yacht" in the lower section of the center console; CFRP open-spoked sport steering wheel upholstered in leather, rocker switches on the center console replace switches on the control stalk and in the door panels, 3 additional instruments indicate the oil pressure, boost pressure and electrical system voltage; center console and seats covered in fine leather upholstery with tone-on-tone stitching, selector lever is made of aluminum, caps of the pedals and the surface of the footrest made of stainless steel, red loops replacing the handles on the doors, the glove box and the covers of the storage compartments. This car is capable of 0 to 100 km/h (0 to 62 mph) acceleration in 3.7 seconds.
Pre-production concepts
metroproject quattro (2007)
The A1 was previewed at the 2007 Tokyo Motor Show in the form of the Audi metroproject quattro concept car.[4] The concept seats four and features a new plug-in hybrid[5] powertrain. With this powertrain, a 1.4 L (85.4 cu in) 148 bhp (110.4 kW) Turbo FSI engine drives the front wheels via a six-speed S-Tronic, while a 40 bhp (29.8 kW; 40.6 PS) electric motor provides power to the rear wheels. The electric motor is also capable of producing 148 lb⋅ft (201 N⋅m) of torque.
The metroproject quattro is able to travel 62 miles (100 km) at up to 62 mph (100 km/h) on one charge of its lithium-ion batteries, which reduces fuel consumption by up to 15%. Both power sources are available to use simultaneously, with the driver then benefiting from MacPherson strut front and rear four-link suspension configuration, electromechanical speed-sensitive power steering with a low energy draw, Audi magnetic ride adaptive damping technology, and 0 to 100 km/h (0 to 62 mph) in 7.8 seconds.
Audi A1 project quattro (2008)
At the 2008 Leipzig Auto Mobil International show, Audi again presented the metroproject quattro, renamed the A1 Project Quattro.[7] The vehicle was designed by Audi AG Project Designer in Exterior Design Jürgen Löffler, who also presented the design during the car's Hong Kong debut.[8]
A1 Sportback concept (2008)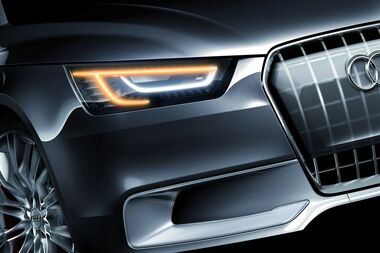 The A1 Sportback concept is a five-door hatchback based on the Audi A1 project quattro, with longer body of 3.99 m (157.09 in), 1.4-litre TFSI engine rated at 150 PS (110 kW; 148 hp) at 5,500 rpm and 240 N⋅m (177.01 lb⋅ft) at 1,600-2,400 rpm, S tronic dual-clutch transmission, electric motor rated at 27 PS (20 kW; 27 hp) and 150 N⋅m (110.63 lb⋅ft) driving the front wheels, ESP-controlled active front differential lock, lithium-ion batteries, a two-part spoiler with a striking centre groove integrated into the rear window, Daytona Grey body colour, aerodynamically designed single-frame grille, LED three-dimensional main headlights, turbine-look air vents and air conditioning controls, drive select with dynamic and sport modes, contrasting white and red interior colour scheme, mobile phone WLAN connection, Audi drive select with efficiency mode, MacPherson front suspension and four-link independent rear suspension, 18-inch wheels with 225/35R18 tires, 312 mm (12.28 in) diameter brake discs, electromechanical steering with speed-sensitive power assistance, magnetorheological shock absorbers from Audi R8 and Audi TT. The vehicle's 0 to 100 km/h (0 to 62 mph) acceleration is 7.9 seconds and average CO2 emissions are given as 92g/km. The vehicle's electric-only range is 50 km (31.07 mi).
Fourth generation (YYYY–YYYY)
Third generation (YYYY–YYYY)
Second generation (YYYY–YYYY)
First Generation/Origins (YYYY–YYYY)
Worldwide
If the vehicle is sold in other markets worldwide, then this is the section to mention that information. Also, mention if the <MODEL> goes by another name in these other markets.
Design quirks and oddities
Refer to any pop-culture tidbits about the vehicle in this section.
Awards
List out notable awards that the model has received while in production. Boldface the company or organization that gives out the award, and Italicize the name of the award.
See Also
External Links
News and References
Enthusiast Sites and Discussion Forums