300px
Aston Martin V12 Vanquish
Aston Martin
aka
Production

2001 - 2007
S: 2004 - 2007

2012-Present

Class
Grand Touring Supercar
Body Style

2-door coupe

2-door covertible (soft top convertible)

Length
4,720 mm (185.5 in)
Width
1,905 mm  (75.0 in)
Height
1,280 mm (50.4 in)
Wheelbase
106 in (2690 mm)
Weight
1,739 kg (3,834 lb)
Transmission

Rear-mid mounted, six-speed Touchrronic2 (2012-2014)/ 

Eight-speed Touchtronic3 automatic (2014-)

Engine
5,935 cc (5.9L; 362.2 cu in) V12 engine
Power
460 hp @ 6,800 rpm, 400 lb-ft of torque
S: 520 hp @ 7000 rpm, 426 lb-ft of torque
Similar
Ferrari 575M Maranello
Designer
Ian Callum
The Aston Martin V12 Vanquish is a supercar manufactured by Aston Martin since 2001. It rose to fame after being featured as the official James Bond car in Die Another Day, the twentieth James Bond film. In the film, the Vanquish has the usual Bond film embellishments, including active camouflage which rendered the vehicle virtually invisible.
Engine
The Vanquish is powered by a 5.9 L (5935 cc) 48-valve 60° V12 engine, which produces 460 PS (343 kW 454 bhp) and 542 N·m (400 ft·lbf) of torque. It is controlled by a fly-by-wire throttle and a 6 speed 'paddle shift' or semi-automatic transmission. A special V12 Vanquish S debuted at the 2004 Paris Auto Show with the power upped to 521 PS (388 kW 514 bhp) and 577 N·m (426 ft·lbf).
The Vanquish's V12 engine shares some components and design elements with the 3.0 L Duratec 30 V6 from parent-company Ford. It even shares the same bore and stroke dimensions. For this reason, many people incorrectly dismiss the Aston Martin V12 as merely "two Duratecs linked together."
The V12 engine in the Vanquish was designed at Ford Research in the USA. Cosworth Technologies was originally contracted to manufacture the engine, but had no involvement with the design. Previous articles which correctly recount this engine's development have appeared in Automotive Industries magazine.
It is correct that the AM V12 shares components with the 3.0L 'Duratec' V-6 engine used in the Ford Taurus, but it is not possible to simply put two V-6's together to make a V12. The bank offset for a V12 is equal to one rod bearing width, whereas the bank offset for a 60-degree V-6 is significantly longer than one rod bearing width, thus it is necessary to design a V12 as a totally new engine.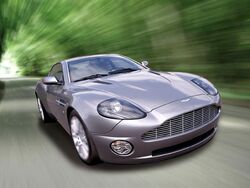 Specifications
The Vanquish has 355 mm (14 in) drilled and ventilated disc brakes with ABS. It also has traction control. Its wheels are 19 in (483 mm) and it weighs 1835 kg (4045 lb).
The Vanquish S features larger 378 mm (15 in) front and 330 mm (13 in) rear brake rotors.
Dimensions:
Coefficient of drag: 0.31
Front track: 1524 mm (60 in)
Rear track: 1529 mm (60 in)
Performance
Model
Power
0-100 km/h
(0-62 mph)
Top Speed
Vanquish
460 PS (343 kW 454 bhp)
5.0 s
190 mph (306 km/h)
Vanquish S
521 PS (383 kW 514 bhp)
4.8 s
200 mph (322 km/h)
V12 Vanquish Safety
The 2005 Aston Martin V12 Vanquish, a carryover of the 2004 model, is a 2-door luxury sports car, and is available as a Coupe. Every Aston Martin V12 Vanquish is individually built by hand. The design team spent many hours in the wind tunnel honing the car's profile to ensure stability throughout its speed range and adequate airflow for power and cooling; utilizing a complementary aerodynamic 'splitter' at the front which helps improve high- speed stability. The specially developed braided carbon fiber used for the 'A' posts and the engine bay cross brace result in an immensely strong yet light structure capable of withstanding the force of a crash or rollover. The Aston Martin V12 Vanquish is dynamically safe providing incredibly fast stopping power. The front and rear discs are mounted on a patented floating mechanism to maintain pedal feel for very heavy braking. The antilock brake system re-balances front and rear braking forces depending on the load.
Weaknesses
The Vanquish has drawn criticism for a number of weaknesses in its design. In particular, some interior materials have been cited as unfit for a car of this price and prestige. Much of the aluminum trim is actually plastic and several of the instruments are visibly related to items from less exotic Ford Motor Company products. Additional concerns of owners and testers include the weight and apparent cooling system deficiencies of the car. Despite Aston's materials innovations that include epoxy bonding and composite structural members, the Vanquish is a heavy car. It weighs well over two tons with driver and fuel. Even by the standards of this premium supercar class, in which weight continues to escalate, the Vanquish is a very heavy car. The car's sporting aspirations are drawn into question by this excess weight and a cooling system that reportedly fails to support sustained track activity in warm weather. Prior to the release of the Vanquish S, there had been critics who felt the Vanquish was not adequately differentiated from the DB9, a $160,000 Aston that featured less weight, less damage to the consumer's wallet, virtually the same engine, and similar power. The main criticism has been the paddle-shift gearbox's ability to operate smoothly and correctly.
Gallery
In popular culture
The 2005 song Don't Cha by Pussycat Dolls features Busta Rhymes rapping about the Aston Martin Vanquish on the third verse of the song.
The Transformers: Energon character "Hot Shot" transforms into a Vanquish (slightly modified for legal and play purposes).
Criticisms
"The last of the old-school Astons, built by men with body odour and hammers. And it shows. It costs more than other Astons yet is no quicker: its paddle shift gearbox is hilariously bad and its interior looks glued together from the Ford parts bin. It's like opting for a rusty saw with leeches in the age of laser-guided brain surgery. Who is Aston kidding?" Jeremy Clarkson, Top Gear
"What a great gearbox. What a wonderful action. Well done whoever thought about this. WHAT IS THE MATTER WITH A MANUAL? WHY DO WE HAVE TO HAVE THIS?" Jeremy Clarkson, Top Gear
Second generation: (2012-Present)
Project AM310 Concept (2012)
It is a concept car based on the fourth generation VH platform. It included a tweaked version of Aston's familiar grille and headlight design and a more pronounced bulge in the bonnet – with the real One-77-inspired flourishes saved for the sides and the rear, Aston side vents run almost to the door handles (from One-77), new rear light design from One-77, 5.9L V12 engine rated 550PS.
Aston Martin unveiled the Project AM310 Concept at the 2012 Concorso D'Eleganza at Villa D'Este on the shores of Lake Como, Italy. Aston Martin later announced that the concept would be put into production as the all newAston Martin Vanquish.
Vanquish (2012–)
The exterior styling of the Vanquish is an evolution of the DBS with many styling cues such as the elongated side strakes being inspired by the Aston Martin One-77. The boot lid includes an integrated rear spoiler designed to look as if it is impossible to make; this was done on the orders of Aston Martin Chief Executive, Dr. Ulrich Bez. The car has an exposed carbon fibre skirt showing its all carbon fibre body. The Vanquish uses the new Generation 4 VH chassis which is lighter and uses more carbon fibre than the Generation 2 VH used in the DBS.The car features an all new interior based on the one found in the exclusive One-77. The standard interior is trimmed in hand stitched leather and alcantara available in a range of colours. The centre stack features an improved infotainment system over the one found in the DBS. The car is available as either a 2-seater or 2+2.
The Vanquish uses an upgraded version of Aston Martin's flagship AM11 V12 engine with a power output of 573 PS (421 kW; 565 bhp) at 6,750 rpm and torque of 620 N·m (457 lb·ft) at 5,500 rpm. Like most Aston Martins, the engine is front mid mounted with the power going to the rear wheels. It uses a fully catalysed stainless steel exhaust system with active bypass valves. The Vanquish uses an updated Touchtronic 2 six-speed automatic gearbox. It will be the first Aston Martin available with launch control. The combined space of cabin and a boot that, at 368 litres, is more than 60% larger than that of the DBS.
The brakes are ventilated carbon ceramic discs, 398 mm (15.7 in) six-piston callipers in the front and 360 mm (14.2 in) four-piston callipers in the rear. The suspension is a lightweight aluminium front subframe with hollow castings with independent double wishbones incorporating anti-dive geometry, coil springs, anti-roll bar, and monotube adaptive dampers in the front and independent double wishbones with anti-squat and anti-lift geometry, coil springs, anti-roll bar, and monotube adaptive dampers in the rear. It has a three-stage adjustable adaptive damping system including normal, sport and track modes. The tires are Pirelli P Zeros, 255/ZR20 in the front and 305/30 ZR20 in the rear.
The vehicle was unveiled in the London Film Museum, Covent Garden,followed by 2012 Monterey Car Week. Deliveries to UK and Continental Europe began in late 2012.
In August 2014 Aston Martin revealed technical modifications to the Vanquish. The changes include a new eight-speed Touchtronic III gearbox and upgraded AM29 568 bhp V12 engine. This makes the new Vanquish faster, with a top speed of 201 mph (324 km/h) and a 0–60 time of 3.6 seconds.
Vanquish Volante (2013–)
In 2013 Aston Martin launched a convertible version of the Vanquish, called Volante. The Volante includes fully carbon fibre-skin, triple-skin lightweight fabric roof, boot 50% larger than previous DBS Volante, third generation Brembo 398 mm × 36 mm front and 360 mm × 32 mm CCM rear Carbon Ceramic Matrix (CCM) brake discs, six-piston front (from One-77) and four-piston rear brake callipers. The Vanquish Volante is 13% torsionally stiffer than the outgoing DBS Volante. The carbon fibre-skin from Vanquish Volante was created by the engineering team at Aston Martin.
The vehicle was unveiled at the 2013 Pebble Beach Concours d'Elegance. Delivery to Europe began in late in 2013,with deliveries to the Americas in early 2014.
Vanquish S (2017–)
On November 16, 2016, Aston Martin announced the new Vanquish S model. The Vanquish S features the same engine, now up to 600 hp, and a new aerodynamic package. Suggested MSRP was £199,950 in the UK, €262,950 in Germany and $312,950 in USA, and the car's deliveries will start in December 2016.
Technical specifications
| Model | Year | Engine displacement | Transmission | Max.motivepower @rpm | Max.torque @ rpm | Max. speed | Acceleration 0–60 mph |
| --- | --- | --- | --- | --- | --- | --- | --- |
| Vanquish coupé | 2012–14 | 5.9-litre (5935 cc)V12 | 6-sp auto | 565 bhp(421 kW; 573 PS) @ 6,750 | 620 N·m(457 lbf·ft) @ 5,500 | 315 km/h (196 mph) | 4.1 secs |
| Vanquish Volante | 2013–14 | 5.9-litre (5935 cc)V12 | 6-sp auto | 565 bhp(421 kW; 573 PS) @ 6,750 | 620 N·m(457 lbf·ft) @ 5,500 | 308 km/h (191 mph) | 4.1 secs |
| Vanquish coupé | 2014– | 5.9-litre (5935 cc)V12 | 8-sp auto | 568 bhp(424 kW; 576 PS) @ 6,650 | 630 N·m(465 lbf·ft) @ 5,500 | 324 km/h (201 mph) | 3.6 secs |
| Vanquish Volante | 2014– | 5.9-litre (5935 cc)V12 | 8-sp auto | 568 bhp(424 kW; 576 PS) @ 6,650 | 630 N·m(465 lbf·ft) @ 5,500 | 317 km/h (197 mph) | 3.8 secs |
Special editions
Centenary Edition Vanquish (2013)
The Centenary Edition is a 100 unit limited version of Vanquish commemorating 100 years of the Aston Martin company, unveiled at the 2013Geneva Motor Show. Changes include unique graduated paint finish, solid sterling silver Aston Martin wings badges with tailored 'trans flux' enamel inlay, a special Aston Martin hallmark, leather interior upholstery from Aston Martin One-77 with contrasting silver stitching, a silver thread embroidery of the Aston Martin wings in the head restraints, solid sterling silver sill plaques individually numbered with an Aston Martin hallmark, a unique presentation box containing a number of exclusive gifts to mark the first 100 years of the company (two glass keys, two bespoke key pouches made from leather matching the car's interior trim, solid silver cufflinks featuring the Aston Martin script, solid silver Rollerball pen, Bang & Olufsen headphones, a silver polishing cloth).
Neiman Marcus Edition Vanquish Volante (2013)
A limited edition model of 10 cars were produced and named after the US department store Neiman Marcus. Based on the US market Vanquish Volante, designed by the company's bespoke customisation arm; Q by Aston Martin. The design was inspired by the 1969 DB6 Volante owned by HRH Prince of Wales. The vehicle was unveiled in 2013 Pebble Beach Automotive Week, followed by 2013 Los Angeles Auto Show with delivery scheduled for early 2014.
Marketing
As part of Aston Martin's 100th anniversary celebration, a Vanquish was airlifted onto the helipad of the Burj Al Arab hotel in Dubai, United Arab Emirates, on January 17, 2013 using an AgustaWestland AW139helicopter.
External links

This page uses content from Wikipedia; see Aston Martin Vanquish, which includes these contributors.