Doctor Strange in The Multiverse o Madness - The Loop
Play Sound
Aston Martin V12 Vantage
Aston Martin
aka
Aston Martin V8 Vantage
Production
2010 - present

1000+ units

Class
Supercar
Body Style
2-door, 2-seat Front-Engined Coupe
Length
172.5 in (4380 mm)
Width
73.5 in (1865 mm)
Height
49 in (1241 mm)
Wheelbase
107.9 in (2600 mm)
Weight
3704 lb (1680 kg)
Transmission
6-speed Manual, RWD
Engine
6.0 litre (5935 cc) Quad-OHC V12, 48 valves
Power
510 hp (380 kW / 517 PS) @ 6500 rpm
420 lb-ft (570 Nm) of torque @ 5750 rpm
Similar
similar (competition)
Designer
Designer (lead designer if it was a team effort)
The Aston Martin V12 vantage is a v12 variation of the V8 Vantage.
Recent Changes
Aston Martin confirmed the production of Aston Martin Vantage GT3 special edition unveiled at the Geneva Motor Show 2015. The company will only manufacture 100 cars of GT3 special edition. After a complaint from Porsche over the use of the "GT3" moniker, the car was renamed the Vantage GT12.
On 25 January 2011, Aston Martin released the V8 Vantage S, available in both coupe and Roadster variants, and designed to produce a more sporty experience than the standard V8 Vantage. Differences include stiffer suspension, uprates brakes, an engine tuned to deliver 430 bhp (321 kW; 436 PS), an extra 10 bhp (7 kW; 10 PS) over the standard V8, and some aerodynamic enhancements derived from Aston Martin's experience in GT racing. The aerodynamic enhancements include a deeper front bumper with carbon fibre splitter, larger side sills, a carbon fibre diffuser and a larger tailgate lip designed to sharpen the handling on the road. Additional visual differences include new wheels.
A major difference in the Vantage S is the inclusion of the Sportshift II transmission, a seven speed sequential manual gearbox, as standard.
On December 18, 2009, Aston Martin announced the V12 Vantage Carbon Black. The limited edition model features a bespoke Carbon Black metallic finish that takes 50 man-hours of hand painting and quality checks to complete. It is also set apart from the ordinary V12 Vantage with gloss black 10 spoke diamond turned alloy wheels, carbon fiber side strake over a black mesh vent, a bright finished grille and front parking sensors. Inside, the interior is swathed in Obsidian Black leather contrasted by hand stitched silver thread while the sport seats are formed from Carbon Fibre and Kevlar (saving 17 kg or 37 lb). Other interior niceties include Piano black facia trim, centre stack and centre console, anodised black tread plates, unique carbon fibre sill plaques and 700w Premium Audio System. There is no word yet on the pricing but Aston Martin has said that buyers should expect a 5 per cent increase over the price of the basic models. Deliveries will commence from March.[1]
On April 24, 2009, Aston Martin announced their return to the 24 Hours of Nurburgring by introducing their specially modified V12 Vantage racer for the job. The car is liveried in striking sky blue with white streaks over the a-pillars. Interestingly, the car is close to standard with only very minimal changes made to reduce weight and improve handling. Pirelli has also provided specially selected P Zero Circuit Racing slick tyres. [2]
Styles and Major Options
Certain vehicles come in different trim levels or body styles. Features and major options should be mentioned here.
Pricing
Add more fields as necessary.
MODEL Trims
Base
Carbon Black
Trim3
Trim4
MSRP
$179,995 (£135,000)
(excl. dest. and gas guzzler tax)
$194,995
(excl. dest. and gas guzzler tax)
$Price3
$Price4
Invoice
$Price1
$Price2
$Price3
$Price4
Gas Mileage
Add more fields as necessary.
As seen on the FuelEconomy.gov website, the City/Highway MPG averages are as follows:
Trim
Trim1
Trim2
Trim3
Trim4
MPG
c/h
c/h
c/h
c/h
Engine and Transmission
Specifications, details, graphs, pictures and other information regarding the powertrain is placed in this section.
Performance
Please make sure to write information of the vehicle's performance in a third-person point of view. This section should include information about the car's acceleration figures, handling, braking, etc.
If using information gathered from Road Test articles from a reputable automotive source, then please make sure to cite the quote.
Reliability
Warranty options and scheduled maintenance information should be mentioned here.
Safety
This section should reference points on safety ratings and features of the vehicle.
Photos
V12 Vantage GT3
Add Photos of the vehicle here.
Please make sure not to use copyrighted photos.
Colors
List the colors that the particular <MODEL> is offered in.
Main Competitors
Create links to other <MAKE> <MODEL> pages in this section.
Unique Attributes
If there are any features of this vehicle that sets it apart from other vehicles in its class, then mention those unique attributes here.
Interior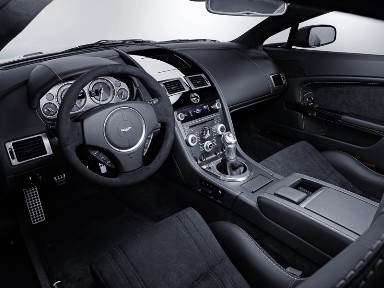 This section should include information on the interior's design, build quality, ergonomics, space (head and legroom, front and rear), features, stowage compartments and overall comfortability and livability. Add pictures wherever applicable and keep information in a third-person point of view.
Resale Values
Add more fields as necessary.
<MODEL> Year
Year X
Year X-2
Year X-3
Year X-4
Resale Value
$
$
$
$
Criticisms
Please make sure to keep critiques in a third-person point of view. If using criticisms from a reputable automotive source, then please make sure to cite the quote.
Generations
Fill in as many as appropriate. Add more if necessary and pictures wherever applicable.
Please make sure NOT to use copyrighted pictures.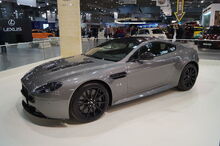 V12 Vantage S
On 28 May 2013, Aston Martin announced the V12 Vantage S - a sportier version of the V12 Vantage supercar that it is replacing.
The V12 Vantage S produces 565 hp (421 kW) and 457 lb·ft (620 N·m) of torque from a revised 5.9-litre (5935cc) V12 engine called the AM28, which they will use as a base for future engines. The power will be transferred to the rear wheels using a new seven-speed Sportshift III automated manual with no option for a manual transmission, which weighs 55 pounds (25 kg) less than the Sportshift II.
The exhaust on the V12 Vantage S was developed from the company's own One-77supercar, and promises to give the car a sound unique to the new model.
Although specific performance details are yet to be released, the V12 Vantage S is claimed to reach a top speed of 205 mph (330 km/h) and accelerates to 60 mph (97 km/h) in 3.70 seconds, making it the fastest production Aston Martin in history.
The V12 Vantage S is 15 kilograms (33 lb) lighter than the V12 Vantage, features new three-stage adaptive damping for the suspension, new carbon ceramic brakes, and a unique track-mode to help drivers who want to take their car to the track.
Styling and aerodynamic changes include a new carbon fibre front grille, black roof and rear grille, lightweight forged alloy wheels, and new finishes on the interior seats, doors and controls.
In April 2016, the V12 Vantage S was announced to be produced with a 7 speed Dog-leg gearbox, unusual for its day and age. In the United States, the V12 Vantage GTS will feature the dog-leg gearbox, but only 100 are to be produced.
Current Generation: (YYYY–present)
Fifth generation (YYYY–YYYY)
Fourth generation (YYYY–YYYY)
Third generation (YYYY–YYYY)
Second generation (YYYY–YYYY)
First Generation/Origins (YYYY–YYYY)
Worldwide
If the vehicle is sold in other markets worldwide, then this is the section to mention that information. Also, mention if the <MODEL> goes by another name in these other markets.
Design quirks and oddities
Refer to any pop-culture tidbits about the vehicle in this section.
Awards
List out notable awards that the model has received while in production. Boldface the company or organization that gives out the award, and Italicize the name of the award.
See also
External links
News and References
Enthusiast Sites and Discussion Forums