The Aston Martin DBS is a GT car produced by the English manufacturer Aston Martin Lagonda Ltd. and designed by William Towns. Originally produced from 1967–72, it featured in the 1969 James Bond film On Her Majesty's Secret Service. A new version, based heavily on the Aston Martin DB9, featured in the 2006 film Casino Royale. The DBS replaces the Vanquish, as Aston Martin's flagship.
See Autopedia's comprehensive Aston Martin DBS Review.
Recent Changes
On December 18, 2009, Aston Martin announced the DBS Carbon Black. The limited edition model features a bespoke Carbon Black metallic finish that takes 50 man-hours of hand painting and quality checks to complete. It is also set apart from the ordinary DBS with gloss black 10 spoke diamond turned alloy wheels, a bright finished grille and front parking sensors. Inside, the interior is swathed in Obsidian Black leather contrasted by hand stitched silver thread while the sport seats are formed from Carbon Fibre and Kevlar (saving 17 kg or 37 lb). Other interior niceties include Piano black facia trim, centre stack and centre console, anodised black tread plates, unique carbon fibre sill plaques and a Bang & Olufsen Beosound DBS audio system. There is no word yet on the pricing but Aston Martin has said that buyers should expect a 5 per cent increase over the price of the basic models. Deliveries will commence from March.[2]
At the 2009 Geneva Motor Show, Aston Martin unveiled the alfresco variant of the DBS. The DBS Volante will be powered by the same 510 hp 6.0-liter V12 found in Bond's company car but now features a retractable cloth top that can be put up or down in 14 seconds at speeds of up to 30 mph. Weight is pegged at 3990 lb despite the conversion through the use of a lightweight roof mechanism along with a carbon fiber hood, front splitter and trunk lid. This means the droptop DBS will hurtle you to 100 kph (62 mph) in 4.3 seconds. [3]
For MY 2009, the DBS will now feature an exclusive Bang & Olufsen sound system dubbed the BeoSound DBS. [4]
The much anticipated 2007 DBS was unveiled on August 15, 2007.
Styles and Major Options
Certain vehicles come in different trim levels or body styles. Features and major options should be mentioned here.
Pricing
Add more fields as necessary.
MODEL Trims
Manual
Automatic
Trim3
Trim4
MSRP
£162,500
($273,000) £165,500
$Price3
$Price4
Invoice
$Price1
$Price2
$Price3
$Price4
Gas Mileage
Add more fields as necessary.
As seen on the FuelEconomy.gov website, the City/Highway MPG averages are as follows:
Trim
Trim1
Trim2
Trim3
Trim4
MPG
c/h
c/h
c/h
c/h
Engine And Transmission
6.0 litre (5935 cc) quad OHC V12, 48-valve
510 hp @ 6500 rpm
420 lb-ft. of torque @ 5750 rpm
6-speed Manual, RWD
Performance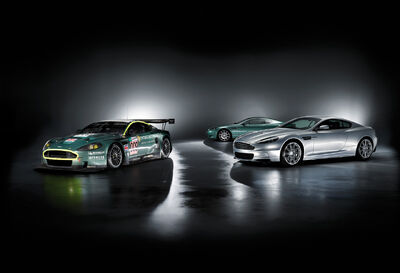 The DBS's 510-hp V-12 is expected to be good for a 0-to-60 mph time of 4.3 seconds, along with a top speed of 191 mph. The DBS also features ceramic-composite brakes and a paddleshifted six-speed transmission, which will give the car "a much more raw driving experience".
Reliability
RECALL ALERT: On October 6, 2010, the NHTSA issued a recall notice affecting all V8 Vantage, DB9 or DBS produced during the 2007 and 2008 model year (1090 cars in total) due to a cam bolt in the front bottom suspension arm that could crack, allowing the lower control arm to move about in ways that compromise handling and car control. The recall is scheduled to begin on or before October 18, 2010. Dealers will replace the offending bolt free of charge. [5]
Safety
This section should reference points on safety ratings and features of the vehicle.
Photos
Add Photos of the vehicle here.
Please make sure not to use copyrighted photos.
Colors
List the colors that the particular <MODEL> is offered in.
Main Competitors
Create links to other <MAKE> <MODEL> pages in this section.
Unique Attributes
If there are any features of this vehicle that sets it apart from other vehicles in its class, then mention those unique attributes here.
Interior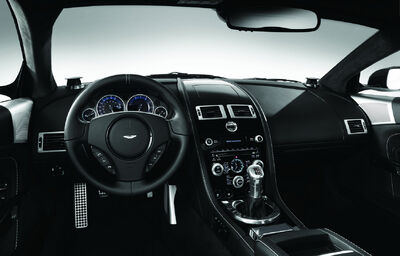 This section should include information on the interior's design, build quality, ergonomics, space (head and legroom, front and rear), features, stowage compartments and overall comfortability and livability. Add pictures wherever applicable and keep information in a third-person point of view.

Resale Values
Add more fields as necessary.
<MODEL> Year
Year X
Year X-2
Year X-3
Year X-4
Resale Value
$
$
$
$
Criticisms
Please make sure to keep critiques in a third-person point of view. If using criticisms from a reputable automotive source, then please make sure to cite the quote.
Generations

Second Generation (2007-2012)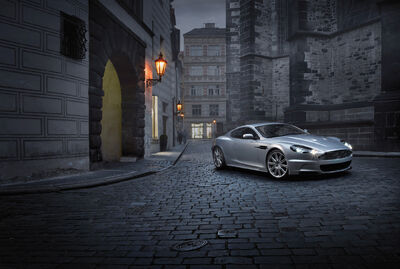 On January 17, 2006 it was announced that a new Aston Martin DBS would be used in the 21st James Bond film Casino Royale. The new DBS is based on the DB9, more specifically the DBR9 race car. Built on the VH Platform the car shares its roof, sidescreens and wheelbase with the DB9, but sits lower (by 25mm) and wider (by 40mm) than the DB9. Visually, the front end is dominated by air scoops and cooling ducts which help cool the six-litre V12 engine which has reportedly been uprated to produce more than 500 bhp. At the rear are a carbon diffuser and an integrated rear lip spoiler. Other details include a six-speed manual transmission and a removable stopwatch. A special helmet pod behind the driver's seat is present for Casino Royale but will not feature in the production version. Aston Martin is expected to build only 300 examples of the new DBS.
First Generation/Origins (1967–1972)

The DBS was the successor to the famed Aston Martin DB6. Powered by a straight-6 engine, it lasted from 1967 until 1972, before being replaced by the Aston Martin Vantage. It was a larger coupé than the DB6, with four full seats, but was powered by the same 4.0 L engine as the previous car. The engine normally produced 282 hp (210 kW), but a no-cost DBS Vantage option upped output to 325 hp (242 kW). The DBS had a more modern look than the DB6, and arguably the Vantage as well, with a square grille atypical of Astons.
Specifications (1972)
Weight: 3760 lb
Engine: 4L Straight-6
Power: 282 BHP at 5500 RPM
Torque: 390.5 Nm (288 ft·lbf) at 3850 rpm
Worldwide
If the vehicle is sold in other markets worldwide, then this is the section to mention that information. Also, mention if the <MODEL> goes by another name in these other markets.
Design quirks and oddities
The DBS was used by George Lazenby's James Bond in the 1969 film On Her Majesty's Secret Service. Unlike Bond's previous car, the Aston Martin DB5, no gadgets were seen in this car, other than a mounting for a telescopic-sight rifle in the glove compartment. In the final scenes of the film, Bond's wife, Tracy, is shot and killed while sitting in the car.
An Aston Martin DBS was later used for the short-lived TV series The Persuaders! (1971-1972), in which Roger Moore's character Lord Brett Sinclair drove a gold-painted 6-cylinder DBS, which through the use of alloy wheels and different badges had been made to look like a V8 model.
Awards
2007 Most Beautiful Sports car in the World
See also
External links