Aston Martin DB5
Aston Martin
aka
none
Production
1963 - 1965
1024 produced
Class
Grand Tourer


Sports Car

Body Style
2-door FR layout coupe
2-door FR layout convertible
Length
4570 mm (179.9 in)
Width
1678 mm (66.1 in)
Height
1376 mm (54.2 in)
Wheelbase
Weight
3450 lb (1565 kg)
Transmission
transmission + drive
Engine
4.0 litre (3995 cc/243 in³)

Tadek Marek

Inline-6

Power
282 hp (210 kW) @ 5500 rpm
288 lb-ft (390 Nm) of torque @ 3850 rpm
Similar
similar (competition)
Designer
Designer (lead designer if it was a team effort)
The 1963 Aston Martin DB5 was an improved DB4. The DB5 is famous for being the first and most recognised James Bond car, it has been featured in several films most notably: Goldfinger, Thunderball, GoldenEye, Tomorrow Never Dies, Casino Royale and Skyfall.
The principal differences between the DB4 and DB5 are (i) the engine — the DB5's was enlarged from 3.7 L to 4.0 L, (ii) the addition of a five-speed transmission, and (iii) three SU carburettors, producing 282 hp (210 kW), propelling the car to 141 mph (238 km/h).
Standard equipment on the DB5 included reclining seats, pile carpets, electric windows and a fire extinguisher. All models had 4 seats and 2 doors. The UK recommended list price of the sports saloon (coupe) in December 1963 was £4,248 including Purchase Tax, the convertible was £4,562.
A very unusual DB5 was the "shooting brake" station wagon, a dozen of which were produced by independent coachbuilder, Harold Radford. A design flaw with the station wagon was that there was no change to the rear suspension. Drivers of the shooting brake would find this out when the load in the rear shifted at high speed in a corner with a resultant loss of control.
See Autopedia's comprehensive Aston Martin DB5 Review.
Recent Changes
Mention any minor facelifts or major changes made to the vehicle here.
Styles and Major Options
Certain vehicles come in different trim levels or body styles. Features and major options should be mentioned here.
Pricing
Add more fields as necessary.
MODEL Trims
Trim1
Trim2
Trim3
Trim4
MSRP
$Price1
$Price2
$Price3
$Price4
Invoice
$Price1
$Price2
$Price3
$Price4
Gas Mileage
Add more fields as necessary.
As seen on the FuelEconomy.gov website, the City/Highway MPG averages are as follows:
Trim
Trim1
Trim2
Trim3
Trim4
MPG
c/h
c/h
c/h
c/h
Engine and Transmission
Specifications, details, graphs, pictures and other information regarding the powertrain is placed in this section.
Performance
Please make sure to write information of the vehicle's performance in a third-person point of view. This section should include information about the car's acceleration figures, handling, braking, etc.
If using information gathered from Road Test articles from a reputable automotive source, then please make sure to cite the quote.
Top Speed: 230 km/h (143 mph)
0-60 mph (97 km/h) Acceleration: 8.1 s
Reliability
Warranty options and scheduled maintenance information should be mentioned here.
Safety
This section should reference points on safety ratings and features of the vehicle.
Photos
Add Photos of the vehicle here.
Please make sure not to use copyrighted photos.
Colors
List the colors that the particular <MODEL> is offered in.
Main Competitors
Create links to other <MAKE> <MODEL> pages in this section.
Unique Attributes
If there are any features of this vehicle that sets it apart from other vehicles in its class, then mention those unique attributes here.
Interior
This section should include information on the interior's design, build quality, ergonomics, space (head and legroom, front and rear), features, stowage compartments and overall comfortability and livability. Add pictures wherever applicable and keep information in a third-person point of view.
Resale Values
Add more fields as necessary.
<MODEL> Year
Year X
Year X-2
Year X-3
Year X-4
Resale Value
$
$
$
$
Criticisms
Please make sure to keep critiques in a third-person point of view. If using criticisms from a reputable automotive source, then please make sure to cite the quote.
Variants
DB5 Vantage
The high-performance DB5 Vantage was introduced in 1964 and featured three Weber carburettors. This engine produced 314 hp (234 kW). Only 65 DB5 Vantage coupes were built.
DB5 Convertible
Just 123 convertible DB5s were produced, though they never used the typical "Volante" name. The convertible was offered from 1963 through to 1965. Only 19 of the 123 DB5 Convertibles made were LHD.
Worldwide
If the vehicle is sold in other markets worldwide, then this is the section to mention that information. Also, mention if the <MODEL> goes by another name in these other markets.
Design quirks and oddities
James Bond
The Aston Martin DB5 is the most famous Aston Martin car due to its use by James Bond in Goldfinger (1964). Although Ian Fleming had placed Bond in a DB Mark III in the novel, the DB5 was the company's newest model when the film was being made. The car used in the film was the original DB5 prototype, with another standard car used for stunts. Two more modified cars were built for publicity tours after the film's release. In January 2006, one of those cars was auctioned in Arizona for US$2,090,000. The same car was originally bought in 1970 for £5,000 from the owner, Sir Anthony Bamford, by a Tennessee museum owner.[1] The other car is located in the Netherlands in the Louwman Collection Museum.
When the movie came out in Asia, especially India, the car's name was incorrectly communicated as "DB2E3". The wrong name was reinforced when the replica of the car from the movie went on tour. The DB5 was unintentionally thought of as a version of the earlier DB2 and hence was known by the moniker DB2E3. While many think that "E" refers to Edition, it actually refers to the chassis model as part of the chassis naming system that automakers once used. As time passed, DB2E3 became an established reference, at least in India and parts of Asia, as a synonym for a DB5. Today, most car enthusiasts will not recognize the model DB2E3, instead preferring the official name of DB5.
Within the universe of James Bond, the same car was used again in the following film, Thunderball (registration BMT 216A). A different Aston Martin DB5 (registration BMT 214A) was used in the 1995 Bond film, GoldenEye in which three different DB5s were used for filming. The BMT 214A also returned in Tomorrow Never Dies (1997), and was set to make a cameo at Castle Thane in The World Is Not Enough (1999), but the scene was cut. Yet another DB5 appeared in Casino Royale (2006), this one with the steering wheel on the left side versus the previous British versions.
For Goldfinger, the car featured a number of "optional extras", as Q reveals to Bond:
Front firing Browning .30 caliber machine guns behind the front indicators
Retractable blades in the tire spinners
Rising bullet-proof rear screen
Radio telephone
Radar scanner and tracking screen
Passenger ejector seat
Oil slick spray from rear light cluster

Caltrops

from rear light cluster
Smoke screen from exhaust pipes
Revolving number plates — "BMT 216A" UK, "4711-EA-62" France, and "LU 6789" Switzerland
Front and rear extending rams
Gun cabinet under driver's seat
Bullet-proof windshield and rear windscreen
A rear water cannon was added for Thunderball.
The first DB5 prototype used in Goldfinger with the chassis number DP/216/1 was later stripped of its weaponry and gadgetry by Aston Martin and then resold. It was then retrofitted by subsequent owners with nonoriginal weaponry. The Chassis DP/216/1 DB5 was stolen in 1997 from its last owner in Florida and is currently still missing.[2]
The DB5 is destroyed during the finale of the movie Skyfall but the car that was actually destroyed for filming was a Porsche 928
Other
The DB5 has the dubious honour of being the slowest car ever in the Top Gear Power Laps segment with a time of 1 minute 46 seconds exactly until recently when the Lancia Stratos got an even slower time.
Ian Fleming actually referred to the Aston Martin DB Mark III throughout the novel "Goldfinger" incorrectly as an Aston Martin DBIII
There are a number of "Goldfinger" Aston Martin DB5s - one of them actually started life as a DB4 Vantage. A new production DB5 was used for close up shots whereas the gadgetery was added to a prototype DB5 which had originally started life as the DB4 Vantage. After the film was made there were also a number of publicity DB5s. These can be identified as they have the DB5 badge on the sides whereas the cars in the film did not.
Modesty Blaise and Willie Garvin use a DB5 in the first-ever MB comic strip La Machine, published in 1963, and therefore pre-dating Bond's use of the car.
Awards
List out notable awards that the model has received while in production. Boldface the company or organization that gives out the award, and Italicize the name of the award.
Fiilm and television appearances
Cars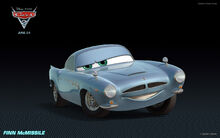 Finn McMissile is the tritagonist in Cars 2. He is a British spy car who mistakes Mater for an American spy and recruits him in the mission to solve the conspiracy to sabotage the World Grand Prix.
See also
References
External links