Template:Infobox motorsport championship
Template:Multiple issues Template:Expand list
The American Canadian Tour (ACT) is a late model stock car racing series based in the northeastern United States, and Quebec. The American Canadian Tour has two different late model divisions: the ACT Late Model Tour, founded in 1986 conducts races in New England and New York, and the La Série ACT (formerly known as Série ACT Castrol Tour), founded in 2005 runs in Quebec.
In 1979, television and radio journalist Ken Squier and business partner Tom Curley formed the NASCAR North Tour for Late Model Sportsman-type cars. With sponsorship from companies like Coors, Molson, Skoal, STP, Valvoline, and General Motors, the NASCAR North Tour visited the short track showplaces of the northeastern United States and Canada: Thunder Road in Vermont, Oxford Plains Speedway in Maine, Stafford Motor Speedway in Thompson, Connecticut, Sanair Super Speedway near Montreal, Cayuga Speedway in Ontario, and Dover Downs International Speedway in Dover, Delaware. Southern stars Butch Lindley, Bill Dennis, Harry Gant, Tommy Ellis, Gene Glover, L.D. Ottinger, and Bosco Lowe were frequent visitors to NASCAR North Tour events, along with national icons Bobby Allison, Buddy Baker, and Dale Earnhardt.[1]
1980 saw more sponsorship support for the tour. Molson was signed as the major sponsor and car counts kept growing. 1982 was a banner year for the tour as they made their first appearance at Dover Downs Speedway as the support division for the Winston Cup race. Purses and point funds kept growing to levels over $1 million by 1985. However several lawsuits filed by various competitors had soured NASCAR on the tour and NASCAR dropped its sanction of the tour at the end of the 1985 season.[2]
At the urging of many of the top car owners and as a means of transitioning toward a more modern type of race car, Curley formed the independent American-Canadian Tour in 1986, continuing the former NASCAR North Tour as the ACT Pro Stock Tour. In 1992, a second series was added, the ACT Late Model Sportsman International Series; with the closing of the Pro Stock Tour after the 1996 season, this series, currently known as the ACT Late Model Tour, became the ACT's premier circuit. Two years after it's inception in 2005, the ACT took over the Canadian-based Serie Nationale Castrol LMS Quebec, renaming it as the Séries ACT abd casting it as a Canadian sister series to the Late Model Tour.
Drivers and Guest Appearances
Edit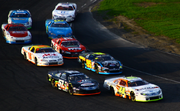 Patrick Laperle is the only driver in the history of the American Canadian Tour to win both the ACT Tour Championship and also the ACT Castrol Series Championship, doing it in back to back years (2007, 2008). Patrick is also second on the all-time wins list in the ACT Late Models with 24 wins, 1 behind Brian Hoar's 25 wins and just before Jean Paul Cyr's 19 wins. In 2009 Laperle lost the ACT Castrol series championship by one point to 2 time champ Donald Theetge in a controversial final race that saw Donald Theegte get involved in a crash and also saw Laperle go a lap down to a flat tire and also get a one lap penalty for a pit infraction.
Jean Paul Cyr, one of the best ACT Late Model drivers of all time, was able to win to the ACT points Championship 5 years in a row from 2003 - 2007 bringing his all time ACT championship total to 7. Jean - Paul also holds third place on the all time ACT wins list with 19 career wins.
Brian Hoar, once again one of the best ACT Late Model drivers of all time and also the winningest driver of all in the ACT Late Models, was able to win the ACT points Championship 4 years in a row from 1997–2000 and was able to get his 6th ACT Championship in 2009. Brian also holds the number one spot for the number of wins in the ACT racing league with 25 wins along with his 6 championships. Outside of Brian's 6 championships, he has finished in the top 3 in the points standings 3 times.[3]
Tony Stewart, one of NASCAR's best, and now a driver owner in the NASCAR Sprint Cup Series, Took part in the CarQuest Vt Governors Cup on June 25, 2009 at Thunder Road International Speedway. Tony was able to get a 16th-place start for the race, but finished in the 16th-place spot. He had said that Thunder Road beat him. Young star Joey Pole from Hudson, New Hampshire, went on to win the non-points race.[4]
Kevin Harvick took on the ACT Boys on July 21, 2008 at the New England Dodge Dealers TD Banknorth Oxford 250 in Oxford, Maine. Harvick ended up winning the race, showing that he is able to take home the wins even on the short tracks.[5]
David Ragan, the young and up-and-coming star in the NASCAR series took part in the August 27, 2009 race at Thunder Road International Speedway. It was Thunder Road's 50th year and had David race in their final evening program on its 50th year.[6][7]
NASCAR Nationwide series, Camping World Truck series and Canadian Tire Series driver D.J. Kennington is the only driver in ACT Late Model Tour history with a win in his only career start with the Tour. Kennington won the New England Dodge Dealers 150 at Lee USA Speedway on September 26, 2004.[8]
ACT Late Model Tour Champions
Edit
#45/37 Brian Hoar - 8 Championships (1993, 1997–2000,2009–2011)
#32 Jean-Paul Cyr - 7 Championships (1994, 1996, 2003–2007)
#27 Wayne Helliwell, Jr. - 2 Championships (2012, 2013)
#91 Patrick Laperle - 1 Championship (2008)
#25 Dave Whitcomb - 1 Championship (1992)
#31 Lance Ferno - 1 Championship (1995)
#14 Phil Scott - 1 Championship (2002)
#75 Pete Fecteau - 1 Championship (2001)
Série ACT Champions
Edit
#91 Patrick Laperle - 3 Championship (2007, 2011, 2012)
#80 Donald Theetge - 2 Championships (2006, 2009)
#48 Karl Allard - 1 Championship (2010)
#21 Jean-Francois Dery - 1 Championship (2013)
#27 Alexandre Gingras - 1 Championship (2008)
#3 Sylvain Lacombe - 1 Championship (2005)
American Canadian Tour Tracks
Edit
External links
Edit
References
Edit
Community content is available under
CC-BY-SA
unless otherwise noted.