Alfa Romeo Mi.To
Alfa Romeo
aka
progetto 940
Production
2009 - present
Class
Luxury Compact
Body Style
3 dr Hatchback
Length
length - type here
Width
Width - type here
Height
Height - type here
Wheelbase
wheelbase - type here
Weight
Weight - you get the point
Transmission
5 speed Manual
6 speed Manual, FWD
Engine
1.4L Turbo
Power
N/A hp @ N/A rpm
N/A lb-ft of torque @ N/A rpm
Similar
Mini Cooper
Ford Fiesta
Fiat Nuova 500
Opel Corsa
Designer
Alfa Romeo Centro Stile under Frank Stephenson
The Alfa Romeo Mi.To is a three door sporty supermini introduced on June 19, 2008 by Italian automaker Alfa Romeo. The Mi.To gets its name from two cities Milano and Turin in Italy where the car is designed an built.
See Autopedia's comprehensive Alfa Romeo Mi.To Review.
Recent Changes
Edit
For 2011, the UK market gets a new trim level for the Mi.To called Turismo Sport. This edition simply adds a choice of three colors, Solid Black (as standard), Biancospino White or the new Alfa Metallic Red, and two engines, a 1.4-liter gasoline unit with 95-horsepower and a frugal 1.3-liter JTDM diesel with 95HP that accelerates the Italian hatch from 0-62 mph (100 km/h) in 11.6 seconds while returning 65.7mpg UK on the combined cycle. It also adds equipment on the standard list such as new 16-icnh alloy wheels, a roof spoiler, cruise control, Blue & Me technology, fog lights and a leather steering wheel with audio and phone controls. Pricing for the petrol is £12,895 OTR, while the diesel model is priced at £14,410. [1]
For 2010, the Mi.To range grows one variant bigger with the sportier Quadrifoglio Verde (Four Leaf Clover). Distinguishing this model from regular Mi.Tos is Alfa's new 170 hp 1.4-liter MultiAir turbo engine. That power is sent to the front wheels via Alfa's new "C635" six-speed gearbox. 0 to 100 km/h (62 mph) is claimed at a little over 7 seconds by Alfa with an extra-urban cycle (highway) fuel consumption of just 4.8 lt/100 km (49mpg US) and CO2 emissions of 139 g/km. Handling has also been upgraded with a suspension system co-developed with Magnetti Marelli which comprises four electronically controlled shock absorbers, five accelerometric sensors, a control unit and an interface for the three different settings (Normal, All Weather and Dynamic). Visually, apart from the iconic four leaf clover badge on the front fender, the car is marked out by 17-inch alloy wheels finished in satin titanium that is also used for the headlight and tail lamp frames as well as for the wing mirrors.[2]
On Feb 19, 2009, Alfa Romeo released teaser images of the upcoming Mi.To GTA hot hatch. [3]
In 2009, to celebrate the 46th anniversary of the Registro Italiano Alfa Romeo, an international Alfa owners club with over 1,000 members, Alfa Romeo has produced a 46 unit limited edition model called the MiTo R.I.A.R. Edition. The car is unique for having a Nero Cattivo or Nero Etna livery with black satin finish details and 17-inch anthracite-finish 8C-style alloys with red brake calipers. The changes aren't just skin deep, either because the turbocharged four-pot has been tweaked to churn out 170 hp, 25 more than the standard Mi.To. Only RIAR members are eligible to purchase with prices set at € 20,000. [4]
Styles and Major Options
Edit
Certain vehicles come in different trim levels or body styles. Features and major options should be mentioned here.
Add more fields as necessary.
MODEL Trims
Trim1
Trim2
Trim3
Trim4
MSRP
$Price1
$Price2
$Price3
$Price4
Invoice
$Price1
$Price2
$Price3
$Price4
Gas Mileage
Edit
Add more fields as necessary.
As seen on the FuelEconomy.gov website, the City/Highway MPG averages are as follows:
Trim
Trim1
Trim2
Trim3
Trim4
MPG
c/h
c/h
c/h
c/h
Engine and Transmission
Edit
Specifications, details, graphs, pictures and other information regarding the powertrain is placed in this section.
Performance
Edit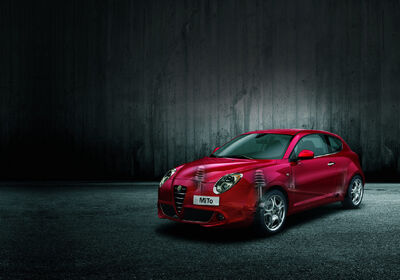 Please make sure to write information of the vehicle's performance in a third-person point of view. This section should include information about the car's acceleration figures, handling, braking, etc.
If using information gathered from Road Test articles from a reputable automotive source, then please make sure to cite the quote.
The Mi.To utilises a DNA driving system with three types of driving settings. Apart from the Normal mode, the Dynamic sharpens the acceleration, brakes and the suspension, alters the steering weighting and activates a turbo overboost for a sportier drive. The All Terrain sysetm increases the stability control's sensitivity.
Reliability
Edit
Warranty options and scheduled maintenance information should be mentioned here.
The Mi-To has received a maximum 5 stars from the Euro NCAP for adult occupant protection, 3 stars for child occupant protection and 2 stars for pedestrian protection. [5]
Safety features
Dual front airbags
Front side airbags
Side curtain airbags
Driver's knee airbag
ABS
Stability control
Active head restraints
Add Photos of the vehicle here.
Please make sure not to use copyrighted photos.
List the colors that the particular <MODEL> is offered in.
Main Competitors
Edit
Hybrid Models
Edit
If there are hybrid versions of this vehicle manufactured, then please elaborate a little bit on it here.
Unique Attributes
Edit
If there are any features of this vehicle that sets it apart from other vehicles in its class, then mention those unique attributes here.
This section should include information on the interior's design, build quality, ergonomics, space (head and legroom, front and rear), features, stowage compartments and overall comfortability and livability. Add pictures wherever applicable and keep information in a third-person point of view.
Resale Values
Edit
Add more fields as necessary.
<MODEL> Year
Year X
Year X-2
Year X-3
Year X-4
Resale Value
$
$
$
$
Criticisms
Edit
"Neverthesess, there are a couple of areas that frustrate. When driving straight ahead, there is an almost disconcerting lack of steering feel, a traight compounded by the car's tendency to tramline on less-than-perfect surfaces. And the suspension, although not uncomfortable hard, thumps horribly, even on relatively modest potholes. While the steering deficiency may be partly due to the set up of sophisticated electric power steering, the ride quality and the tramlining can be placed squarely at the door of 17 inch 205/45 rubber, like an irabiscal toddler, the MiTo Sport is over-tyred." Royal Auto
Generations
Edit
Fill in as many as appropriate. Add more if necessary and pictures wherever applicable.
Please make sure NOT to use copyrighted pictures.
Current Generation: (YYYY–present)
Edit
Fifth generation (YYYY–YYYY)
Edit
Fourth generation (YYYY–YYYY)
Edit
Third generation (YYYY–YYYY)
Edit
Second generation (YYYY–YYYY)
Edit
First Generation/Origins (YYYY–YYYY)
Edit
Worldwide
Edit
If the vehicle is sold in other markets worldwide, then this is the section to mention that information. Also, mention if the <MODEL> goes by another name in these other markets.
Design quirks and oddities
Edit
Refer to any pop-culture tidbits about the vehicle in this section.
List out notable awards that the model has received while in production. Boldface the company or organization that gives out the award, and Italicize the name of the award.
External links
Edit
News & References
Community content is available under
CC-BY-SA
unless otherwise noted.