Alfa Romeo re-introduced itself into the United States with the 8C Competizone. The 8C went on sale in 2007 for $227,000 (€165,000), with a limited production of 500 units (100 of which will make it to America).
2003 8C Competizione concept car
The 8C Competizione was introduced at the Frankfurt Motor Show in 2003. The lines of the twin seater are meant to echo the styling of Alfa's of the 1930s and 1940s, and the "Competizione" name is a pointer to the 1948 6C 2500 Competizione,[1] which competed in the 1949 and 1950 Mille Miglia race, coming third both times. In the 1950 Mille Miglia Juan-Manuel Fangio and Augusto Zanardi drove. It won the 1950 Targa Florio. A 3.0 litre prototype was built but not produced. These 6C 2500 models were among the last vehicles with links to the pre-war cars.[2]
At the 2005 Pebble Beach Concours d'Elegance, Alfa Romeo released the Alfa 8C Spider, a roadster version of the coupé, with different alloy wheels. Production of 8C Spider was confirmed by Sergio Marchionne in September 25 2007. The Spider will be built most likely also 500 units and it will cost around €20,000 more than coupe version.[3] The 8C Spider production version will be unveiled Geneva Motor Show in 2008.[4]
2007 8C Competizione production version
During the Mondial de l'Automobile 2006, Alfa Romeo announced the production of a limited series 500 units of 8C Competizione. The production version is very similar to the concept, biggest difference exterior-wise is the rear-hinged hood in the production model.[1] It was possible to choose from four different exterior color: 8C Red, Competition Red, black or yellow.[5] The bodyshell is made of carbon fibre.
The car uses modified Maserati platform and powertrain (Maserati Quattroporte, GranTurismo) and also features a Ferrari/Maserati derived 90° cross-plane dry-sump lubricated 4.7-litre V8 assembled by Ferrari.[6] The top engine performance figures may be summarized as a maximum power of 331 kilowatts (450 PS) at 7000 rpm, a peak torque of 480 newton metres (354 lbf·ft) at 4750 rpm (80% at 2500 rpm) with an engine redline of 7500 rpm and rev limiter of 7600 rpm.[7]
The six–speed transaxle gearbox has computerized gear selection by means of levers behind the steering wheel and may be used in Manual-Normal; Manual-Sport; Automatic-Normal; Automatic-Sport and Ice modes. The gearbox can shift in 175 milliseconds when using Sport mode.[8] The 8C has also a limited slip differential.
It is fitted with specially developed 20 inch tyres: 245/35 at the front and 285/35 at the rear, fitted on perforated rims in fluid moulded aluminium. The 8C brakes have been called phenomenal by Road & Track magazine, with a stopping distance being from 60-0 mph (97-0 km/h) in 105 feet (32 m).[7] The official top speed is announced to be 292 km/h (181 mph) but it might be higher around 190 mph (306 km/h) according to the Road & Track magazine.[9] An Alfa Romeo engineer also stated that it is faster.[10]
8C Spider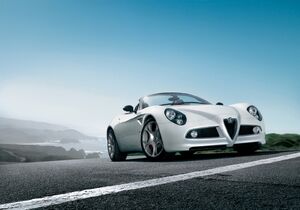 2005 Spider concept
At the 2005 Pebble Beach Concours d'Elegance, Alfa Romeo unveiled the 8C Spider, a roadster version of the Competizione coupé. The Spider concept was built by Carrozzeria Marazzi. Production of the 8C Spider was confirmed by Sergio Marchionne on September 25, 2007. It was announced that the Spider would be built in a 500 unit production run and would cost around $227,000 (€165,000) more than the coupe version.
[edit]2008 production version
Production of the 8C Spider began in 2009, in Modena, with Maserati in charge of building the cars. As previously announced, 500 cars will be built, each priced at €199,000 (£174,000) excluding taxes. The production version was unveiled at the 2008 Geneva Motor Show. 35 of 500 Spiders are going to United States. In the United States the 8C Spider started at a staggering price of $299,000. In the October 2011 issue of the 8C spider won the title of the best sounding car.
Alfa Romeo claims that the 8C Spider's top speed is 290 kilometres per hour (180 mph), which makes it slightly slower than the coupe version. The brakes on the Spider are Brembo carbon-ceramic units. The Spider has a two-layer electrically operated fabric roof. The windshield frame is made of carbon fibre to try to maintain a 50/50 weight distribution.
U.S. Sales
The 8C will be sold as Alfa Romeo's returning foray into the United States market, starting in 2008. Alfa Romeo is dedicating 99 Alfa Romeo 8C Competiziones for U.S. market sale.
Reliability
RECALL ALERT: On January 22, 2009, Fiat issued a recall alert affecting 7,912 MY 2008 Alfa Romeo 8Cs, Maserati GranTurismos and Quattroportes due to incorrectly torqued front and rear suspension upper and lower ball joint nuts which may loosen with consequent steering wheel vibration, a growing metallic noise and progressive loss of driving precision in the transients. According to the Italian automaker, continued use of the vehicle in these conditions may lead to damage of the suspension lever, which in the long term and depending on vehicle usage, may cause the ball joint/suspension arm to break. The recall is expected to begin during February 2009. Concerned U.S. owners may contact Maserati for more information at 1-201-816-2600.[1]
Photos
Performance
Specifications
Top speed
292 km/h (181 mph)
0-100 km/h (0-62 mph)
4.2 seconds
1/4 mile (~400 m)
12.4 seconds @ 115.4 mph (186 km/h)[7]
Type
V8
Displacement
4.7 L (4691 cc) (286.8 cu in)
Power
331 kW (450 PS) @ 7000 rpm
Torque
480 N·m (354 ft·lbf) @ 4750 rpm
Lateral Acceleration
(200 feet (61 m) skidpad)
1.02 g[7]
Racing version
Production numbers of the 8c may indicate that it is a racing homologation special, with 500 slated for production.
In 2005/2006, the computer game 'Squadra Corse Alfa Romeo' developed by Black Bean Software in conjunction with Alfa Romeo Spa. included two racing versions of the car, another indication of Alfa Romeo's intention to race. Given the car's size and power class as a GT, sports-car races such as Le Mans, Daytona and Sebring are likely deployments by Squadra Corse.
In 2008, the 8c will take part in the 24 Hours of Le Mans, 24 Hours Nürburgring and Rolex 24 at Daytona endurance races.[11] It is expected that race version chassis will be made by Dallara.[12]
Production numbers and markets
The 8C will be built in a limited number of 500 and Alfa Romeo have earmarked the entire production run among several important markets:[8]
| Country | Number of cars |
| --- | --- |
| USA | 84 |
| Italy | 84 |
| Germany | 81 |
| Japan | 69 |
| France | 39 |
| United Kingdom | 41 |
| Switzerland | 35 |
| The Netherlands | 10 |
| Australia | 3 |
| New Zealand | 1 |
| Hong Kong | 5 |
| Others | 48 |
| Sum | 500 |
The 8C will from 2008 be sold as Alfa Romeo's return to the United States market after Alfa Romeo's withdrawal in 1995. The first 8C was delivered to an Italian customer in October 2007[8].
Awards
2007 Production Car Design of the Year Award
See Also
References
External Links