Alfa Romeo 155
Alfa Romeo
aka
Type aka here, not up there
Production
1992-1998
Class
Compact Executive
Body Style
how many doors+how many seats+what type of body
Length
length - type here
Width
Width - type here
Height
Height - type here
Wheelbase
wheelbase - type here
Weight
Weight - you get the point
Transmission
transmission + drive
Engine
engine
Power
N/A hp @ N/A rpm
N/A lb-ft of torque @ N/A rpm
Similar
similar (competition)
Designer
Designer (lead designer if it was a team effort)
The Alfa Romeo 155 is a compact executive car produced by the Italian automaker Alfa Romeo between 1992 and 1998.
Design
Built to replace the 75 and based on the Fiat Tempra chassis, the 155 was somewhat larger in dimension than 75 but keeping faith with the wedge styling. The 155 was designed by Italian design house I.DE.A Institute. The big change from the 75 was the change from rear wheel drive to a front-wheel drive layout, this change upset Alfa purists but paved the way for things to come. Also available was the 155 Q4 which had a 2.0 litre turbo engine and a permanent four-wheel drive power train both derived from the Integrale, it was essentially an Lancia Integrale in a business suit. Production ceased in 1998 and the 155 was replaced by the splendid 156 which was a massive leap forwards in terms of quality and refinement and finally moved away from the wedge styling meaning that the 155 was the pinnacle of that particular design stream dating back to 1977 with the Giulietta Nuova. The 155 was never produced as Station Wagon but Sbarro made proposal for such a vehicle in 1994.[1]
Timeline
1992 - 155 launched
1993 - Grill changed from flushed to recessed
1994 - 155 Silverstone introduced to the British market, 155 Q4 and turbodiesels to some markets
1995 - New "widebody" series 2 155 launched with wider track, initially only with 2.0 16v engine. Quickrack fitted
1996 - Widebody with 1.8 16v engine introduced
1998 - Production ends
Features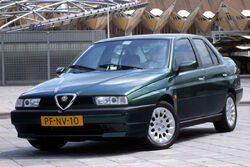 The 155 was available with 1.7 Twin Spark, 1.8 Twin Spark and 2.0 Twin Spark petrol engines, the latter two with variable valve timing. Two four-cylinder turbo diesel engines, a 1.9 (92 PS) and a 2.5 (125 PS) were available in some markets (but not the United Kingdom, however the Republic of Ireland got this version). At the top of the 155 range were the 2.5 V6, using an engine derived from the 3.0 V6 used in the 164, and the Q4, which used a drivetrain derived from the Lancia Delta Integrale, including a 190 PS 2.0 16V turbocharged engine and permanent four-wheel drive. The Q4 also incorporated three differential gears (normal at the front, epicyclic at the centre (including a Ferguson viscous coupling) and torsen self-locking at the rear).[2] Both the 2.5 V6 and Q4 models were also available with electronically adjustable suspension with two damper settings (automatic and sport). The most notable special edition was the Silverstone edition released in the UK which was known as the Formula in Europe; this was release as an homologation exercise to allow Alfa Romeo to compete in the BTCC with a revised aero-kit. For reasons best known to the Alfa Romeo bosses the car was a lightened 1.8 8 valve Twin Spark model (the touring car being a 2 litre motor) with slightly more power than the standard 1.8, they had either Alfa red or Black paintwork with black unpainted bumpers. The main appealing features of these models was the unique from and rear spoilers, the rear on being fully adjustable.

In 1995 the 155 was given an extensive revamp giving the car wider front and rear track with subtle enlargement to the wheel arches to accommodate the changes underneath. Late Series 1 155's manufactured in 1994 also received the wider track, and may be recognised by their wheels being recessed inside the main bodyline of the vehicle. Other changes included the move to 16 valve belt timed Twin Spark engines from the original 8 valve chain timed units (also the 1.7 was replaced by a 1.6 16 valve Twin Spark) along with revised steering rack and suspension. Series 2 155s can be distinguished from their earlier counterparts by their flared front and rear wheel arches. Some versions in the Republic of Ireland retained the 1.8 8 valve version.

Engines
Model
Engine
Volume
Power
Torque
0–100 km/h,s
Top speed
Note
1.7 8V
I4
1749 cm³
84 kW (115 PS) @6000 rpm

Template:Auto Nm

@3500 rpm
10.6

Template:Auto kmh

1.8 8V
I4
1773 cm³
98 kW (129 PS) @6000 rpm

Template:Auto Nm

@5000 rpm
10.3

Template:Auto kmh

2.0 8V
I4
1995 cm³
104 kW (143 PS) @6000 rpm

Template:Auto Nm

@5000 rpm
9.3

Template:Auto kmh

2.5 V6
V6
2492 cm³
120 kW (166 PS) @5800 rpm

Template:Auto Nm

@4500 rpm
8.4

Template:Auto kmh

Q4
I4
1995 cm³
137 kW (190 PS) @6000 rpm

Template:Auto Nm

@2500 rpm
7.0

Template:Auto kmh

1.6 16V
I4
1598 cm³
88 kW (120 PS) @6300 rpm

Template:Auto Nm

@4500 rpm
11.4

Template:Auto kmh

since 1995
1.8 16V
I4
1747 cm³
103 kW (140 PS) @6300 rpm

Template:Auto Nm

@4000 rpm
10.0

Template:Auto kmh

since 1995
2.0 16V
I4
1970 cm³
110 kW (150 PS) @6200 rpm

Template:Auto Nm

@4000 rpm
9.0

Template:Auto kmh

since 1995
2.0 TD
I4
1929 cm³
66 kW (92 PS) @4100 rpm

Template:Auto Nm

@2500 rpm
13.5

Template:Auto kmh

2.5 TD
I4
2500 cm³
92 kW (125 PS) @4200 rpm

Template:Auto Nm

@2000 rpm
10.4

Template:Auto kmh
155 in motorsport
The 155 was very successful in touring car racing, using the Supertouring-homologated GTA and the V6 TI for the DTM. Between 1992 and 1994, the 155 managed to take the Italian Superturismo championship, the German DTM championship (both with Nicola Larini at the wheel), the Spanish Touring Car Championship (with Adrian Campos), and the British Touring Car Championship (with Gabriele Tarquini). In 1995 the 155 confirmed its supremacy in Spain with Luis Villamil champion. The 155 remained competitive until it was replaced with the 156, finishing third in the DTM (then known as the International Touring Car Championship, or ITC) in 1996 with Alessandro Nannini and winning the Spanish championship again in 1997 with Fabrizio Giovanardi. The 156 was to continue the high standard set by the 155, winning the European Touring Car Championship multiple times. It's also the 155 that has caused the "coolest" crash in BTCC of all times, but the crash wasn't due to the car.
155 Pictures
Notes
See also
External links