Alfa Romeo 145
Alfa Romeo
aka
Type aka here, not up there
Production
produced from when to when+total units made (optional)
Class
denote market class
Body Style
how many doors+how many seats+what type of body
Length
length - type here
Width
Width - type here
Height
Height - type here
Wheelbase
wheelbase - type here
Weight
Weight - you get the point
Transmission
transmission + drive
Engine
engine
Power
N/A hp @ N/A rpm
N/A lb-ft of torque @ N/A rpm
Similar
similar (competition)
Designer
Designer (lead designer if it was a team effort)
The Alfa Romeo 145 and Alfa Romeo 146 were two compact cars produced by the Italian manufacturer Alfa Romeo between 1994 and 2001. The 145 and 146 both share common design plans and interior components from the B-pillar forwards; the 145 is a 3-door hatchback, whereas the 146 is a 5-door.
To replace its ageing 33 model, Alfa Romeo launched these two cars in 1994 (the 145) and 1995 (the 146) to compete in the extremely competitive mid-size hatchback market. A spacious and uniquely Italian interior was presented to the press at the launch, and by all accounts it was well received; its oddly shaped cut-away dashboard attracted much attention, but in fact the design was for safety rather than aesthetic purposes.
Based on the Fiat Tipo chassis, the cars were widely praised for their handling, particularly the sharp, responsive steering. Early cars used boxer engines derived from the old 33 in 1.3/1.4 (same engine, badge depends on market. Not sold in UK), 1.6 8 valve and 1.7 16 valve forms.
In 1996, the flagship Cloverleaf (145) and Ti (146) models were launched with the 2 litre Twin Spark engine already seen in the 155 sister car. 1.6 and 1.8 Twin Spark engines soon followed to replace the less powerful boxers.
The 1.8l and 2.0l engine cars were equipped with 'quick-rack' steering (also seen on the 155, GTV and Spider) which improved steering responsiveness, but as a result the turning circle was compromised. This was also featured on the 1.6 Junior model in 1998. The sporty suspension set-up was harsher than most others in its category at the time, but this was likely an intentional decision in line with the Fiat Group's marketing of Alfa Romeo as a sporting brand.
In terms of styling, the styling cues introduced in the Alfa Romeo 164 were continued, and the lighting clusters of the 146 gave definite hints about the forthcoming Alfa Romeo 166.
While the volume of 145s and 146s sold was moderately low, parts availability is good in most respects. Owners clubs can often advise on multiple sources of parts or workarounds.
145s and 146s are particularly prized by owners of older Alfa Romeo Sprints, as their more advanced twin-spark engines can be freely transplanted into the older cars, by virtue of the earliest vehicles inheriting the older 1.7 L Boxer engines which are backwards compatible with the older 33s and Sprints. In consequence, mounting and transmission interfaces are retained, allowing a Sprint to receive a 1.8 litre Twin Spark into its engine bay with minimal modification of the engine or the Sprint itself.
Vehicle and Engine Statistics
Edit
Brake horsepower (bhp) Kerb weights in kilogrammes for the 145 / 146.
Initial Release- Series I (145: 1994, 146: 1995):
145/146 Boxer Engines:

1.3 8v: 90 bhp '*'
1.6 8v: 103 bhp, 1140 kg
1.7 16v: 129 bhp, 1190 kg

Diesel Engines:

1.9 Turbo Diesel: 90 bhp '*'
Cloverleaf/Ti Release (1996):
145 Cloverleaf Twin Spark Engine:

2.0 16v: 150 bhp, 1240 kg

146 Ti Twin Spark Engine:

2.0 16v: 150 bhp, 1275 kg
Series II- First Revision (1997)
145 Twin Spark Engines:

1.4TS: 103 bhp, 1135 kg '**'
1.6TS: 120 bhp, 1165 kg [1]
1.8TS: 144 bhp, 1195 kg
2.0TS: 155 bhp, 1240 kg

146 Twin Spark Engines:

1.4TS: 103 bhp '**'
1.6TS: 120 bhp, 1190 kg
1.8TS: 144 bhp, 1215 kg
2.0TS: 155 bhp, 1275 kg
'*' European markets only. '**' European and Irish markets only.
1994 - 145 launched. Engines were 1.3 8v Boxer, 1.6 8v Boxer, 1.7 16v Boxer & 1.9 Turbo Diesel
1995 - 146 launched, using same engines as 145.
1996 - 145 Cloverleaf and 146 TI models introduced, using 2.0 16v Twin Spark engine.
1997 - All Boxer engines replaced by more powerful, more efficient Twin Spark engines.
1998 - New Twin Spark engines from the Alfa Romeo 156 were imported into the 145/146 to replace the existing designs, due to the requirement to meet stricter emissions and noise regulations and for minor cost savings. Engine power was slightly lowered as a result.
1999 - 1.9 JTD Turbo Diesel replaced existing diesel engine.
2000 - Various minor revisions, including color-coded bumpers, door handles and mirrors.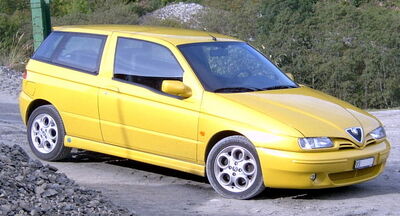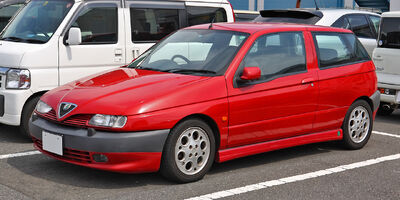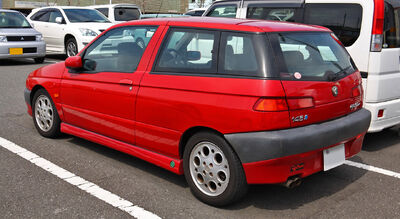 External links
Edit
Community content is available under
CC-BY-SA
unless otherwise noted.