Acura ZDX
Acura
aka
ZDX
Production
2010 - present
Class
Crossover
Body Style
5-door, 4-seat Crossover
Length
192.4 in (4887 mm)
Width
78.5 in (1993 mm)
Height
62.8 in (1596 mm)
Wheelbase
108.3 in (2750 mm)
Weight
4452 lb / 2019 kg
Transmission
6-speed automatic transmission with Sequential SportShift, Paddle Shifters, Grade Logic, Shift Hold and Cornering G Shift Control systems
Engine
3.7L Aluminum-alloy V6
Power
300 hp @ 6300 rpm
270 lb-ft @ 4500 rpm
Similar
BMW X6
Infiniti FX
Land Rover Range Rover Sport
Designer
Ext Designer:

Damon Schell


Int Designer:

Michael Wiedeman


Color/Material Designer:

Kimberly Marte


Ext Concept Designer:

Michelle Christensen
The Acura ZDX is a Mid-size luxury Crossover (automobile) developed by Honda for its upmarket brand Acura. The car was originally scheduled to be called the Acura MSX. The ZDX debuted at the 2009 New York International Auto Show on April 8, 2009. The vehicle was also the first to be completely designed at Acura's southern California design studio.
The car has been said to be a "new level of prestige for Acura." It features Acura's first six speed automatic transmission, advanced ventilated seats, as well as other luxury appointments. Although the ZDX shares a similar profile with the Honda Crosstour, the two vehicles are not mechanically related: the latter is based on the Honda Accord, while the ZDX is based on the Honda Pilot
Recent Changes
Mention any minor facelifts or major changes made to the vehicle here.
Styles and Major Options
Certain vehicles come in different trim levels or body styles. Features and major options should be mentioned here.
Pricing
Add more fields as necessary.
MODEL Trims
ZDX
ZDX with Technology Package
ZDX with Advance Package
MSRP
$45,495
$49,995
$56,045
Invoice
$Price1
$Price2
$Price3
Gas Mileage
Add more fields as necessary.
As seen on the FuelEconomy.gov website, the City/Highway MPG averages are as follows:
Trim
ZDX
ZDX with Technology Package
ZDX with Advance Package
MPG
16/23
16/23
16/23
Engine and Transmission
Specifications, details, graphs, pictures and other information regarding the powertrain is placed in this section.
Performance
Please make sure to write information of the vehicle's performance in a third-person point of view. This section should include information about the car's acceleration figures, handling, braking, etc.
If using information gathered from Road Test articles from a reputable automotive source, then please make sure to cite the quote.
Reliability
Safety
This section should reference points on safety ratings and features of the vehicle.
Photos
http://www.autoblog.com/photos/first-drive-2010-acura-zdx
Please make sure not to use copyrighted photos.
Colors
2010 Color Line-Up:
EXTERIOR:
Aspen White Pearl
Palladium Metallic
Grigio Metallic
Crystal Black Pearl
Ionized Bronze Metallic
Dark Cherry Pearl
INTERIOR:
Taupe
Sumatra
Umber
Ebony
Main Competitors
Create links to other <MAKE> <MODEL> pages in this section.
Hybrid Models
If there are hybrid versions of this vehicle manufactured, then please elaborate a little bit on it here.
Unique Attributes
If there are any features of this vehicle that sets it apart from other vehicles in its class, then mention those unique attributes here.
Interior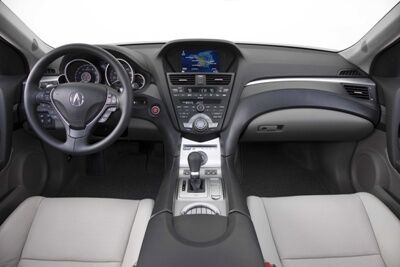 This section should include information on the interior's design, build quality, ergonomics, space (head and legroom, front and rear), features, stowage compartments and overall comfortability and livability. Add pictures wherever applicable and keep information in a third-person point of view.
Resale Values
Add more fields as necessary.
<MODEL> Year
Year X
Year X-2
Year X-3
Year X-4
Resale Value
$
$
$
$
Articles / Criticisms
http://www.urbandaddy.com/newsletter/article/8748?preview=true'.
Generations
Fill in as many as appropriate. Add more if necessary and pictures wherever applicable.
Please make sure NOT to use copyrighted pictures.
First/Current Generation: (2010–present)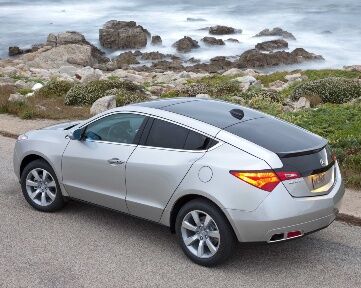 Worldwide
Acura ZDX is offered in:
Awards
Wards Automotive: Special-Achievement Award for "Design Breakthrough with its unusual Mocha(Sumatra) Leather & futuristic styling cues that match up well with the ZDX's aggressive exterior styling"
source http://wardsauto.com/home/interior_winners__deliver_100412/
See also
External links
Please include any external sites that were used in collaborating this data, including manufacturer sites, in this section.
News and References
Enthusiast Sites and Discussion Forums