Doctor Strange in The Multiverse o Madness - The Loop
Play Sound
The Acura RL is the top-of-the-line sedan in the range of Honda's North American luxury brand Acura. It is a rebadged version of the fourth-generation Honda Legend and replaced the Acura Legend in 1996.
All Acura RLs are built in Saitama, Japan. The very first Acura RL rolled off the assembly line on January 4, 1996.
See Autopedia's comprehensive Acura RL Review.
Recent Changes
For 2011, the RL receives a minor facelift. Besides the subtle nip/tuck the 2011 RL also get a new six-speed Sequential Sportshift automatic transmission that improves fuel economy by two miles per gallon on the highway. The final EPA numbers are 17 mpg city and 24 highway. Hemholtz resonators are also fitted in the wheels (an industry first) to help diminish road noise. This coupled with increased floorboard insulation results in a quieter cabin. The wheels themselves are brand new 18x8-inch 15-spoke aluminum units shod in Michelin Pilot all-season rubber.[1]
The RL was completely redesigned for the 2005 model year, and it has undergone few changes since. the RL Technology package was introduced last year for 2006, but the new CMBS/PAX package adds onto it with Collision Mitigation Braking System, adaptive cruise control, and Michelin PAX run-flat technology.
For 2009, the Acura RL receives a mid-cycle facelift that is decidedly more daring than the bland, lukewarm generic design of the original. Under the hood, the new RL is fitted with a new 3.7 litre V6 producing 300 HP and 271 lb-ft of torque mated to Acura's Sequential SportShift 5-speed automatic transmission and Super Handling All-Wheel Drive (SH-AWD) 2.0 - now quicker, more responsive and better at handling twisties. [2]
Styles and Major Options
There is only one trim for the Acura RL, but it is packed with features. It is powered by a 3.5L 290hp V6 engine, 5-speed automatic transmission, and standard all wheel drive. Some of the standout features include:
2007 Acura RL
Driver/front passenger heated seats
Leather seating and door trim
Express open/close sunroof
Dual zone air conditioning
10-speaker Bose AM/FM/XM/in-dash 6CD changer audio system w/MP3 capability
Cruise control
Homelink Wireless Control System
Navigation system
OnStar
Power windows, locks, mirrors
Pricing
Today's actual prices for the Acura RL can be found at CarsDirect.
Acura RL Trims

Trim1

Trim2

Trim3

Trim4

MSRP

$Price1

$Price2

$Price3

$Price4

Invoice

$Price1

$Price2

$Price3

$Price4
Gas Mileage
As seen on the FuelEconomy.gov website, the City/Highway MPG averages are as follows:
Reliability
Although the current version of the RL was only released in 2005, three-year reliability inspections on the 2003 model, performed by Automotive Information Systems, earned that model an overall Green rating in every category.
Safety
Safety tests performed by the NHTSA earned the 2007 RL excellent ratings in all categories. For all front-impact, side-impact, and 2WD rollover tests, the RL received overall 5-Star ratings. Some of the standard safety equipment found on the RL include:
Photos
Colors
A full list of colors is available on CarsDirect.com. Some of the possible combinations include:
Exterior
Carbon Gray Pearl
Desert Mist Metallic
Meteor Silver Metallic
Opulent Blue Pearl
Redondo Red Pearl
Interior
Main Competitors
Hybrid Models
Unique Attributes
Resale Values
According to Kelley Blue Book, "the RL is expected to have a slightly better-than-average residual value over a five-year period, falling below the Infiniti M35 and Lexus LS 430 but besting the Audi A8 and Cadillac DTS."
Criticisms
"The V6 offers plenty of power but lacks the low-end grunt that could be provided by a V8." - Edmunds.com
"The only complaint we had during our initial drive is that the car tends to feel a little too firm on uneven pavement..." - Edmunds.com
"If you're expecting neck-snapping starts from a standstill, the RL's 260 pound-feet of torque will not impress. And for those with a full-on performance bent, the RL does not offer a manual transmission option." - Kelley Blue Book
Current Generation: (2005-present)
A revised car, known internally as "KB1", was launched in late 2004 for the 2005 model year, and is much reminiscent of its competitor, the Mercedes-Benz E-Class. Still without the much-rumored V8 engine, it features a sophisticated all wheel drive system Acura calls "Super Handling All Wheel Drive". It integrates active differentials with the all wheel drive system and traction control to improve handling, similar to the "ATTS" system featured on the 1997 Honda Prelude SH. This all wheel drive system was in an issue of Popular Science as one of the best automotive innovations of 2004 and earned the 2005 "Tech car of the year" from cnet.com.
The 225 hp (168 kW) 90° C-series V6 engine was replaced with a new 60° J-series 3.5 L motor delivering 300 hp (224 kW; later revised to 290 hp). To give the car a more sporty feel, the car features a five-speed automatic transmission with shift paddles mounted on the steering wheel in the current, racing-car derived fashion. Other features found on the 2005 RL include DVD Audio, the ability to see traffic movement in real time utilizing XM Satellite radio, as well as extensive use of aluminum and carbon fiber. Pricing is up to US$49,100 without destination.
For 2006, the Acura RL was also sold with the optional 'Technology Package' including features such as adaptive cruise control, Collision Mitigation Avoidance System, and Michelin PAX run flat tires.
Previous Generations
Second generation (1999-2004)
In 1999, addressing those concerns, the RL received a front and rear facelift that included the addition of newer, more stylish Xenon headlights. The difference, while seemingly subtle, gave the car an entirely new look. Suspension and chassis were stiffened. The Acura RL was back in the fold and sales increased.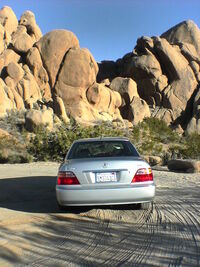 In 2000, a larger navigation system screen was added. Along with that larger screen was the conversion to easy-to-replace DVD map databases. OnStar was added in 2002 as well as XM Satellite Radio in 2003. Absent a major redesign in 8 years, however, the RL's sales slipped to their lowest levels in the 2004 model year. Acura and dealers both provided generous incentives on the final models.
The 2004 3.5RL's engine was the last in the Honda and Acura lineup not to use VTEC, Honda's variable valve timing system. The 2004 RL was also the last Acura to use the numeric designator for its engine displacement.
First Generation/Origins (1996-1998)
In 1996, the replacement for the Acura Legend was introduced. Known internally as "KA9", officially, RL originally stood for "Road Luxury," however some suggest that it stood for "Replaces Legend." Whatever its meaning, the 1996 Acura 3.5RL was introduced to lackluster reviews. The automotive world had been expecting a true competitor to the Lexus LS to emerge. Yet it is likely that Acura will release a new model larger than the RL to compete with the Lexus. The RL fell short in all categories and is continuing to drop in sales; it is likely there will be a redesign of the redesigned RL, as reported by AutoWeek. Laying to rest predictions of a VTEC V8 powerplant, the 3.5RL was powered by a 3.5 L V6 engine, derived from the previous Legend's 3.2 L unit. The engine provided just 210 hp. Handling was soft and ponderous. Interior space was adequate, but still tight.
Despite all the compromises, the RL was still a competent vehicle. Few could find fault in it and it provided a serene, almost silent highway ride. The transmission, a 4-speed automatic, was smooth and silky. Reliability and fit-and-finish were excellent. Still, a lot was lacking in the car and sales suffered in the first three years.
The 1996-1998 Acura 3.5RL was a conservative, well-designed, and well-mannered luxury vehicle. The 3.5RL provided all of the expected luxury features of vehicles costing much more, yet provided the practicality of a 3.5L, 210HP V6 with excellent low-end torque reaching a peak at a low 2800 RPM. The 1998 3.5RL was upgraded with a refined suspension. Acura engineers, as usual, found a way to increase the firmness of the suspension without any additional harshness. It provided better driving dynamics as well as overall vehicle control. Other additions for 1998 included new wheels that improved overall style with a subtle sportiness. The first generation Acura 3.5RL has proven itself in the long-run. Road Luxury. Refined Luxury. The 1996-1998 Acura 3.5RL.
Gallery
Worldwide
Design quirks and oddities
Awards
The second-generation RL appeared on Car and Driver's Ten Best list for 2005.
See also
External Links