Acura RDX
Acura
aka
Type aka here, not up there
Production
2007 - present
Class
Compact entry-level luxury CUV
Body Style
5-door, 5-seat CUV
Length
181 in
Width
73.6 in
Height
65.2 in.
Wheelbase
104.3 in.
Weight
3968 lb
Transmission
5-speed automatic, FWD and SH-AWD
Engine
2.3 litre K23A1 turbocharged Inline-4
Power
240 hp @ 6000 rpm
260 lb-ft of torque @ 4500 rpm
Similar
BMW X3
Lincoln MKX
Mazda CX-7
Volvo XC60
Audi Q5
Designer

Jon Ikeda
The Acura RDX is a near-luxury crossover utility vehicle (CUV) produced by Acura since 2007. Like many Acuras, the RDX is jammed-pack with features, many of which would make your average techno-geek salivate. The RDX shares the same platform as the soon-to-be-released redesigned CR-V, and is only the second utility vehicle in the Acura family, after the full-size MDX.
See Autopedia's comprehensive Acura RDX Review.
Recent Changes
Styles and Major Options
Certain vehicles come in different trim levels or body styles. Features and major options should be mentioned here.
Pricing
With the present, 2019 Acura RDX begins at $35,800 for the passage level, FWD model, Acura could build evaluating a considerable amount in the event that it really raises the stakes with the better things I specified in past areas. A beginning price of $39,000 wouldn't be impossible. After all, the X3 as of now begins at around $40,000 and the Q5 comes in above $41,000, so there's a lot of space to play if Acura can get better materials and complete all the route around. Besides, the MDX begins around $44,000, so it would even now be reasonably priced inside whatever is left of Acura's lineup. The range-topping RDX will probably come in somewhere close to $44,000 and $48,000. Add more fields as necessary.
MODEL Trims
FWD
SH-AWD
MSRP
$32,520
$34,520
Invoice
$Price1
$Price2
Gas Mileage
Add more fields as necessary.
As seen on the FuelEconomy.gov website, the City/Highway MPG averages are as follows:
Trim
FWD
SH-AWD
MPG
19/24
17/22
Engine and Transmission
Specifications, details, graphs, pictures and other information regarding the powertrain is placed in this section.
Performance
Please make sure to write information of the vehicle's performance in a third-person point of view. This section should include information about the car's acceleration figures, handling, braking, etc.
If using information gathered from Road Test articles from a reputable automotive source, then please make sure to cite the quote.
Reliability
Warranty options and scheduled maintenance information should be mentioned here.
Safety
The 2018 Acura RDX comes standard with antilock brakes, solidness and footing control, front side airbags, side window ornament airbags, dynamic front head restrictions and a rearview camera.
Optional dynamic safety gear incorporates forward impact cautioning, forward crash alleviation with automatic braking, a blind side screen, lane-takeoff cautioning and lane-flight intercession. In spite of the fact that these frameworks on paper sound like those offered by opponents, by and by we discovered them to set off the impact caution in cases when a crash is obviously not up and coming. Its adaptive cruise control framework rushes to hammer on the brakes and too ease back to get move down to speed.
The administration gave the RDX a top score of five stars for aggregate crash security, with five stars for aggregate front effect safety and five stars for side-affect safety. The Insurance Institute for Highway Safety granted the 2018 Acura RDX its most noteworthy conceivable score of "Good" in the moderate-cover frontal-offset, side-affect, roof-quality and head limitations and seats tests.
The greater part of the luxury SUV contenders the RDX faces don't have the not insignificant rundown of standard features as the Acura, less still at the cost. The 2018 Acura RDX accompanies things like double zone atmosphere control, a 10-way-power driver's seat, dynamic clamor cancelation, a multi-see rearview camera, and a 7-speaker/360-watt AM/FM/CD sound framework with a 5-inch LCD show, USB/assistant sources of info, voice-initiated content informing and Pandora Internet radio.
Safety features incorporate six airbags, solidness and footing control, and Acura's ACE body structure, which has helped it procure beat crash-test evaluations from both the legislature and the protection business. - 2018 Acura RDX Rumors
Photos
Add Photos of the vehicle here.
Please make sure not to use copyrighted photos.
Colors
List the colors that the particular <MODEL> is offered in.
Main Competitors
Acura's main target seems to be another entry-level luxury SUV, the BMW X3. In fact, the RDX is fairly close in dimsensions with the X3.
Hybrid Models
If there are hybrid versions of this vehicle manufactured, then please elaborate a little bit on it here.
Unique Attributes
The RDX will be the first Acura to be powered by a turbocharged engine. This is an effort to get the power of a V-6 out of a more fuel-efficient four cylinder (2.3-liter, 240 horsepower). It also has Acura's Super Handling All-Wheel Drive, a system that distributes power to front and wheel tires to improve handling and stability. Safety abounds in the RDX—the model has anti-lock brakes (ABS), side and side curtain airbags, plus roll-over sensors. And with the Technology package, you get features such as Bluetooth connectivity and navigation with real-time traffic information.
Interior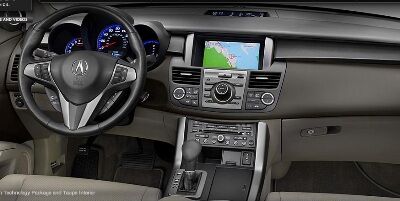 This section should include information on the interior's design, build quality, ergonomics, space (head and legroom, front and rear), features, stowage compartments and overall comfortability and livability. Add pictures wherever applicable and keep information in a third-person point of view.
Resale Values
Add more fields as necessary.
<MODEL> Year
Year X
Year X-2
Year X-3
Year X-4
Resale Value
$
$
$
$
Criticisms
The model is just starting to be reviewed by automotive publications. Reviewers have generally been pleased with the model, but there seems to be some dings regarding the generic-looking design and the true utility nature of the vehicle. Maximum cargo space is listed at 60.6 cubic feet, about 10 less than the X3, and the towing capacity is 1,500 pounds, which is more comparable to a car.
Generations
Fill in as many as appropriate. Add more if necessary and pictures wherever applicable.
Please make sure NOT to use copyrighted pictures.
Current Generation: (YYYY–present)
Fifth generation (YYYY–YYYY)
Fourth generation (YYYY–YYYY)
Third generation (YYYY–YYYY)
Second generation (YYYY–YYYY)
First Generation/Origins (YYYY–YYYY)
Worldwide
If the vehicle is sold in other markets worldwide, then this is the section to mention that information. Also, mention if the <MODEL> goes by another name in these other markets.
Design quirks and oddities
Refer to any pop-culture tidbits about the vehicle in this section.
Awards
List out notable awards that the model has received while in production. Boldface the company or organization that gives out the award, and Italicize the name of the award.
Fun fact: In the Marvel movies, SHIELD agents use the RDX.
See also
External links
News and References
Enthusiast Sites and Discussion Forums