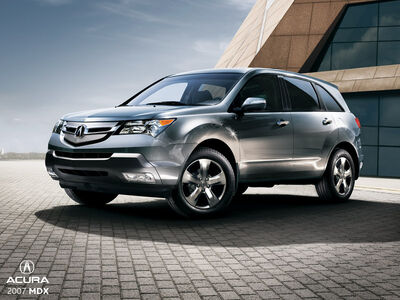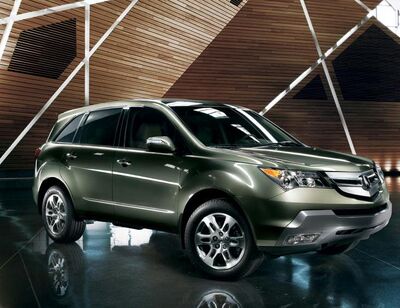 The Acura MDX belongs to a class of SUVs called ''crossovers'' because the characteristics of this vehicle leans more toward the car than a truck. What this means is that the chassis of this vehicle is unibody, thus giving to more durability and safety. Although, the interior of the car does not have the look and feel of higher end luxury SUVs, it does in fact have all the functionality. Also, this line of Acura SUV is a step up from Acura's lower end Pilot SUV, in that it's interior is more refined. The MDX's engine is also unique in that it is V6 as opposed to V8, therefore the fuel consumption is minimized and owners of this vehicle can benefit from a higher mpg figure (17mpg for the city and 23 mpg for the highway). Even though the engine is smaller than others, the MDX has a surprising horsepower ability of 253. Another perk that Acura MDX owners will enjoy is that the cabin space can be seen to be extremely spacious, which can be very useful in times of driving your kids to and from school.
See Autopedia's comprehensive Acura MDX Review.
Recent Changes
Edit
Mention any minor facelifts or major changes made to the vehicle here.
Styles and Major Options
Edit
The Acura MDX is available in two trims, both Base and Touring. The Base models boasts a high level of accoutrements such as an dash-mounted, 6-disc CD player, a moonroof, front and rear automatic climate control, a power driver seat, leather heated seats in the front, keyless entry, heated mirrors, XM Satellite Radio, and 17 inch wheels.
The Touring models have the added bells and whistles of a DVD entertainment system for rear passengers, DVD-based voice-recognition navigation system, a Bluetooth hands free cell phone system, and driver seat memory feature.
Today's actual prices for the Acura MDX can be found at CarsDirect.
Add more fields as necessary.
MODEL Trims
MDX Base
MDX w/ Technology Package
MDX w/ Technology & Entertainment Packages
MDX w/ Advance Package
MDX w/ Advance & Entertainment Packages
MSRP
$42,230
$45,905
$47,805
$51,855
$53,755
Invoice
$Price1
$Price2
$Price3
$Price4
$Price5
Gas Mileage
Edit
Add more fields as necessary.
As seen on the FuelEconomy.gov website, the City/Highway MPG averages are as follows:
Trim
Trim1
Trim2
Trim3
Trim4
MPG
c/h
c/h
c/h
c/h
Engine and Transmission
Edit
Specifications, details, graphs, pictures and other information regarding the powertrain is placed in this section.
Performance
Edit
Please make sure to write information of the vehicle's performance in a third-person point of view. This section should include information about the car's acceleration figures, handling, braking, etc.
If using information gathered from Road Test articles from a reputable automotive source, then please make sure to cite the quote.
Reliability
Edit
Warranty options and scheduled maintenance information should be mentioned here.
This section should reference points on safety ratings and features of the vehicle.
Add Photos of the vehicle here.
Please make sure not to use copyrighted photos.
List the colors that the particular <MODEL> is offered in.
Main Competitors
Edit
Hybrid Models
Edit
If there are hybrid versions of this vehicle manufactured, then please elaborate a little bit on it here.
Unique Attributes
Edit
If there are any features of this vehicle that sets it apart from other vehicles in its class, then mention those unique attributes here.
This section should include information on the interior's design, build quality, ergonomics, space (head and legroom, front and rear), features, stowage compartments and overall comfortability and livability. Add pictures wherever applicable and keep information in a third-person point of view.
Resale Values
Edit
Add more fields as necessary.
<MODEL> Year
Year X
Year X-2
Year X-3
Year X-4
Resale Value
$
$
$
$
Criticisms
Edit
Please make sure to keep critiques in a third-person point of view. If using criticisms from a reputable automotive source, then please make sure to cite the quote.
Generations
Edit
Fill in as many as appropriate. Add more if necessary and pictures wherever applicable.
Please make sure NOT to use copyrighted pictures.
Current Generation: (2007–present)
Edit
The 2007 Acura MDX concept was unveiled early this year in New York and showcased this models completely redesigned exterior (penned under Jon Ikeda) that will lead off the MDX's second generation of Acura MDXs. The engine increases displacement to 3.7 liters and now produces 300 hp and 275 pd.-ft. of torque. The wheelbase and frame are wider leading to better traction and handling. Another improvement that will improve handling is Acura's new Super Handling All Wheel Drive system and the fact that this particular 2007 model was tuned at Germany's Nurburgring race track. One last nuance for this second generation MDX (that will be released in fall 2006) is that this particular MDX generation will have high-intesity discharge lights which will greatly improve visibility.
First Generation/Origins (2001–2006)
Edit
Worldwide
Edit
The MDX is sold as badged as a Honda in Japan and Australia.
Design quirks and oddities
Edit
Refer to any pop-culture tidbits about the vehicle in this section.
List out notable awards that the model has received while in production. Boldface the company or organization that gives out the award, and Italicize the name of the award.
External links
Edit
Community content is available under
CC-BY-SA
unless otherwise noted.