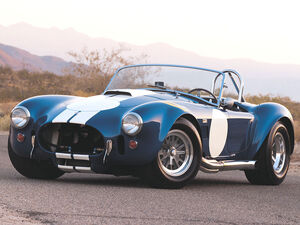 The AC Cobra, also known as the Shelby Cobra, was a British built sports car produced by AC that was produced during the 1960s. The Cobra was the Shelby version of the AC Ace.
History
The AC Ace was a classic British roadster until it was transformed into the Cobra by Carroll Shelby when he inserted the Ford small block engine into the car, turning into a racing machine. Since then, the car has become very popular and has been ingrained in the mind of popular culture and helped established Shelby's tuning career.
Gallery
Coupés
Super Snake
Shelby Motors built twenty two 427 competition roadsters. In 1965, one was selected and converted into a special model called the 427 "Cobra to End All Cobras."
Trivia
The Shelby Cobra was featured in the 2011 video game, Forza Motorsport 4 and could be purchased for about 1.2 million credits. 
External links