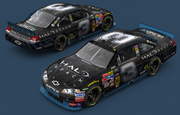 The 2010 Chevrolet Impala SS Halo: Reach NASCAR Race Car, is a car that was featured in the Sprint Cup and Nationwide NASCAR Series. The car was designed in 2010 to promote Halo: Reach.
NASCAR Nationwide Edition
Edit
The NASCAR Nationwide Edition of the car was driven by NASCAR Star Joey Logano in September. The car was made to promote gamers to buy the game so the company, 343 Indrustries, would sell more copys. This concept worked and now most new games planing to be released now have Logano drive their car. Other games to do this include Modern Warfare 3 and Max Pain 3.
Please also note that the number in the photo is wrong. Joey Logano drove the #20 not the #3. The reason #3 is on the car is because for concept, most artist use the #3 instead of the drivers actual number because it is unknown who will drive it. #3 is a retired number in NASCAR due to the death of Dale Earnhart in 2001.
NASCAR Sprint Cup Edition
Edit
The Sprint Cup Edition was never raced but, when NASCAR The Game: 2011 was released, multiple gamers re-created the car and drove it as their own. This is also expected to happen in NASCAR 2012: Inside Line.
Community content is available under
CC-BY-SA
unless otherwise noted.