Škoda Fabia
Škoda
aka
Type aka here, not up there
Production
1999 - present
Class
Supermini
Body Style
how many doors+how many seats+what type of body
Length
length - type here
Width
Width - type here
Height
Height - type here
Wheelbase
wheelbase - type here
Weight
Weight - you get the point
Transmission
transmission + drive
Engine
engine
Power
N/A hp @ N/A rpm
N/A lb-ft of torque @ N/A rpm
Similar
similar (competition)
Designer
Designer (lead designer if it was a team effort)
The Škoda Fabia is a supermini produced by Czech manufacturer Škoda Auto since 2000. It is the first model to use the Volkswagen Group's A04 platform, which it shares with the Volkswagen Polo Mk IV and SEAT Ibiza. It was the successor to the Škoda Felicia, which was discontinued in 2001. The Fabia is available in hatchback, estate and saloon body styles.
See Autopedia's comprehensive <MODEL> Review.
Recent Changes
Celebrating their title win at the

International Rally Championship

(IRC) by its Fabia S2000, Škoda has produced a limited-run version of its Fabia RS called the Fabia RS Edition S2000. Performance-wise, the Edition S2000 remains unchanged from the standard RS, however, the car will be painted in the racing outfit's Rally Green livery complete with a white roof, white alloy wheels and stickers from the rally-spec S2000 model.[1]
Scout leaks ahead of 2009 Geneva Motor Show debut

For 2007, Skoda has unveiled the Fabia Estate.
UK fans of Skoda will now be able to get their hands on an uprated version of the Fabia. Dubbed Fabia Sport, it will compete with the likes of the Ford Fiesta Zetec S and Vauxhall's Corsa Sxi. visual mods include a front spoiler, 16-inch alloy wheels, boot spoiler, a chrome exhaust pipe and rear diffuser. Available powerplants include two petrol units, starting at £10,660 and £11,735 respectively for the 1.2 12V (70bhp) and 1.6 16V (105bhp) also two diesel engines: £12,115 for the 1.4 TDI (80bhp) and £12,795 for the larger 1.9TDI (105bhp). Sales start at the end of January 2008. [3][4]
Styles and Major Options
Certain vehicles come in different trim levels or body styles. Features and major options should be mentioned here.
Pricing
Add more fields as necessary.
MODEL Trims
Trim1
Trim2
Trim3
Trim4
MSRP
$Price1
$Price2
$Price3
$Price4
Invoice
$Price1
$Price2
$Price3
$Price4
Gas Mileage
Add more fields as necessary.
As seen on the FuelEconomy.gov website, the City/Highway MPG averages are as follows:
Trim
Trim1
Trim2
Trim3
Trim4
MPG
c/h
c/h
c/h
c/h
Engine and Transmission
The petrol version of Skoda Fabia is packed with 1.2L, 1198 cc MPI engine type. The 12 V DOHC engine is packed with five speed manual transmission gearbox which offers a very smooth and fuel effective drive. This petrol engine of Skoda Fabia delivers an impressive power of 70bhp at 5400 rpm and a maximum torque of 108Nm at 3000 rpm. This higher level of power and torque results excellent acceleration that enables Fabia to cross the barrier of 100kmph in just 17.7 seconds and to touch the top speed mark of 149.5 kmph. The petrol powered Skoda Fabia offers a mileage of 13.2 on the city roads and 16.8 kmpl on the highways.
The diesel variant of Skoda Fabia is equipped with 1.4L turbocharged diesel engine packed with high pressure direct injection system in combination with 5 Speed Manual Transmission gearbox which is very efficient and performs without any vibration and makes driving a pleasure. The in line type diesel engine of Skoda Fabia produce a maximum power of 70bhp at 4000 rpm and a maximum torque of 155Nm at 1600-2800 rpm. This diesel variant of Fabia crosses 100kmph mark in a span of 14.35 seconds and it can touch the top speed mark of 143.6 kmph. This TDI diesel engine delivers a mileage of 15.1kmpl on the city roads and 19kmpl on the highways.
Performance
Please make sure to write information of the vehicle's performance in a third-person point of view. This section should include information about the car's acceleration figures, handling, braking, etc.
If using information gathered from Road Test articles from a reputable automotive source, then please make sure to cite the quote.
Reliability
Warranty options and scheduled maintainence information should be mentioned here.
Safety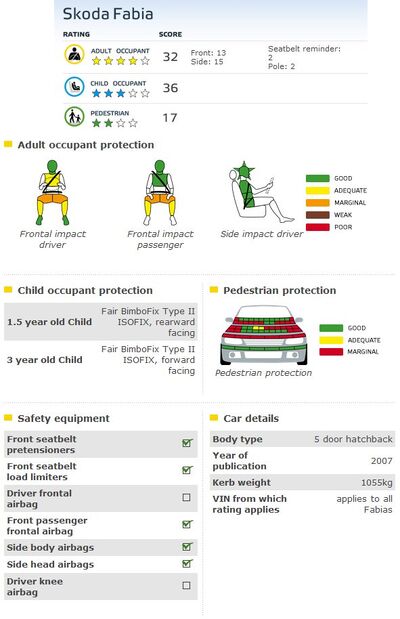 July 2007 EuroNcap Testing
Photos
Fabia vRS
Fabia Greenline
Add Photos of the vehicle here.
Please make sure not to use copyrighted photos.
Colors
List the colors that the particular <MODEL> is offered in.
Main Competitors
Hybrid Models
If there are hybrid versions of this vehicle manufactured, then please elaborate a little bit on it here.
Unique Attributes
If there are any features of this vehicle that sets it apart from other vehicles in its class, then mention those unique attributes here.
Interior
This section should include information on the interior's design, build quality, ergonomics, space (head and legroom, front and rear), features, stowage compartments and overall comfortability and livability. Add pictures wherever applicable and keep information in a third-person point of view.
Resale Values
Add more fields as necessary.
<MODEL> Year
Year X
Year X-2
Year X-3
Year X-4
Resale Value
$
$
$
$
Criticisms
Please make sure to keep critiques in a third-person point of view. If using criticisms from a reputable automotive source, then please make sure to cite the quote.
Generations
Fill in as many as appropriate. Add more if necessary and pictures wherever applicable.
Please make sure NOT to use copyrighted pictures.
Current Generation: (2007–present)
The second generation Fabia appeared at the Geneva Auto Show on March 2007.
It is slightly larger than its predecessor and takes styling cues from the new Roomster model.
Engines
The petrol engine linup is a mixture of newer engines from the Volkswagen Group and some carry overs from the outgoing model. The base 1.2 remains the same while the higher powered version will have its power output upped to 70 bhp. There is only a single 1.4 litre petrol on this model, producing 85 bhp. The range topping petrol engine will be the 1.6 16v engine producing 105 bhp. There will be an option to link this engine to a 6 speed tiptronic transmission.
Diesel engines consist of the same 70 bhp and 80 bhp 1.4 TDI units from before. The range topping diesel will be a 1.9 TDI producing 105 bhp.
It is rumoured that eventually a 1.4 TSI running at 125 bhp will become the range topping petrol and that the next generation vRS will also receive the 1.4 TSI to the tune of 170 bhp.
Features
The second generation Fabia features side air bags, which may be fitted as standard in some markets with stringent safety regulations. Also available as an option will be head airbags.
The estate and saloon variants will arrive later in 2008 and so will run alongside the outgoing estate and saloon
First Generation/Origins (1999–2006)
The range starts with the 1.2 6v Classic (which is cheaper than Volkwagen's smaller 3-door 1.0 Lupo) to the 1.9 PD TDi vRS.
Part of the Fabia's success is the fact that all of its mechanical parts are developed by or in conjunction with Volkswagen, but are offered in a package that is priced to undercut other models in the Volkswagen Group. The only trace of non-VW Škoda left in the Fabia is the 1.4 8v "MPI" Engine, which was a modification to Škoda's own 1.3 engine, and was used in pre-Volkswagen Škodas such as the Estelle and Favorit.
In 2005 the Fabia received a facelift, with changed front fog lights and grille, slightly different rear lights, new steering wheel and revised specification levels. Also the vRS had its final gearbox ratio changed. Most importantly the Sport model was added, with the 75hp 1.4 petrol being offered with a manual transmission. This engine was quickly dropped for the 1.2 HTP, which was not as powerful but is a much more free revving engine giving a more sporty feel, the sport also had its specification changed to include red seat belts and sunset privacy glass from the B pillar to the rear.
Again in 2006 the Fabia range shown at the Geneva Motor Show alongside the new Roomster leisure activity vehicle will have minor specification revisions. These include a center rear head rest, a central three-point seatbelt and an additional four bodywork colours. The 1.4 16v 75 bhp petrol engine is to be replaced with a more powerful 1.4 16v 79 bhp engine.
Engines
Petrol
1.2 HTP 6v (54 bhp) AWY*/BMD
1.2 HTP 12v (64B bhp) AZQ*/BME
1.4 16v (75 bhp) AUA
1.4 16v (100 bhp) BBY/BBZ
2.0 8v (115 bhp) AZL
Diesel
1.4 TDI (70 bhp)
1.4 TDI (80 bhp)
1.9 TDI (100 bhp) AXR
1.9 TDI (130 bhp) ASZ
1.9 TDI (130 bhp) BLT
Past Engines
1.0 (50 bhp) AQV
1.4 MPI (60 bhp) AZF (Euro 2)
1.9 SDI (64 bhp) ASY
1.4 MPI (68 bhp) AQW (Euro 4)
1.4 TDI (75 bhp) AMF
1.4 16v (100 bhp) AUB
1.9 TDI (100 bhp) ATD
The term MPI (Multi-Point Injection) is used by Škoda to differentiate from 16v models and (in the case of the Octavia) FSI engines. The 75 bhp version of the 1.4 16v was only mated to Volkswagens four-speed automatic transmission with fuzzy logic operation until the addition of earlier sport models which mated it with a manual transmission. The 1.4 8v was dropped in 2003 as it will fail to meet future emissions requirements. Its performance is heavily hampered by its old OHV (Pushrod) design. The Fabia's overall performance and fuel consumption figures fall behind other city cars and small family cars as it is larger and heavier. However, the 1.2 HTP Engine was developed specifically for the Fabia and offers better performance and fuel economy, but later used in Volkswagens own Polo due to its high acclaim. HTP Stands for High Torque Performance.
Trim levels
Later in the Fabia's life the mid-range Comfort Model was dropped for the name Ambiente to fit in with the rest of the range. Other models include and included the Ambiente, Ambiente SE, Blackline, Silverline, Sport, Bohemia (Estate) and vRS. Various safety features and minor changes were made over time. Easy and Junior models are sold in Eastern European markets where budgets are lower. Some of these Fabias do not even have painted bumpers or gloveboxes. Also sold in such markets is the Fabia Praktik, which is a panel van version of the Fabia with the rear windows and seats removed. A lesser powered version of the 1.4 MPI with just 60 bhp is also sold in Eastern Europe.
Fabia vRS
Introduced in 2003, the Fabia vRS, while not the first diesel hot hatch, was the first exclusively diesel hot hatch, having no petrol equivalent. The engine is VW Group's 1.9 litre Pumpe-Düse Turbocharged-Diesel producing 96 kW (129 hp) and 229 ft·lbf (310 Nm) at 1900 rpm, with a six speed manual gearbox. It was named the "Diesel Car of the Year 2003" in the Scottish Car of the Year Awards.
Official figures state 0 to 100 km/h (62 mph) takes 9.5 seconds, but several motoring magazines and websites have timed this to faster (Autocar: 7.1 seconds,[1] Auto Express: 8.1 seconds,[2] and FastHatchbacks.com: 8.5 seconds[3]). The in gear acceleration times are 50-70 mph in 5.6 seconds, quicker than BMW's 330i which needs 6.0 seconds. 20-40 mph in 2.4 seconds is as quick as the Lotus Elise 111R. Despite this the Fabia vRS can achieve better than 5.4 l/100 km (45 MPG US).
The vRS was shown to be quicker than a similarly priced MINI Cooper around Top Gear's and Fifth Gear's test tracks.
In February 2007, Skoda announced they would be producing 1,000 Special Edition vRS models. These will feature Race Blue metallic paint, red brake callipers, and individually numbered black leather seats.
Worldwide
The Fabia is sold in other countries, including India where it is available in a lower spec that does not feature painted bumpers. The Fabia was expected to arrive in 2008 for the Australian market but with low sales of the Octavia and the Roomster, it's most likely postponed.
Design quirks and oddities
Refer to any pop-culture tidbits about the vehicle in this section.
Awards
List out notable awards that the model has recieved while in production. Boldface the company or orgainization that gives out the award, and Italicize the name of the award.
See Also
References
External Links